COVID-19
India Records 30,256 Coronavirus Cases, 295 Deaths In Last 24 Hrs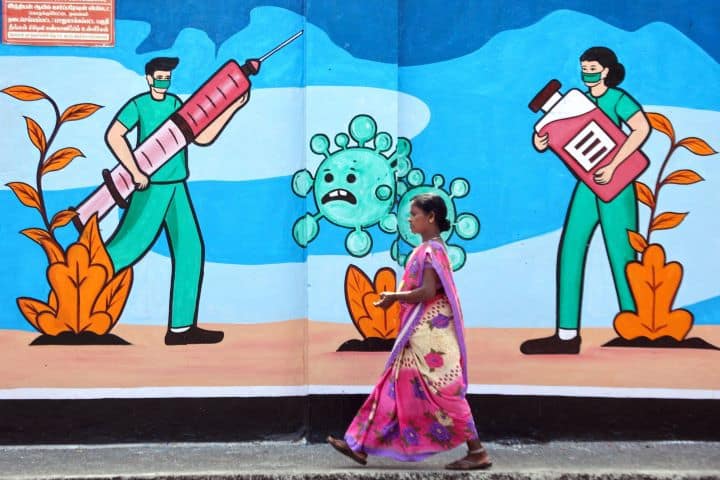 Corona Cases Update: India continues to register around 30,000 Coronavirus cases for the second straight day, The nation reported 30,256 fresh cases of Covid 19, 43,938 recoveries, and 295 deaths in the last 24 hours.
Total cases: 33,478,419
Total Active cases: 3,18,181
Total Recoveries: 3,27,15,105
Total Death toll: 4,45,133
Total vaccination : 80,85,68,144 (37,78,296 in last 24 hours)
Kerala
Kerala on Sunday reported 19,653 fresh COVID-19 cases and 152 deaths, which took the caseload to 45,08,493 and fatalities to 23,591 till date.
The number of people who recovered from the infection since Saturday was 26,711 which brought the total recoveries to 43,10,674 and the number of active cases to 1,73,631, an official press release said.
As many as 1,13,295 samples were tested in the last 24 hours, the release said.
Of the 14 districts, Ernakulam recorded the highest with 2,810 cases followed by Thrissur (2,620), Thiruvananthapuram (2,105), Kozhikode (1,957), Palakkad (1,593), Kollam (1,392), Malappuram (1,387), Kottayam (1,288) and Alappuzha (1,270), it said.
Of the new cases, 84 were health workers, 105 from outside the State, and 18,657 were infected through contact with the source of it not clear in 807 cases.

Maharashtra
Maharashtra on Sunday reported 3,413 new COVID-19 cases and 49 fatalities, pushing the tally to 65,21,915 and the toll to 1,38,518, the state health department said.
A total of 8,326 patients were discharged during the day, taking the count of recoveries in Maharashtra to 63,36,887 so far. The state is now left with 42,955 active cases, it said.
The case recovery rate in Maharashtra stands at 97.16 per cent and the fatality rate is 2.12 per cent.
Bhandara, Gondia, Nagpur, and Yavatmal districts and Akola and Amravati cities didn't report any fresh cases on Sunday. No COVID-19 fatality was reported in Akola and Nagpur divisions in the Vidarbha region.
Mumbai city recorded 423 fresh cases and five deaths, taking the tally to 7,38,101 and the count of fatalities to 16,053, the department said.
Mumbai region logged 922 fresh infections and six deaths, taking the number of cases to 16,66,454 and fatalities to 35,175.
Karnataka
Karnataka on Sunday clocked 783 fresh COVID-19 cases, taking the caseload to 29.67 lakh, while 16 deaths pushed the toll to 37,603.
The day also saw 1,139 people being discharged, taking the total number of recoveries to 29.15 lakh. Active cases stood at 15,383, a health department bulletin said.
Bengaluru Urban accounted for the maximum number of 267 cases and seven fatalities, it said.
Dakshina Kannada district bordering Kerala remained a major COVID-19 hotspot with 97 fresh infections and one death.
Other districts too reported fresh cases with Udupi logging 82, followed by Mysuru (69), Kodagu (41), Chikkamagaluru (36) and Hassan (34).
Bagalakote, Koppal, Raichur, Ramanagara and Yadgir reported zero infections and zero deaths.

(With PTI inputs)