COVID-19
India's Covid Cases Remain Below 30K, Clocks 27,254 Infections In Last 24 Hrs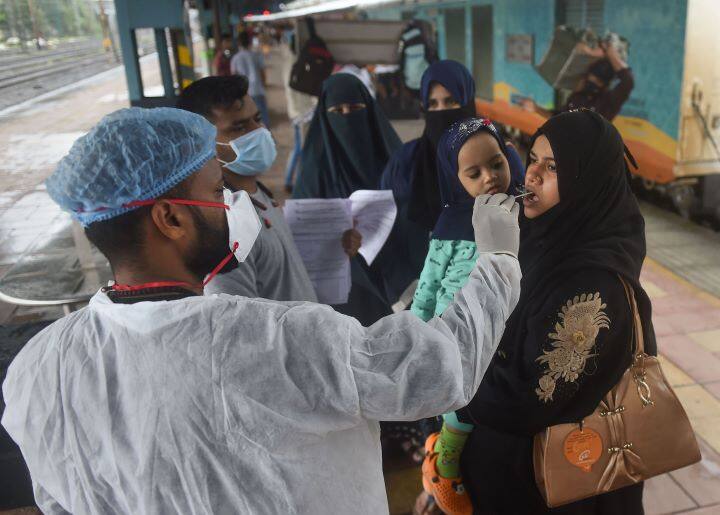 Corona Cases Update: India reports 27,254 new Covid cases, 37,687 recoveries and 219 deaths in the last 24 hours, as per Health Ministry.
Total cases: 3,32,64,175
Active cases: 3,74,269
Total recoveries: 3,24,47,032
Death toll: 4,42,874
Total Vaccination : 74,38,37,643 (53,38,945 in last 24 hours)
Kerala
Kerala recorded 20,240 fresh coronavirus cases and 67 deaths on Sunday, pushing the total tally of infections in the state to 43,75,431 and the fatalities to 22,551, the state government said, as quoted by PTI.
The Test Positivity Rate (TPR) was recorded at 17.51 per cent after testing 1,15,575 samples in the last 24 hours, a state government release said.
The bulletin also said that since Saturday, 29,710 people recovered from the infection taking the total number to 41,30,065 and the number of active cases to 2,22,255.
Among the 14 districts, Ernakulam recorded the highest number of cases with 2,572 followed by Thrissur 2,451, Thiruvananthapuram 1,884, Kozhikode 1,805, Kottayam 1,780, Kollam 1,687, Palakkad 1,644, Malappuram 1,546, Kannur 1,217 and Alappuzha 1,197, the release said.
Maharashtra
Maharashtra on Sunday recorded 3,623 fresh Covid-19 cases, pushing the count to 6,497,877. The tally of active cases again increased to 50,400. 
The state also saw 46 deaths, taking the toll to 138,142. Pune and Ahmednagar reported the highest toll with nine deaths each. The state's recovery rate stands at 97.04 percent and the fatality rate is 2.12 percent. A total of 2,972 patients recuperated during the day. With this, 63,05,788 people have recovered from the infection till now.
Mumbai city reported 357 new cases and seven deaths, which took its tally to 7,35,055 and fatality count to 16,022.