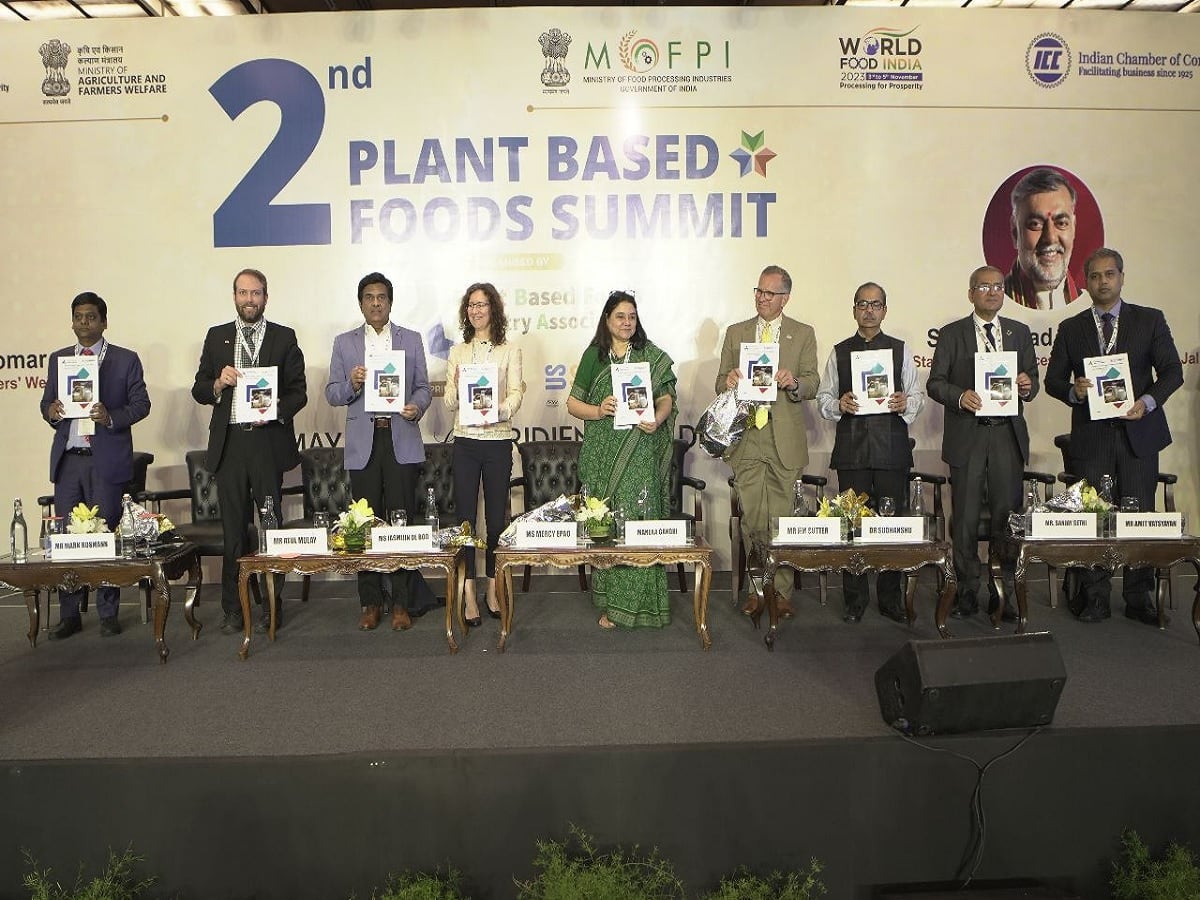 India's plant-based foods industry has huge potential to play a leading role in the global market. New Delhi hosts the 2nd Plant-Based Foods Summit.
With people becoming more health-conscious and public awareness about environmental issues increasingly growing, plant-based foods industry in India is experiencing a rapid growth and transformation, said Sanjay Sethi, Executive Director, Plant Based Foods Industry Association (PBFIA). He was speaking at the 2nd Plant-Based Foods Summit organised by Plant Based Foods Industry Association (PBFIA) in New Delhi.
The shift toward plant-based diets has positive implications for the economy, environment, and public health. India's plant-based foods industry has the potential to create new jobs and increase revenue streams for small and medium-sized enterprises, one such project being India's First Plant Protein Cluster at Bhiwadi, Sethi added.
PBFIA collaborated with the Ministry of Food Processing Industries (MoFPI), Ministry of Agriculture and Farmers Welfare, Agricultural and Processed Food Products Export Development Authority (APEDA) and Indian Chamber of Commerce (ICC) to organize the summit. U.S. Soybean Export Council was the principal sponsor of the summit.
India's Plant-Based Foods Industry: What The Future Holds
Maneka Gandhi (Member of Parliament), who graced the summit as one of the Guests of Honour, expressed that India's Plant-Based Foods Industry can succeed when every player is turning a profit.
To make this happen, it is important to enable as many people as possible to develop a taste for plant-based foods. She suggested that restaurants and caterers should be encouraged to include at least 1-2 plant-based food options in their menu.
Dr. Amar Patnaik (Member of Parliament), who also attended the summit as the Guest of Honour, said that plant-based industries play critical role in addressing pressing global challenges such as climate change and public health, as well as encourages innovation and economic growth.
India is one of the leading countries producing protein rich plants, and it has huge potential to play a leading role even in the global market, pointed out Mercy Epao, Jt. Secretary, Ministry of MSME.
She listed the various initiatives offered by the Ministry such as finance facilitation, Self-Reliant India (SRI) Fund, which MSMEs from the plant-based sector can also avail the benefits.
Jasmijn De Boo, CEO, ProVeg International, cited CMI research which projected that Indian plant-based dairy will reach Rs. 106 billion and plant-based eggs will reach Rs. 14 billion by 2030.
Creating opportunities for entrepreneurs
The summit gave companies producing plant-based foods the opportunity to pitch their brand to potential investors globally and secure funding through the "Pitch Perfect" Investors Show.
It helped companies showcase their plant-based products and network with key players in the industry, including potential investors and partners.
Additionally, PBFIA awarded individuals and companies for their outstanding contributions and achievements to the plant-based food industry.
What grabbed the attention of most people at the summit was the "The Live Culinary Show" by professional chefs who demonstrated innovative plant-based recipes.
Total Wellness is now just a click away.
Follow us on
window.addEventListener('load', (event) => {
// $(document).ready(function(){
$('#commentbtn').on("click",function(){
(function(d, s, id) { var js, fjs = d.getElementsByTagName(s)[0]; if (d.getElementById(id)) return; js = d.createElement(s); js.id = id; js.src = "//connect.facebook.net/en_US/sdk.js#xfbml=1&version=v2.3"; fjs.parentNode.insertBefore(js, fjs);}(document, 'script', 'facebook-jssdk'));
$(".cmntbox").toggle();
});
// });
});