SPORTS
IPL 2021: Yuzvendra Chahal says wife Dhanashree helped him after T20 World Cup snub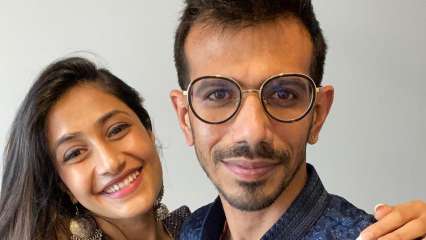 The Indian team management had a few days ago announced the squad for the ICC Men's T20 World Cup and surely, most of the expected names were part of the team. However, there were some who either made it to the reserved list or did not even make the cut.
Among them was spinner Yuzvendra Chahal, who was not included in the squad despite being one of the best spin bowlers in the limited-overs game. Chahal's omission had come as a surprise to many, but the bowler himself opened up on enduring a low patch for quite some time.
Chahal had himself knew that he was having a rough patch in international cricket before his dismal performances in the Indian leg of the Indian Premier League (IPL) 2021, which added fuel to the fire.
In the last 18 months, he picked just four wickets in seven games at an average of 47.80 and an economy of 8.26. However, the leggie still thanked his fans and loved ones for being with him in his low phase.
"I see people's messages, feels good to be loved. It's your closest ones that pick you up when you are down," Chahal said in his discussion with Aakash Chopra on his YouTube Channel.
The Haryana spinner added that the bad form of IPL was on his mind for a long time and during his low patch, he had conversations with his wife Dhanashree Verma.
He stated that his wife's motivating words comforted him and he said that sometimes bowlers don't get wickets if a batsman doesn't attack in T20 cricket.
"Bad form was playing on my mind a bit, especially after the IPL. I sat down with my wife Dhanashree who helped me. She told me that every day you won't take wickets, it's just a bad phase.
"I knew that I was bowling well but sometimes in T20 cricket, it's very hard to take wickets if a batsman doesn't attack. It affects you when you don't have wickets to show in the column," he added.
His last international performance was against Sri Lanka where he displayed a fine form in the ODIs but failed to showcase the same in the T20Is due to COVID-19 havoc in the Indian camp.