INDIA
'Is journalistic work a criminal activity?'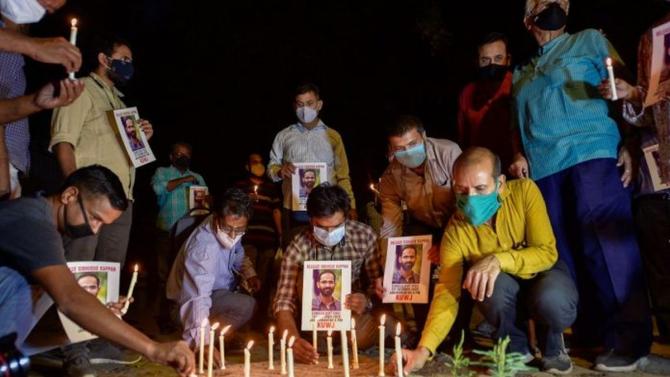 'The arrest of Kappan, the charge sheet and the way he is being treated show that they view journalism as a criminal activity.'
IMAGE: Members of the Kerala Union of Working Journalists take part in a candlelight vigil in New Delhi for jailed journalist Siddique Kappan's release. Photograph: PTI Photo
It has been a year since Siddique Kappan, a journalist from Kerala, has been languishing in a prison in Uttar Pradesh.
Kappan was travelling to Hathras to report the brutal rape of a Dalit girl, but he did not reach his destination.
The UP police arrested Kappan along with the three other young men, who were members of the Popular Front of India, a Muslim organisation based out of Kerala, in Mathura, and charged them under Section 17 of the dreaded Unlawful Activities (Prevention) Act (UAPA).
A journalist who was on his way to report a story suddenly became a terrorist!
The only journalistic organisation that has been fighting relentlessly for Kappan's release is the Kerala Union of Working Journalists.
"Till he got arrested that day, he was only a journalist, but once he was in the custody of the UP police, he became the most dreaded terrorist in the country," K P Reji, president, Kerala Union of Working Journalists, tells Rediff.com's Shobha Warrier.
The concluding segment of a two-part interview:
Is KUWJ hopeful of a positive result in Kappan's case?
Though the UP police and the local court have been totally against us, the Supreme Court remarked that we could approach the court any time.
It was only because a person like Kapil Sibal was representing us.
The fact that we could approach the Supreme Court any time is what gives us hope.
The UP police say they have given a 5,000 page charge sheet but except for the newspaper reports, we have not seen the charge sheet.
Although we had approached the lower court for the charge sheet, we are yet to get it.
Any idea what the police have written in those 5,000 pages?
From the reports that have appeared in the newspapers, we understand that they have included all the interviews and news stories Kappan had done so far as a journalist.
He has been working as a journalist for many years, and all the stories he has done so far have been used as evidence in a case.
Can anyone use the work of a journalist as evidence?
That's the most crucial part of the whole issue now.
When the interviews and stories written by a journalist as part of his work become evidence in a case, it is like journalistic work becoming a criminal activity.
That's why we have started a social media campaign, and the question we ask is, is journalistic work a criminal activity?
The arrest of Kappan, the charge sheet and the way he is being treated show that they view journalism as a criminal activity.
Will KUWJ be able to use this as a major point in the case?
That's what we are trying to do now.
The way Kappan was treated when he was ill was totally cruel and inhuman.
When we came to know that they had kept him chained to the hospital bed, we approached the court.
It was then that the Supreme Court intervened and ordered him to be shifted to Delhi for special treatment.
Even then the UP police tried their best not to obey the court orders.
Arnab Goswami also got arrested around the same time, but he got a lot of support from the national media, and he was out immediately.
Don't you feel Sidhique Kappan did not get any support from the national media? Only KUWJ is working for his release.
What you said is very true. Very strong voices came in support of Arnab Goswami, but the supporting voices for Kappan are very few and weak.
Other than KUWJ, nobody is working for him. Kappan did not get the kind of support that would have otherwise come from political circles in Kerala for a Malayali journalist.
Let alone a Malayali journalist, the kind of support a Malayali in trouble would have got, Kappan is not getting from Kerala. This is very disturbing.
IMAGE: KUWJ members stage a protest demanding Siddique Kappan's release. Photograph: Kind courtesy kuwj.org
Is it because of UAPA and the alleged PFI connection that even in Kerala, you do not hear a word of sympathy for him?
They are scared because the case is UAPA.
For example, when Rahul Gandhi came to Kerala, Kappan's wife wanted to meet him.
Rahul Gandhi is an MP from Kerala, and Kappan has been charged in UP where Priyanka is in charge of the Congress.
When we approached for an appointment for Kappan's wife with Rahul Gandhi, there was pressure on him from many quarters to not meet her.
They felt it was not advisable to meet the family of a person who was charged with UAPA.
Even though Rahul Gandhi was pressurised not to meet her, he met her.
Afterwards, the discussions on many Hindi channels were that he met the family of a terrorist in Kerala!
Rahul Gandhi had publicly said at Malappuram that the Congress would take up Kappan's case seriously, and he would give the responsibility to work for his release soon to Priyanka.
Maybe because the kind of discussions that took place in UP, we did not see active involvement from the Congress after that.
Perhaps they also might have felt that it would affect them adversely.
How does KUWJ see Kappan as a journalist and a person as you are the only journalistic body that is fighting for him?
Kappan has been an active member of our union for many years, and he is also the secretary of the Delhi unit.
A secretary is the one who takes care of the activities of the union.
Even though the working of the Delhi unit is affected now, we have not elected another secretary to show our support to him.
When we moved the petition to the Supreme Court, we even produced a letter written by the Azhimugham editor that he was going to Hathras for the paper, and that he got arrested on his way to do his work as a journalist.
For many years, he has been in the public space in Delhi working as a journalist. He was also a member of the Delhi Press Club.
It was not that he had a quiet unknown private life. Everybody knew what he was doing.
Till he went to Hathras, there were absolutely no allegations or discussions on his alleged terrorist connections.
Even in his hometown also, nobody talked about his connections to any of these terror organisations.
As far as we know, he has had no connections with any of the organisations which the UP police allege.
To our knowledge, he was only a journalist.
Till he got arrested that day, he was only a journalist, but once he was in the custody of the UP police, he became the most dreaded terrorist in the country.
This is how they changed the perception of a person.
Feature Presentation: Aslam Hunani/Rediff.com