LIFESTYLE
Janhvi Kapoor asks fan to wear a mask after he requested for a mask less photo – WATCH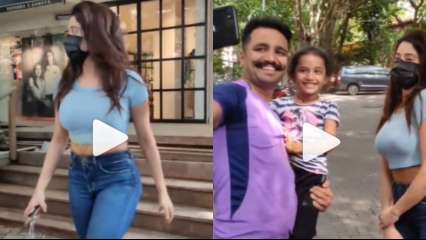 Janhvi Kapoor was adamant about not taking a selfie with a fan without her disguise on. The paparazzi caught the actor in Mumbai on Friday, clad in a blue crop top, denims, and a black mask, headed to her car. A fan approached her on the way and asked for a picture.
Janhvi complied, but she made sure to maintain social distance because the fan was not wearing a mask. Following the photo, a fan requested a photo of her sans her mask. Janhvi, on the other hand, declined his request. "Aapko bhi mask pehna chahiye (You should also wear a mask)," she said.
Watch the video here-
Recently when Jahnvi Kapoor left the gym to get into her car, she had a slight 'oops' moment. One of her shirt's buttons was undone, displaying her bra. Janhvi had an unintentional wardrobe malfunction that she was probably unaware of. However, the images have now gone viral on the internet after catching the attention of online users.
Several users immediately turned to the comments section after seeing the photos to point out that one of Janhvi's blouse buttons was undone. Janhvi was exiting one of the gyms she frequents after an exercise session. Her outfit consisted of a white shirt and greyish black pinstriped pants.
On the work front, Janhvi was most recently seen in the film 'Roohi', which came out earlier this year. 'Good Luck Jerry' is in the works for the actor. She was also scheduled to return to 'Dostana 2' before Dharma Productions revealed that the film's cast will be changed.