LIFESTYLE
Janmashtami 2021 Celebrations: Devotees In Mathura, ISKCON Temple Immerse In Festive Spirit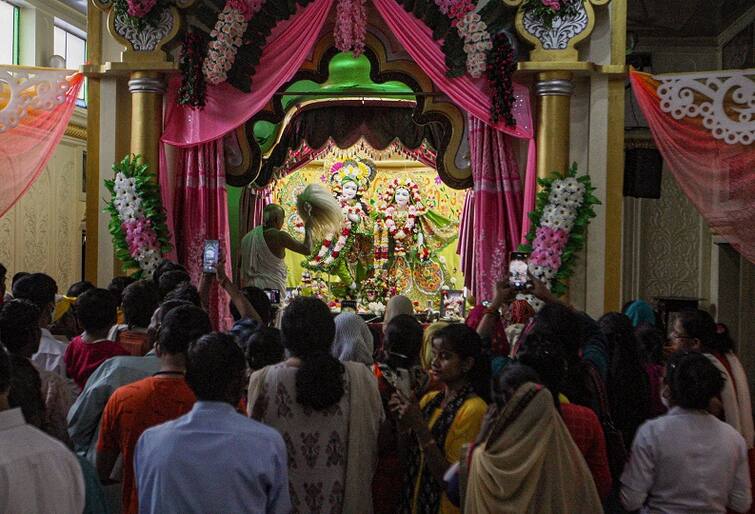 Krishna Janmashtami 2021: The birth of Lord Krishna is being celebrated across the country with devotees thronging Krishna Janmabhoomi Temple in Mathura on Monday. As per the Hindu calendar, Lord Krishna, an avatar of Lord Vishnu, was born on the eighth day of the month of Bhadra. It is mostly celebrated in the months of August or September as per the Gregorian calendar.
President Ram Nath Kovind and Prime Minister Narendra Modi and several leaders also extended wishes on the occasion of Krishna Janmashtami. President Kovind said Janmashtami is a chance to learn about Lord Krishna's biography and wished that the festival brings happiness, health, and prosperity to everyone's life.
 Celebrations galore at Lord Krishna's birthplace
Devotees are offering morning prayers on the auspicious occasion of Krishna Janmashtami. Kapil Sharma, secretary, Shri Krishna Janmasthan Sansthan told ANI, "Today, on the occasion of Krishna Janmashtami, we have prepared a special dress for Lord Krishna. The 'poshak' (dress) is indeed beautiful and looks divine. It is made of silk and is well decorated."
ALSO READ: Janmashtami 2021: Chanting These 108 Names Of Shree Krishna Helps You Attain 'Moksha'
A special 'Sri Hari Chandrika Poshaak' (costume) has been knitted using silk to adorn Lord Krishna on the occasion at Krishna Janmasthan Temple in Mathura, as per the news agency ANI. 
Iskcon temples across the country have decorated temples and observing the rituals to mark the occasion. As a result of the ongoing pandemic, devotees are seen wearing masks and sanitizing their hands in the temple premises.
Few devotees visited Thiruvananthapuram's Padmanabhaswamy Temple on Krishna Jayanti due to the Covid-19 surge in the state, as per the agency.
At an Isckon temple, conch shells were being blown and drums were being played.  Temple priests and devotees were seen performing the morning 'aarti' and offered prayers to Lord Krishna at Krishna Janmasthan Temple in Mathura.
While temples in Delhi barred devotees and said action to be taken against those who violate rules, as per the news agency ANI.
Devotees in Mathura took out a procession to commemorate the birth anniversary of Lord Krishna. 
Meanwhile visuals from Birla Temple and Iskcon temple in Noida shown devotees immersed in the festival spirit. Last year, temples remained shut to minimize the spread of infection. The celebrations on Monday started with an aarti early in the morning with people fasting and singing 'bhajans' (devotional hymns).
Men, women, and children were seen standing in queues offerings prayers.