INDIA
Jets' Aaron Rodgers remains focused on getting healthy; no timeline on a possible NFL return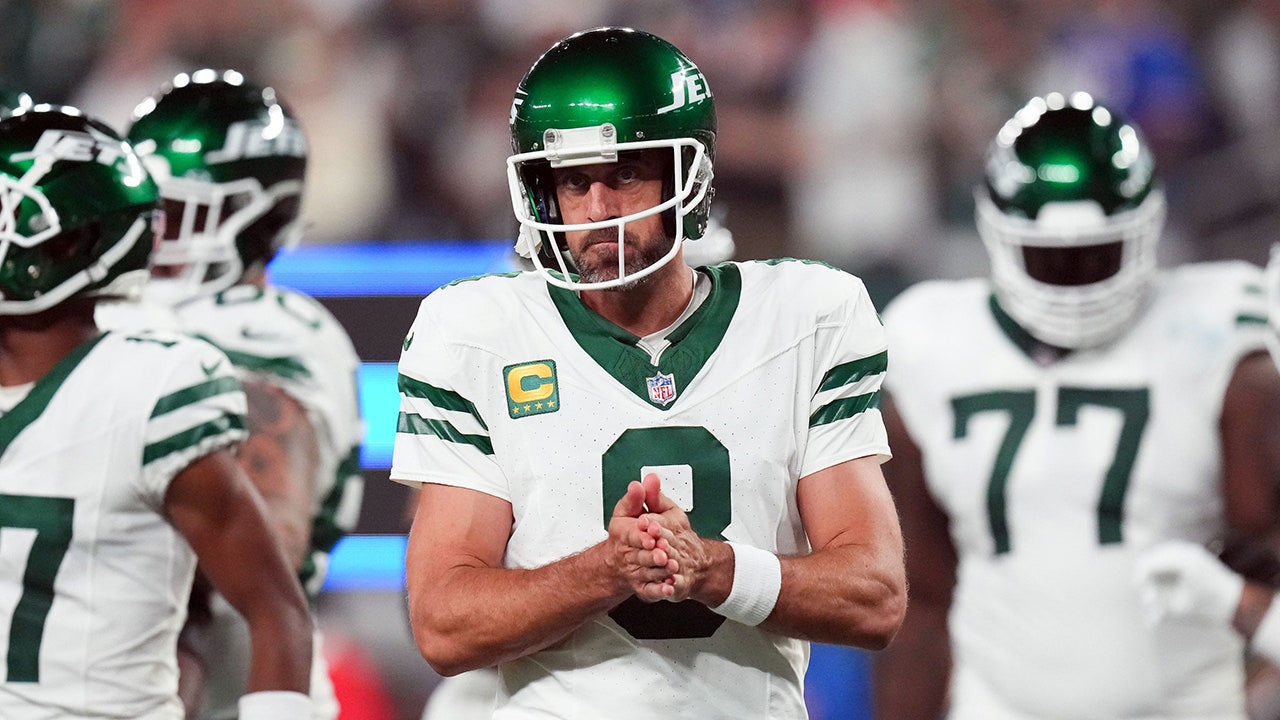 Four-time NFL MVP Aaron Rodgers' first regular-season start with the New York Jets came to a halt when he tore his Achilles in Week 1. 
The star quarterback has since undergone surgery and has started his rehab.
"It's like the reverse darkness retreat," Rodgers joked during an appearance Friday on "The Pat McAfee Show." "Nothing around except for light all the time."
CLICK HERE FOR MORE SPORTS COVERAGE ON FOXNEWS.COM
Rodgers was injured on his fourth snap of a Sept. 11 game against the Buffalo Bills.
Last week, Rodgers made his regular appearance on the show and said he'd use doubters as a source of motivation.
AARON RODGERS REVEALS HILARIOUS MESSAGE HE SENT PACKERS' JORDAN LOVE AFTER GREEN BAY BEAT BEARS
The injury prompted conversation about whether Rodgers would retire. On Friday, he once again indicated he wants to continue to play. A recent report even surfaced suggesting the star quarterback could return later this season due to the special type of procedure doctors performed.
"I don't want to get caught in the timeline," Rodgers said. "I just want to get healthy, honestly — mentally and physically, honestly. But I'm going to do everything I can rehab-wise to put myself in a position to be ready to play football again at some point. That's the goal. I mean, obviously, when this happened, there's a lot of thoughts about, like, is that it? Cash it in, you're done?
"I just don't feel like I am. So, I'm going to put myself in a position to be able to play again and then see when that is."
Rodgers said he has visualized running out of the tunnel at the stadium "to do exactly what I love."
The Jets struggled in their first full game without Rodgers, losing by 20 points to the Dallas Cowboys last Sunday.
"It's been tough," Rodgers said during a video call in the middle of a rehab session. "Every single day, it's tough not to be with the guys, even when they check in or I hear from coaches or whatever. It's great, but it's also disappointing not to be out there. I've been grinding on the rehab and just looking forward to getting back out to Jersey at some point."
Earlier Friday, Jets coach Robert Saleh said the team was hoping Rodgers might return to the team.
"Yeah, I'd like to be able to walk," Rodgers said. "So, whenever I can walk, I'll probably be back in Jersey. I miss the guys."
CLICK HERE TO GET THE FOX NEWS APP
Rodgers is going through his first phase of recovery at his California home.
"I'm well taken care of," Rodgers said. "I usually like to be the one kind of taking care of people. This is the time for me to kind of sit and receive and try to find some joy in the process. It's tough, though. It's not easy."
The Associated Press contributed to this report.