WORLD
Jimmy Carter's niece says former president still has 'some time in him'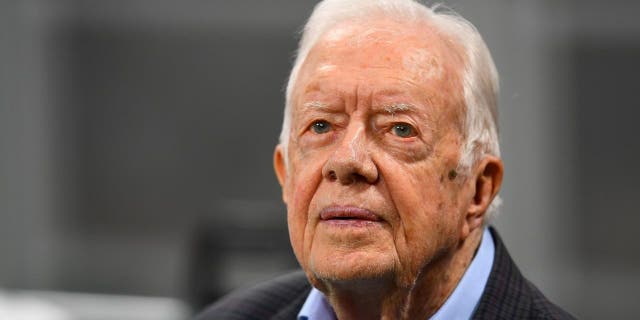 Former President Jimmy Carter had a "good day" on Sunday and may have some time left, according to his niece Leanne Smith.
Smith said Carter is still talking and eating and that he requested she bring him soup for dinner.
"He had a good day," Smith told FOX News Digital. "In fact, about 30 minutes ago, I got a text. They knew I made broccoli and cheese soup, so before I came to meet with you, I dropped broccoli and cheese soup off to be delivered to the house, because he's eating and talking … so it is amazing. He's still got some time in him. I just feel like it."
Earlier this month, Carter had decided to spend his remaining time at home receiving hospice care instead of receiving additional medical intervention.
FORMER PRESIDENT JIMMY CARTER TO SPEND 'REMAINING TIME' AT HOME RECEIVING HOSPICE CARE
Carter, 98, was the 39th president of the United States.
He was diagnosed with cancer in early 2015 after undergoing liver surgery, and his cancer would later spread to other parts of his body. Carter told his Sunday school class in December of that year that he was no longer suffering from cancer.
Sunday school at Maranatha Baptist Church in Plains, Georgia, where Carter used to teach, was held as usual on Sunday in which one of his nieces, Kim Fuller, spoke about being prepared to answer Jesus' call to go and do good things, church member Suzanne Smith told FOX News Digital.
"One thing that any person that has come to this church in the last decades will tell you is that they have felt warmly greeted, they have felt welcome here," she said. "And that's a message that the church has, that every person who is working here is welcome here, no matter your background, and, and that's the lesson that Jimmy Carter has taught as well, that he was really a president for everyone." 
SUNDAY SCHOOL, CHURCH SERVICES PLAY A BIG PART IN FORMER PRESIDENT JIMMY CARTER'S LIFE
"People around the world have identified with him and with his message, that sense of humility, that sense of humanity, and that that sense of welcoming and making you feel like you belong and that's something that Jimmy Carter is known for, and certainly something this church is known for. And I'm proud of that for this church," Suzanne Smith continued.
She said Fuller spoke during last week's sermon, shortly following the news Carter was moving to hospice care, about her uncle's legacy. According to Suzanne Smith, Fuller said Carter's legacy was felt around the world. 
"He's helped eradicate guinea worm, he's helped build houses for people around the world. He's, you know, that the Carter Center in the work of the church is something that will be far beyond what's happening here in Plains and people around the world," Suzanne Smith said.
CLICK HERE TO GET THE FOX NEWS APP  
"Honestly, it felt like God was saying 'I got you. I've got President Carter, I've got Rosalynn. Everyone's gonna gonna be okay.' We're gonna figure this out. And, you know, President Carter is a man of faith, the Bible of all else," she continued. "And so, his legacy will be that in addition to all the things that I've talked about, that was done pretty well, but his legacy will be, stick to your faith from the day you start to the day you manage and you're going to be okay. And that's what I have tried to come from now last week."