LIFESTYLE
'KBC 13': Food delivery boy Akash Waghmare takes home Rs 3.2 lakhs, fails to answer THIS question for Rs 25 lakhs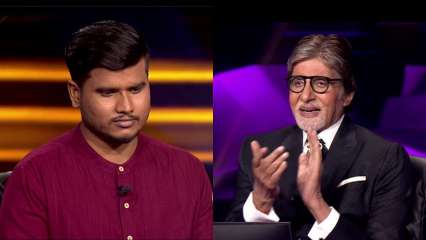 Today's episode of 'Kaun Banega Crorepati 13' started with the rollover contestant Akash Waghmare, a food delivery person hailing from Pune who lives in an under-construction building with his family for the past year. He shared that he earns around Rs 8,000 a month.
Akash works during the day as a delivery guy and at night studies for competitive exams to become a police sub-inspector. He said that winning a good amount on 'KBC 13' would mean a lot to him as he could provide his parents with a better life and a house.
He shared that his father worked as a watchman in a society and their family lived in a room inside the complex. They were thrown out of their house during the COVID-19 pandemic last year as his father had asthma. They moved to an under-construction site which is owned by his mother's employers. The 27-year-old said that despite all of this they were happy to be together.
Akash also wished he could also have a takeout meal, have the food delivered to him at his doorsteps and tip the delivery personnel himself. But he can't afford it and has to manage with whatever is made at home.
Talking about the irony of life, Amitabh said, "Ladies and gentlemen, this is an irony that Akash who delivers food to everyone, cannot afford his own favourite food which is Biryani. And today, I would like to tell you that one delivery personnel would do this for you. Today's dinner will be delivered to you."
Amitabh himself collects the parcel and turns delivery personnel for the contestant Akash Waghmare and shares, "I am the delivery personnel for you. And here is today's food for you. Your wish has been fulfilled by your delivery personnel."
An overjoyed Akash couldn't believe this. "This is the biggest honour for me. In my life, I have never been respected so much. Thank you so much, Sir," he said.
His parents, who accompanied him to the show, expressed their sentiments as well. His mother conveyed a very sweet and heartfelt message to Amitabh Bachchan. She said: "My son is sitting in front of you and just that made me a 'crorepati'."
Using all his lifelines, Akash managed to win Rs 12.5 lakhs. He then went on answer the question for Rs 25 lakhs. Here is the question:
Q. The spacecraft Hope became the first probe from the middle east to enter the orbit of Mars. Which country's mission was Hope?
The four options were: A) Iran, B) Saudi Arabia, C) United Arab Emirates, D) Qatar
The correct answer was C) United Arab Emirates. Akash, who didn't have any lifelines left with him, felt "daring" and went with B), which was the wrong answer. He lost and went home with only Rs 3.2 lakhs. He said that his largest savings have been Rs 25,000 and even winning Rs 3.2 lakhs is a big deal for his family.