LIFESTYLE
'KBC 13': Rural school teacher Pranshu Tripathi wins Rs 50 lakh, fails to answer THIS question for Rs 1 crore, can you?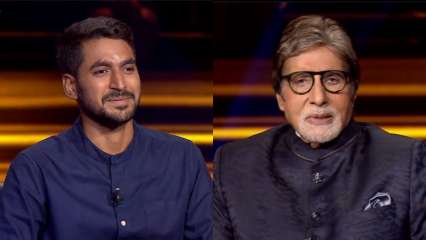 Today's contestant on 'Kaun Banega Crorepati 13' was rollover contestant Pranshu Tripathi who hails from U.P. He works as a teacher in his Umaria village and teaches maths. Pranshu is a big fan of cricket and plays the sport in all his free time. In fact, playing cricket is satisfaction for him, he told Amitabh Bachchan.
Pranshu's mother jokingly said she is tired of her son playing cricket all the time and wished he got a job that will provide money in the future. Pranshu also complimented Big B's suit and said he has a similar one that he wears on functions.
Pranshu told Big B that cricket is like a drug to him and that he is a teacher by profession bu a cricketer by heart. The youngster said he is a big Rohit Sharma fan and considered him to be a god. Moreover, he carried a photo of the famous cricketer in his wallet at all times. 
When Bachchan asked Pranshu about his girlfriend, he said he has one but refused to reveal his name on national television. He said that the girl, who Big B named 'Anamika' was a junior in his college and he impressed her using his emotions.
He shared that he and his mother sat on a plane for the first time and while his mother was very excited, he was extremely scared. While narrating his story, Pranshu said that he earns a meagre salary of Rs 5000 per month due to fewer classes being conducted because of the COVID-19 pandemic.
Later, in a major surprise for Pranshu, the makers of 'KBC 13' connected Rohit Sharma via video call. The contestant got was speechless after seeing the cricketer and held back his tears. When Big B asked him to talk, Pranshu said how can one talk in front of god. In a sweet gesture, Rohit also gifted his cricket gloves to Pranshu.
Pranshu, who is also preparing for the civil services exams, swiftly answered all questions using his vast knowledge. He used his last two lifelines on question number 14 and won Rs 50 lakh. However, he failed to answer the 15th question for Rs 1 crore which was:
Q. The royal ship, Ganj-i-Sawai, which was looted by the British pirate Henry Every, was the property of which Indian ruler?
The four options were: A) Tipu Sultan, B) Haider Ali, C) Aurangzeb and D) Baji Rao II.
The correct answer is C) Aurangzeb. Not wanting to take any risks, Pranshu quit the game and walked away with Rs 50 lakh.