LATEST
KBC 13 September 13 Highlights: Prasad Subhash Menkudale Takes Home Only Rs 10,000, Can You Answer The Question That He Failed To?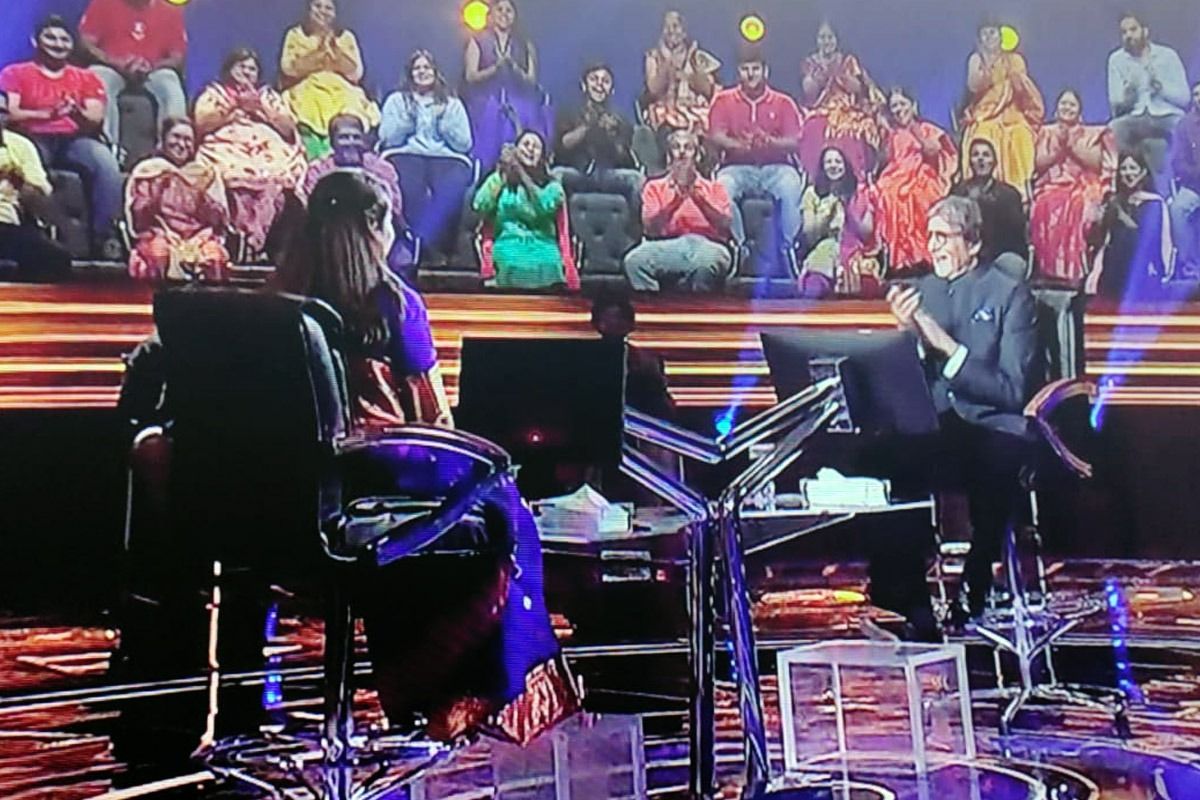 KBC 13 September 13 Highlights: Tonight's episode begins with host Amitabh Bachchan and roll-over contestant Sanchali Chakraborty. She has so far won Rs She is a pediatrician at a government hospital in Kolkata.Also Read – Deepika Padukone Opens Up On Battling Depression On KBC 13: 'I Didn't Feel Like Living Anymore, Like I Had No Purpose'
Check Out Tonight's Toughest Questions:
Q. Which world leader was posthumously awarded the Gandhi Peace Prize 2020? Also Read – KBC 13, September 10 Episode: Deepika Padukone-Farah Khan Make Amitabh Bachchan Laugh in Shaandaar Shukravaar Episode
A. Sheikh Mujibar Rehman Also Read – KBC 13: Pawandeep Rajan, Arunita Kanjilal And Other Top 6 Indian Idol 12 Finalists Perform Ganesh Aarti -Watch
Q. According to Hindu mythology, what is the name of the brother of Aruna, Suryadeva's charioteer?
A. Garuda
Q. Who was the producer, director, and story writer of the 1969 film 'Saath Hindustani'?
A. Khwaja Ahmed Abbas
Q. In which year was a Nobel Prize first awarded to a woman?
A. 1901
Sanchali quits the show and takes homes Rs 6,40,000. Big B rolled out the Triple Test and Deepti Tupe takes the hot seat. Amitabh Bachchan compliments Deepti as she comes wearing a gorgeous purple saree and a nath. She then blushes.
She has been working in the tourism sector for almost 15 years. Her job is to understand the travel needs of her clients and assist them. During the lockdown, she taught her sons' basic housework like cooking, washing, and arranging utensils in the rack, chopping vegetables. She aspires to win the prize money of one crore. She would like to save the money she won on KBC to secure the future of her children and prepare them for their careers.
Q. 'Spin', 'rinse', and 'dry' are all words associated with which household device?
A. Washing Machine
Q. Which of these is an online portal to facilitate the implementation and monitoring of India's Covid-19 vaccination drive?
A. CoWin
Q. Which fruit is primarily used in making the tasty drink of Sol kadhi?
A. Kokum
Q. Who is the sage greeting Lord Vishnu here? (Visual question)
A. Narada
Q. Deccan and Tibetan are names of which type of landform?
A. Plateaus
Q. What kind of technique do you see on this handkerchief? (Visual question)
A. Bandhej
She chooses to flip the question and the question pops out of her chosen category 'My city, My state'.
Q. The Servants of India Society, formed in Pune, which trained young Indians for public service was established by which nationalist leader?
A. Gopal Krishna Gokhale
She uses another lifeline '50:50′.
Q. Which place is served by the Agatti Airport?
A. Lakshadweep
Q. Who hassung this song? (audio plays 'Pareshan starring Parineeti Chopra')
A. Shalmali Kholgade
Q. 'Kala aur Boodha Chand', 'Tarapath'and 'Chidambara' are works of which author?
A. Sumitranandan Pant
Q. Normally, with which of these does every sitting of the Indian Parliament start?
A. Question Hour
Deepti Tope quits the show and takes home Rs 1,60,000.
Big B rolled out the Triple Test and Prasad Subhash Menkudale takes the hot seat. He is a Deputy Commissioner in the Income Tax Department from Maharashtra. He is married and his wife is a Deputy Collector. His job is to ensure the processing of returns, pre-search inquiries as well as entering orders of their superiors.
Q. Which of these idioms means 'to fool or cheat someone'?
A. Aankhon Mein Dhool Jhokna
Q. Which one letter usually precedes several products made by Apple Inc?
A. i 
Q. Which of these Indian surnames literally means 'chief of a land or country'?
A. Deshmukh
His parents were teachers in his school, so there has always been discipline at his home. As a result, he enjoyed studying and always excelled in academics. Prasad offers Amitabh Bachchan Modak to mark the occasion of Ganesh Chaturthi.
Q. In which of these sports can players be revived after they have been declared 'dead' or 'out'?
A. Kabaddi
Q. On which actress is this song picturised? (song plays Param Sundari from Mimi)
A. Kriti Sanon
Q. In which of these countries are you likely to witness this phenomenon in the sky? (visual question)
A. Norway
Q. Tales about whose previous lives, in both human and animal form, are called Jatakas?
A. Gautam Buddha
Q. In June 2021, who became the youngest player, male or female, to represent India in all three formats of international cricket?
A. Shafali Verma
Prasad uses the lifeline 'flip the question' and another question pops up in the chosen category 'Geography'.
Q. Which of these is the world's highest waterfall?
A. Angel Falls, South America
Prasad answers the question incorrectly and takes home only Rs 10,000.
$(document).ready(function(){
$('#commentbtn').on("click",function(){
(function(d, s, id) {
var js, fjs = d.getElementsByTagName(s)[0];
if (d.getElementById(id)) return;
js = d.createElement(s); js.id = id;
js.src = "//connect.facebook.net/en_US/all.js#xfbml=1&appId=178196885542208";
fjs.parentNode.insertBefore(js, fjs);
}(document, 'script', 'facebook-jssdk'));
$(".cmntbox").toggle();
});
});