LIFESTYLE
This Kozhikode house with minimal yet spacious interiors has been built on a unique concept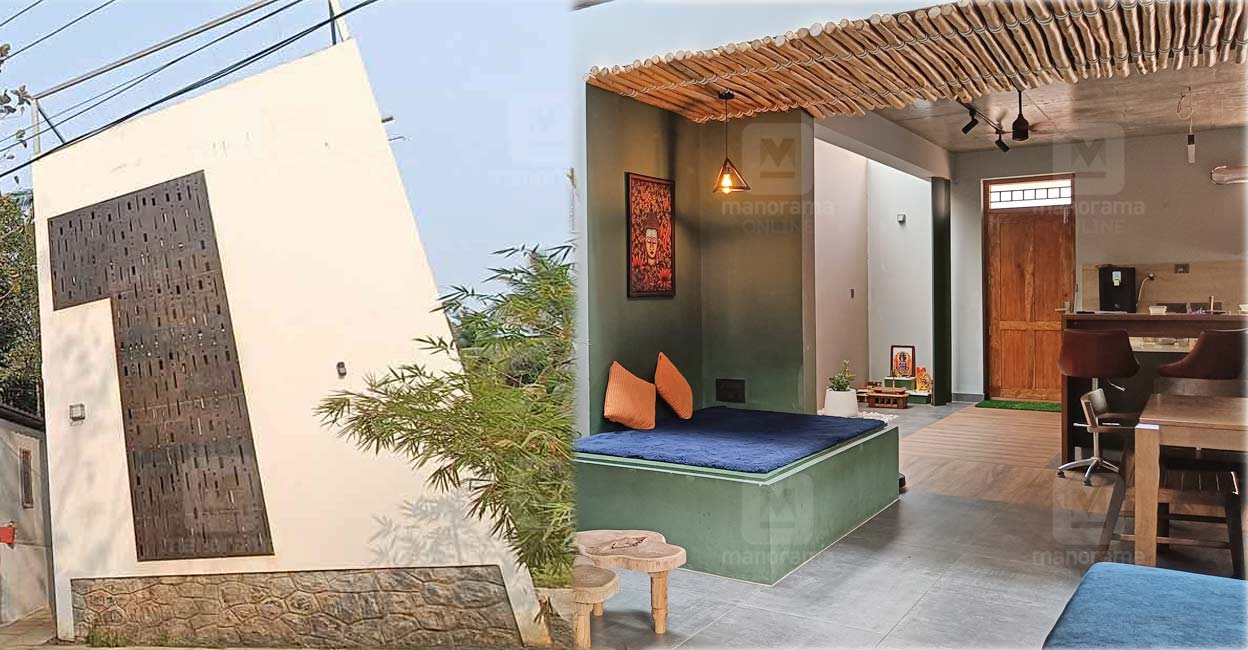 Noted ad film maker Prithviraj and his wife, Supriya, who is a doctor are thrilled to show around their brand new house at the quaint countryside off Cheruvatta in Kozhikode, Kerala. Interestingly, the owners had a unique concept about building an abode where they could relax after a hectic day. Usually, Keralites prefer elaborate elevations with attractive roofing and designer walls. However, Prithviraj and his wife believe that the real soul of a house is in the interiors.
The elevation runs parallel to the five cents rectangular plot that has a width of just 8 metres. The prominent box feature sports a beautiful jali window with CNC cuttings. Interestingly, there is no sit out, which is a prominent feature in houses in Kerala, in this house.
<!– –>
<!–


–>
The entrance door opens to a vast and spacious open hall. The interiors spaces too have the same width of the elevation. The ground floor has living and dining areas, kitchen, pooja space and a bedroom. Meanwhile, there are two bedrooms and an upper living area on the upper floor. Besides, there is a play area and a balcony too here. The house has been designed in the concept of a growing abode.
Prithviraj says that some of their friends and acquaintances had made fun of their unique concept while the construction was progressing. However, they were in for a surprise when they saw the spectacular interiors on the day of the housewarming ritual. The owners believe that a house is a special place where they live and not an object to be flaunted. That is one of the reasons why they concentrated on making the interiors beautiful and space efficient instead of embellishing the exteriors with gimmicky designer elements.
<!– –>
<!–


–>
The interiors have been furnished in the minimal style to make maintenance easier. The double height skylight ceiling in the centre of the open hall brings in natural sunshine and ensures ventilation too. The hot air would be pushed out while letting in cool breeze to keep the interiors comfortable.
The island kitchen is perfect for a modern nuclear family. Interestingly, there is no work area to dump utensils and other appliances. Lots of concealed storage area have been included in the kitchen. Meanwhile, the counter top has been paved with nano white. A quaint breakfast counter and high chairs complete the kitchen area. The cooking area, sink and the bridge have been arranged as per the concept of 'work triangle to ensure space efficiency and easy maintenance.
<!– –>
<!–


–>
As the interiors are designed in the same width of the structure, the bedrooms are extremely spacious. The backside of the storage unit acts as the head side board. Meanwhile, the glass bathroom walls are an interesting feature.
<!– –>
<!–


–>
The mini robot cleaner, that charges itself and cleans the floor in a jiffy, is a spectacular item. The house is named 'La Tiera', a Spanish word which means 'earth'.
Project Facts
Location – Cheruvatta, Calicut
Plot – 5 cents
Owner – Prithviraj and Supriya