WORLD
La Palma Volcano Is Still Spewing Lava, Emitting Ash Clouds On Spain Island | See Photos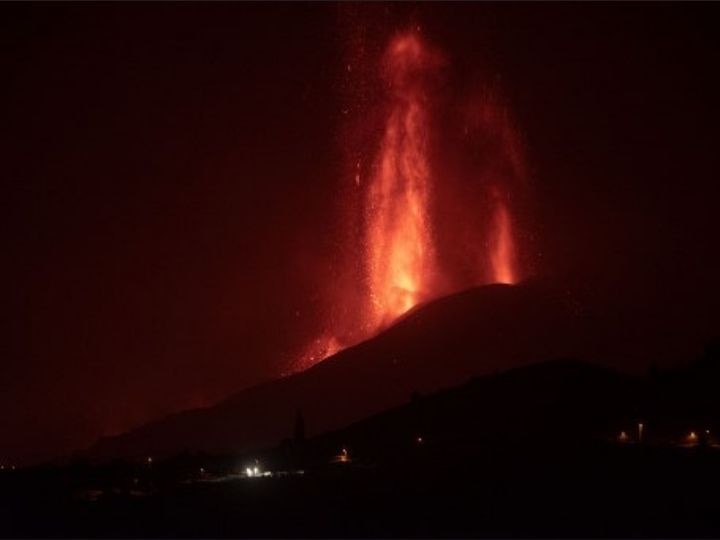 It has been a week since the Cumbre Vieja volcano on Spain's Atlantic Ocean island of La Palma began erupting on September 19. After destroying hundreds of houses and forcing the evacuation of nearly 6,000 people, the volcano eruption entered a new explosive phase last week as the national Geographical and Mining Institute said its drones showed the volcano's cone had broken, news agency Reuters reported.
La Palma is one of the eight volcanic islands in Spain's Canary Islands archipelago off Africa's western coast. The island has a population of 85,000. It last saw an eruption of the volcano in 1971.
According to media reports, the Canary Islands Volcanology Institute reported the initial eruption near the southern end of the island shortly after 3 pm on September 19. Huge red plumes topped with black-and-white smoke could be seen soon after.
There had been an alert as the island had experienced low-intensity earthquakes and there had been the accumulation of molten lava below the surface of the Cumbre Vieja volcanic ridge.  
The could be still seen spewing lava and emitting ash clouds as people used umbrellas to protect themselves from the volcanic ash, Reuters reported.
Its drone footage showed red hot lava flowing down the slopes of the crater like a rapid river — and homes, land and buildings getting engulfed by a black mass of older, slower-moving lava.
The village church in Todoque was destroyed by the lava Sunday afternoon.
The report said the La Palma airport reopened on Sunday, though it was all quiet as the boards showed only cancelled flights.
Quoting experts, the report said there were two active lava flows, one fast-moving flow to the north and a slower one to the south.
Look at the images that tell the story of the devastation.