SPORTS
Max Holloway knows what you're thinking, as he promises 'to be here for a while' in UFC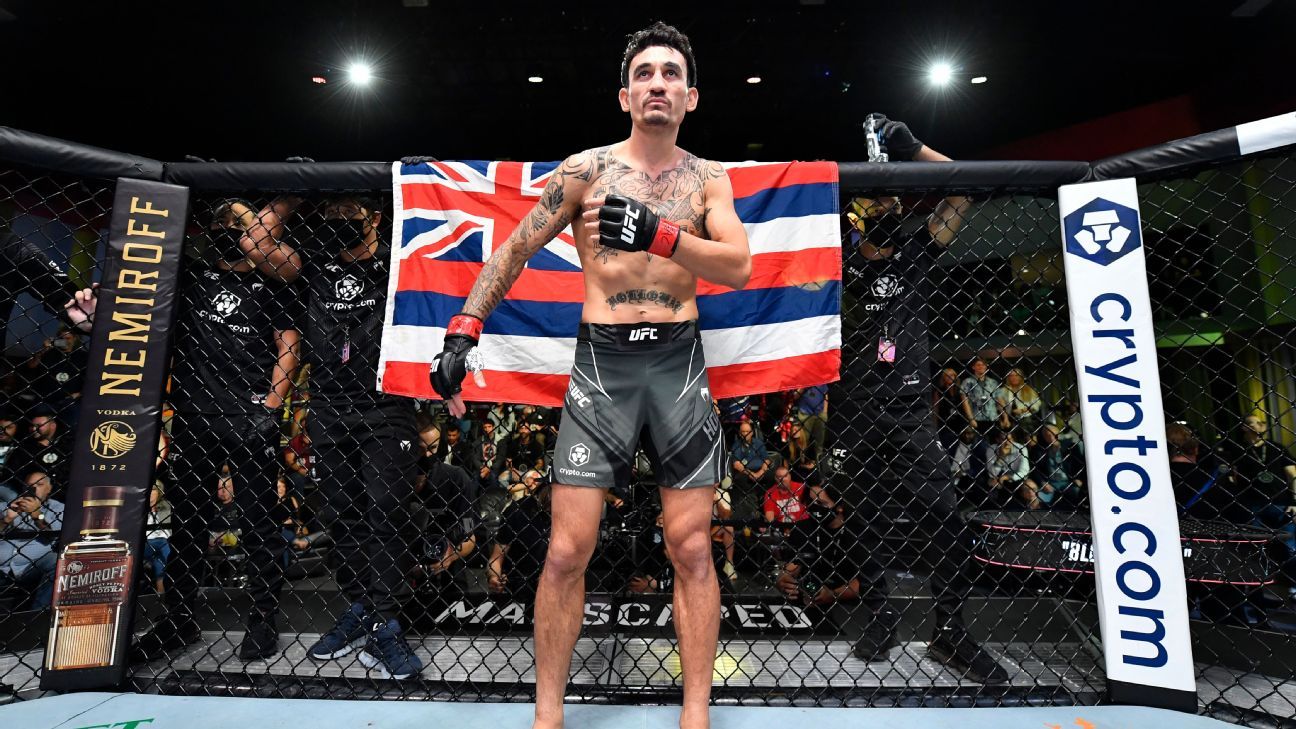 Max Holloway still believes he's a better mixed martial artist than Alexander Volkanovski.
That's a pretty simple, straightforward statement, but it answers the potentially difficult question facing Holloway. He is only 31 years old and undoubtedly one of the top featherweights in the world. But he's also 0-3 in UFC title fights to the current champion, Volkanovski, and has absorbed over 2,000 strikes in his career.
It's not an unfair question for Holloway right now: What is he still trying to accomplish? And depending on whatever that answer is — should he even still be fighting?
"I do believe I'm a better fighter than Alex Volkanovski," Holloway told ESPN. "If I didn't believe I was a better fighter than him, then why am I fighting in the same weight class as the guy? Once you start to accept, 'This guy might be better than me,' you don't belong and you should retire. Guys don't understand that. A lot of people are OK with just being OK.
"If I didn't think I could still win, what the hell am I doing? I would have gone to another weight class. I would have retired — but I know I'm there."
It's the only mindset one would want from Holloway (23-7), who returns from a nine-month layoff to face Arnold Allen (19-1) in the main event of UFC Fight Night on Saturday in Kansas City, Missouri. But of course, the right mindset is only worth so much in a sport that places your long-term health on the line. And frankly, there's a decent amount of concern following Holloway into this next fight.
Holloway fought Volkanovski three times from 2019 to 2022, with all three fights going to a decision. In all, he only won three of those 15 rounds on the judges' scorecards — and perhaps more notably, he lost each of the final eight rounds. Their trilogy bout in July can't be described as competitive, as Volkanovski dominated all five rounds and even taunted Holloway along the way.
Dropping three fights to arguably the No. 1 pound-for-pound fighter in the world is not cause for alarm, but there are additional factors to consider. For one, it's hard to envision the UFC ever booking a fourth between them, especially after the way the last one went. This means as long as Volkanovski is the champ, Holloway's path to a title is closed off.
Holloway, however, doesn't believe that's the case — and thinks the UFC wouldn't have even booked him against Allen, who is ranked No. 4 in the division, if it had already decided that.
"Never say never," Holloway said. "A lot of people are like, 'It's hard to get a fourth with him and this and that.' I'm like, 'You can tell me whatever, but I'm not even supposed to be here, you know? I'm not supposed to be standing in front of you. I was never supposed to be the UFC champ at any point.
"People always say, 'That guy is never going to fight that guy,' and then boom. One fight happens. You say a few words. Something changes. MMA is a very catch-fire sport. If you can just ignite it, you can start a wildfire, you know? The main thing with me is I've got to do what I can control."
Setting aside how likely or unlikely a fourth Volkanovski fight might be, there are also business ramifications to Holloway's situation. Standard UFC contracts compensate champions much higher than non-champions, which can be a tough pill to swallow for popular athletes who grew accustomed to certain figures.
Holloway, who competed as a champion on six consecutive UFC pay-per-events from 2017 to 2019, gave his reassurance he and UFC chief business officer Hunter Campbell ironed that out.
"It was hard, you know, but I've got nothing but love for my guy, Hunter," Holloway said. "They know how much of a business guy I am, and they know they can trust us. So, business is booming, it is what it is, and yeah, I don't got the belt, but I'm one of those guys they can put their trust in me on cable TV events or pay-per-view. Business is good when I get to go out there and fight."
On the one hand, anyone can look at Holloway's circumstances and say that everything is fine. Since 2019, he has only lost to two different opponents: Volkanovski and Dustin Poirier, still the No. 2-ranked lightweight in the UFC. He is just over two years removed from one of the better performances in UFC history, a five-round win over Calvin Kattar on an ABC network card in 2021.
But on the other hand, it's easy to see how his back is against the wall. Yes, he's only 31, but that includes 11 very active years in the UFC. He not only lost three times to Volkanovski, but he appeared to gradually lose more and more competitive ground to the Aussie as their rivalry progressed. A lot must go right for him to hold a championship again.
It's worth putting it out there — Holloway isn't wrong about a potential fourth fight. This is a sport in which you never want to say never. Stranger things have happened in MMA, than a talented fan favorite like Holloway getting an unlikely fourth crack at a dominant champion. It's hard to see it right now, but things can change quickly in this sport.
That only really happens, however, with iconic performances. Since Holloway lost to Volkanovski for the third time last July, he's been virtually silent. On Saturday, he'll need to be very loud once again.
"I need to remind everybody that we still here," Holloway said. "And we're going to be here for a while."