INDIA
Mehbooba Mufti, other PDP leaders under house arrest on Article 370 abrogation anniversary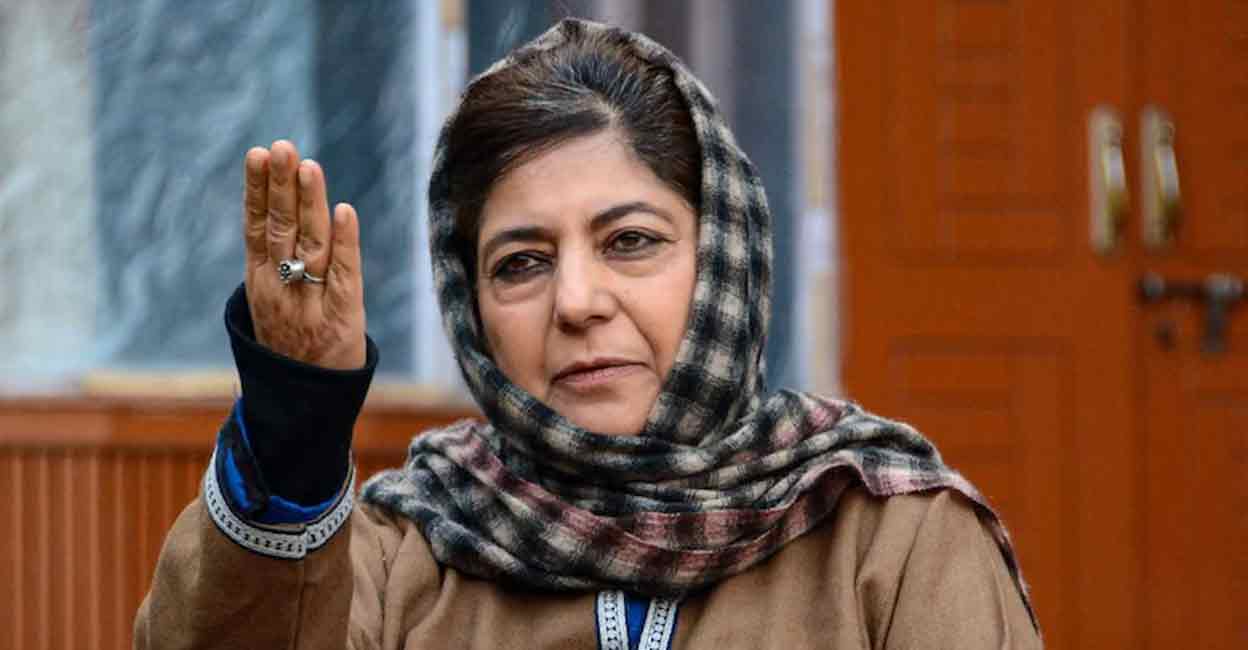 Srinagar: The Peoples Democratic Party (PDP) chief Mehbooba Mufti on Saturday claimed that she and leaders of her party were being detained ahead of the fourth anniversary of the abrogation of Article 370.
"I've been put under house arrest along with other senior PDP leaders today. This comes after a midnight crackdown where scores of my party men are illegally detained in police stations. GOIs false claims about normalcy to the SC stands exposed by theirs actions driven by paranoia," she posted on social media platform X, formerly known as Twitter. 
"On one hand, giant hoardings calling upon Kashmiris to 'celebrate' the illegal abrogation of Article 370 have been put up across Srinagar. Whereas brute force is being used to choke the actual sentiment of the people. Hope the Hon'ble SC takes cognisance of these developments at a time when Article 370 has come up for hearing," she said.
The PDP on Friday said the Srinagar administration has denied the party permission to hold an event on the fourth anniversary of the abrogation of Article 370.
The Centre on August 5, 2019, had revoked Article 370, which gave special status to the erstwhile state of Jammu and Kashmir, and bifurcated it into union territories of Jammu and Kashmir and Ladakh.
"Why is @JmuKmrPolice detaining PDP leaders on the eve of 5th August? Arif Laigroo has been taken by the police in this video," Mehbooba said in a post as she posted the video which purportedly shows a PDP leader being taken away in a police vehicle.
For the event, the PDP had sought permission to hold a seminar or discussion with the general public on Saturday on the abrogation of Articles 370 and Article 35A.
The PDP had earlier said it had invited like-minded parties from Kashmir for the programme that was to be held at the Sher-e-Kashmir Park near the PDP headquarters here.
"Our representative was told around 5 PM on 4th August 2023 that the sought permission is declined without assigning any reason," a PDP spokesman said.
He said while the PDP was denied the permission, a request by BJP to hold an event at Jawahar Nagar Park and later a rally from Nehru Park to the SKICC to "celebrate" the abrogation of the two Articles has been allowed.
"The dual and dubious approach of the administration is strongly condemned by us and this repeatedly vindicates our stand the administration and country both are run not as per rules or constitution, but by the political agenda set by BJP," the spokesman said.
Mehbooba also alleged that the BJP government has given a free run to carry out the "tamasha" of celebrating the "illegal" abrogation of Article 370, and all this is being done to "hoodwink" the public opinion in the country.
"Just goes on to expose the facade of normalcy – a fake narrative to justify their illegal actions," she said.
(With PTI inputs.)