BUSINESS
Minister visits Tilal Al Irfan's Sales & Experience Centre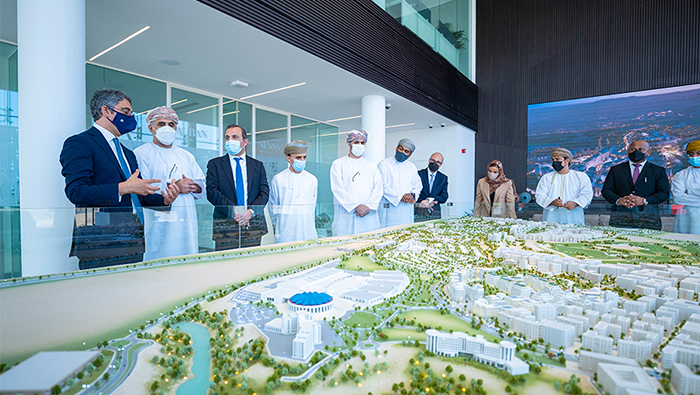 Muscat: Oman's Minister of Housing and Urban Planning, Dr Khalfan bin Said Al Shuaili, made a visit to Tilal Al Irfan's Sales & Experience Centre, the flagship building which will be the first to open at the Sultanate's 'City of the Future'. 
Oman's first truly smart city, Tilal Al Irfan is Phase one of a sustainable, integrated and dynamic urban environment for work, leisure and family life and it will be a milestone in realising the strategic aims of Oman Vision 2040.
A thriving commercial as well as residential destination, it will be home to 50,000 residents living in 11,000 contemporary homes and apartments. Services and amenities will include a business park, education facilities, healthcare and community recreation centres, a central market town square and an entertainment and hospitality precinct.
"I was delighted to share with the minister the extensive progress that has been made and discuss the critical role that urban planning and smart cities will play in powering a new chapter of sustainable economic growth in Oman," said Hawazen Esber, CEO of Majid Al Futtaim Communities.
"We agreed that the City of the Future will be integral to Oman Vision 2040; a future where long-term growth is secured through a diverse, knowledge-based economy. We also understand how essential it is to create communities that connect people to exciting opportunities and a true sense of belonging. This harmonious integration of nature, personal lifestyle and community is what we mean by 'Placemaking'. Deliberately designing a world that offers a better way to live, work and experience urban life at its best."
The minister commented, "I was delighted to visit the Sales & Experience Centre, it is a truly impressive and inspiring space. I am confident that Oman's City of the Future aligns with the strategic aims of Oman Vision 2040; a future where long-term prosperity is underpinned by innovation and economic sustainability. With its superb amenities, unique location and vision for growth, Tilal Al Irfan is a community designed to attract visitors, residents as well as local and overseas investors for generations to come."