LIFESTYLE
'None of them were wearing a mask': Dilip Doshi on Indian players and Ravi Shastri at book launch event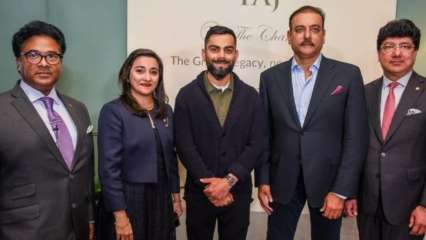 As the blame game for the cancellation of the fifth Test between India and England continues, former Indian cricketer Dilip Doshi has come forward to open up on the event.
The final Test at Old Trafford, Manchester was cancelled after COVID-19 hit the Indian camp and the support staff were asked to quarantine. However, before the virus entered the squad, the Indian team had attended the book launch of head coach Ravi Shastri. 
The coach was blamed for the series of events that led to the cancellation of the final Test and now Dilip Doshi has revealed certain details of the event.
The BCCI had stated that the Indian team did not take permission to attend the book launch and Dilip Doshi asserted that the Indian team was present for a short while but none of the players were wearing masks.
"I was present at the book launch. I was actually invited by the Taj group. A lot of dignitaries, and Team India players were present there, for a short while, and I was shocked to see that none of them was wearing a mask," Dilip Doshi was quoted as saying by India Ahead.
He also added that the decision of making it mandatory to wear a mask is that of the politicians, but asserted that he would expect the Indian team to take precautions.
As for the Test match, the Indian team were on the cusp of creating history if they would win the match in Manchester which would lead them to win the series.
However, Shastri, bowling coach Bharat Arun, fielding coach R Sridhar and physiotherapist Nitin Patel all tested COVID-19 positive ahead of the Oval Test. While all blamed Shastri for the COVID infection, Dilip Doshi hinted that IPL could be the probable reason for the final Test to be called off.
"I was speaking to a dear friend of mine Michael Holding earlier today and he mentioned to me that the Indian Cricket board did not want the last Test. So, their original suggestion was that the tour should end after the Oval Test, leaving enough time between IPL and the last Test in England. Giving a gap of 15 days because of the quarantine period in between, but I believe ECB did not want that and they may have insisted on the fifth Test," Doshi added.