INDIA
NYC subway using AI to track fare evasion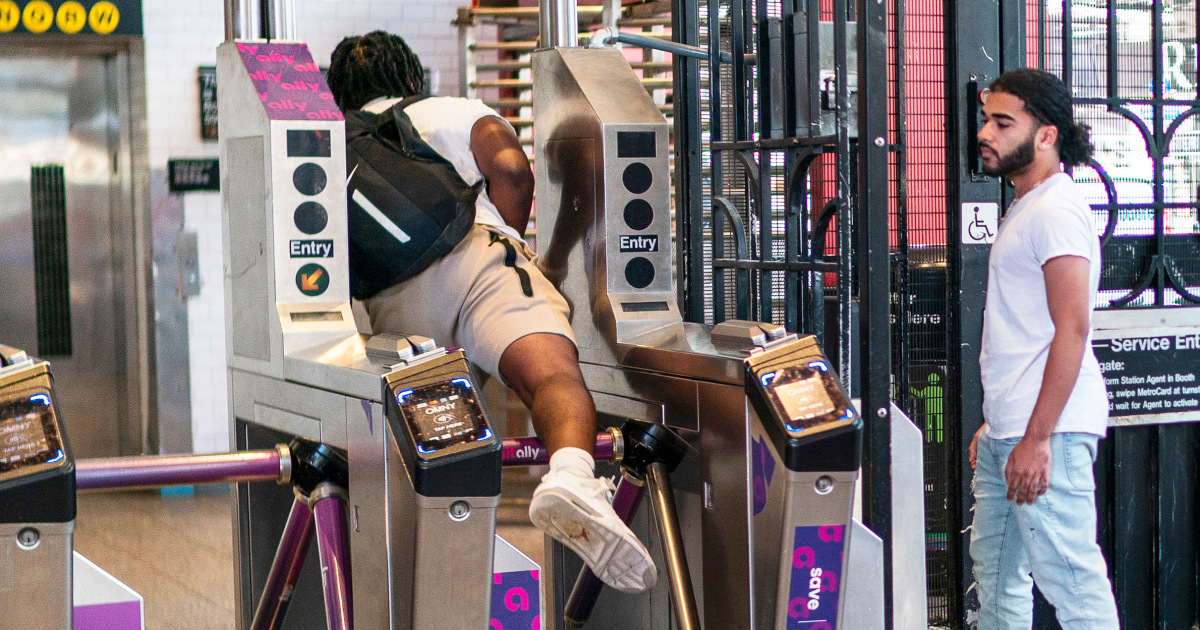 Surveillance software that uses artificial intelligence to spot people evading fares has been quietly rolled out to some of New York City's subway stations and is poised to be introduced to more by the end of the year, according to public documents and government contracts obtained by NBC News.
The system, which the city and its transit authority haven't previously acknowledged by name, uses third-party software that its maker has touted as a way to engage law enforcement to help crack down on fare evasion.  
The system was in use in seven subway stations in May, according to a report on fare evasion published online by the Metropolitan Transit Authority, which oversees New York City's public transportation. The MTA expects that by the end of the year, the system will expand by "approximately two dozen more stations, with more to follow," the report says. The report also found that the MTA lost $690 million to fare evasion in 2022.
Joana Flores, an MTA spokesperson, said the AI system doesn't flag fare evaders to New York police, but she declined to comment on whether that policy could change. A police spokesperson declined to comment.
Tim Minton, the MTA's communications director, said the system tracks fare evasion to figure out how much money the subway isn't collecting.
"We're using it essentially as a counting tool," Minton said. "The objective is to determine how many people are evading the fare and how are they doing it."
Minton said the videos are stored on the MTA's servers and are kept "for a limited period." New York Gov. Kathy Hochul's office announced last year that the city's transit systems had more than 10,000 surveillance cameras.
Use of the software adds to what some privacy advocates see as a growing surveillance apparatus developing in New York City.
"This is a moment where movement around the city has never been more surveilled," said Albert Fox Cahn, the director of the Surveillance Technology Oversight Project, a nonprofit legal group that advocates for privacy rights in New York City.
"We're already seeing the proliferation of automated license plate readers. We've seen data collection on Uber and Lyft histories. We see tens of thousands of cameras accessible to the NYPD when people are walking about in public," Cahn said. "So it's increasingly becoming a city where there's no way to navigate it privately."
The software was created by the Spanish company AWAAIT, Flores confirmed. AWAAIT declined to comment. 
A promotional video for AWAAIT's fare evasion software, created by a Spanish company that operates Barcelona metro trains, depicts a system in which an AWAAIT system was initially used to scan riders going through the metro system and send photos of people it determined were fare evaders to the smartphones of nearby station agents. 
Assurances from the MTA that the software wouldn't be used to aid law enforcement have done little to encourage some privacy and civil rights advocates, who were already alarmed over previous efforts to crack down on fare evasion.
In 2019, city police patrol officers were instructed to ticket most fare evaders rather than arrest them if they could provide identification and passed checks through the police department's Domain Awareness System, a central hub of surveillance and crime information overseen by the NYPD Counterterrorism Bureau.
New York has increased the number of police officers stationed in subway stations since last year, and arrests have steadily risen, as well. The police department has historically arrested Black and Latino riders for fare evasion at far greater rates than those of other races, prompting allegations of racism. 
Molly Griffard, a staff attorney at the Legal Aid Society, a law firm that advocates for social justice, said enforcing fare evasion often ends up targeting the poor.
"It's really unfortunate that rather than thinking about how the city and state can be making these services more available, more accessible to the public, they're spending all this time and money on enforcement mechanisms to try to get money from the lowest-income New Yorkers," Griffard said.
A heavily redacted MTA contract for the AI system from July 2022, which Cahn acquired through a Freedom of Information Law request and shared with NBC News, shows that the system was first tested in New York City in 2020, with more stations added in 2021. The exact number of stations is redacted. GovSpend, a database of government spending records, shows that the MTA made two purchases in 2021 for "AWAAIT Video Analytics Fare Evasion Software," for a combined $35,335. Figures for 2022 weren't available.
Cahn said the use of the technology to try to track fare evasion illustrated misguided priorities.
"We keep seeing this consistent criminalization of fare evasion even though it hurts no one," he said. "And this really just feels like politics driving bad technology and bad policy."