LIFESTYLE
Olympic gold medalist Neeraj Chopra proposes to Shakti Mohan on Dance + 6 – WATCH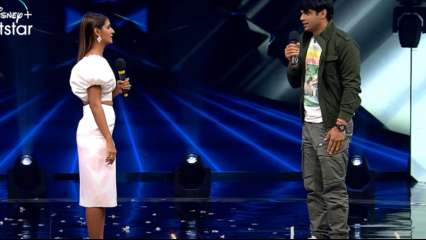 Neeraj Chopra, an Olympic gold winner and javelin thrower, will appear as a special guest in an upcoming episode of Dance+ 6. He was seen dancing to Ishq Tera Tadpave and even 'proposing' to captain Shakti Mohan in a new advertisement, which elicited a fairly amusing reaction from host Raghav Juyal.
Raghav's attempts to express his affections for Shakti have been a running farce on Dance+ for a long time. After watching one of the performances to Ishq Kameena, he tells her, "Shaks, main bhi tumhare saath ishq kameena karna chahta hoon (I also want to experience a bad romance with you)." After that, the two dance to 'Hawayein'.
Shakti asks Neeraj to come up on stage and propose to her, demonstrating how it's done to Raghav. "Mere life mein toh sabse zaroori javelin hai," says the narrator. Mujhe baaki kuch…na itna achcha khana banana aata hai, na main time de sakta (The most important thing in my life is the javelin. Neither can I cook very well nor can I give you a lot of time)," Neeraj said
Raghav, pretending to be heartbroken, dramatically tells Neeraj, "Bhai aapne galat jagah javelin phenka hai (Brother, you have thrown your javelin in the wrong place)."
Take a look at the clip here-
Neeraj dances to 'Ishq Tera Tadpave' alongside the Dance+ 6 participants and Raghav in another segment of the teaser.
Neeraj gets a unique performance, and super-judge Remo D'Souza tells him about it., "Ek gold hai jisse jevar bante hai, lekin iss gold se India ka tevar banta hai (There is gold which you can turn into jewellery, and then there is your gold medal, because of which India holds its head up high)."
Neeraj Chopra, India's great javelin thrower who made history by being the country's first athlete to win a gold medal in track and field at the Tokyo Olympics 2020, has claimed that javelin is his crush and that he is working hard to achieve even more glory.