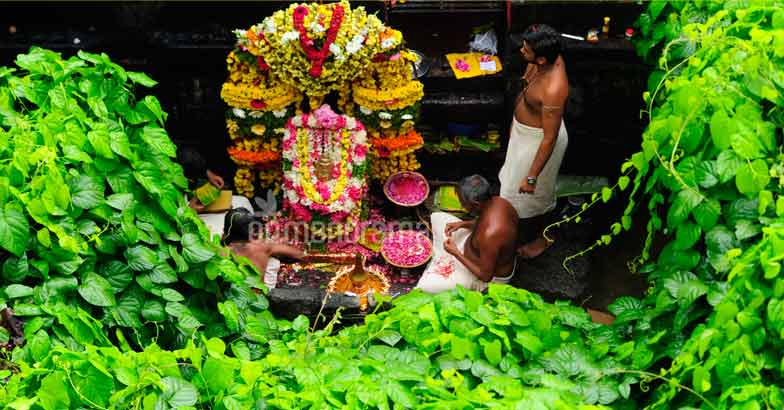 Known as Dakshina Mookambika, the Saraswathi temple in Panachikkad village in the Kottayam district is unique. This, according to popular belief is the only temple in Kerala where the presence of Goddess Saraswathi is felt all year through.
Panachikkad village is situated 11 kilometres south of Kottayam in southern Kerala. This scenic and peaceful temple of learning can be reached by travelling four kilometres east from Chingavanam, which is on MC Road between Changanacherry and Kottayam. You walk down a series of steps and reach the temple.
There is an order prescribed for worship here. You have to pay your obeisance to the deity of Lord Vishnu and then go on to the pond where you find the Saraswathi idol. There is no inner sanctum or surrounding buildings here, like the ones in a traditional Kerala temple structure. There is only a small rectangular pool that looks like it has been carved out of black rock, covered with evergreen vines. The original idol of the goddess of learning is hidden inside a thicket of vines. However, all rites are performed on a corresponding idol that faces the original one.
The vines surrounding the original idol are considered unique and unusual. Over hundreds of years, these vines have grown thick, covering the idol of the goddess. The holy water that flows, washing the feet of the original idol, never dries up. By residing in the pool (saras) here, the name Saraswathi becomes meaningful. The water for poojas and other rites is taken from here.
Walk up a series of steps and you reach the shrine dedicated to a yakshi (an enchantress) who is quick to bless and curse. Next to that, there is an idol of Brahma Rakshas. The yakshi at Panachikkad is considered very special and part of the legend. There are also idols of other gods like Shiva, Shastha, Ganapathi, Naga Yakshi and Nagaraja here.
History
There is a detailed description of this temple in Kottarathil Shankunni's Aithihyamala. The management of this temple which has a history of more than a thousand years rests with the three Brahmin families of Kizhuppuram, Karunad and Kaimukku.
In the sixth century of the Malayalam era, the very elderly head of the Kizhuppuram household, who was unhappy that he did not have a male child, set out on a journey to attain equanimity by taking bath in the River Ganga. When he reached Mookambika, he spent a few days there praying to the goddess. One day the goddess appeared in his dream and told him to return home the next day. She told him that a brahmin lady in Karunad would soon deliver twins and ordered him to adopt one of them as his legal child.
The Karunad Nampoothiri, who was very happy to hear the words of Kizhuppuram Nampoothiri, agreed to give one child if he had twins. Kizhuppuram Nampoothiri, who was very happy, then went to take bath in a pond that was slightly towards the east on the southern side of the old Vishnu temple. He kept his coconut-leaf umbrella on the western shore of the pond and took a bath. When he tried to lift the umbrella after the bath, he found that it would not move.
He was told that Mookambika Devi was residing in that umbrella, and he should invoke the goddess from the umbrella and place her in the stone idol lying in the nearby forest. However, there was a catch. This idol in the forest was worshipped by holy men who were doing penance in that forest and there were no people in the land who had adequate power of penance to perform poojas on that idol. He was told to place another idol be placed opposite it, facing the west, on which poojas should be performed after which the original idol should be worshipped.
Before vanishing from there, the divine person told him that the original idol could not be moved without pleasing the yakshi that was guarding it, and instructed him to offer coarse grain powder, jaggery and tender coconut to it. What can be understood from the legend and the temple customs is that the traditional rites and the presence of Saraswathi in Panachikkad are the realisations of these divine words.
The customs are followed as per tradition in this temple, which is still under the control of the trustees. At this temple, Maha Vishnu, as the reigning lord; Saraswathi, as the one who grants all wishes; Ganapathi; Shiva; Shastha; Yakshi and Nagaraja should be worshipped in that particular order. Maha Vishnu and Saraswathi are accorded equal importance here. Many devotees from different parts of India come here to worship daily. Irrespective of religion and caste, everyone comes here to start learning.
Vidyarambham is held here every day, except during Durgashtami and Maha Navami. Songs about Saraswathi are chanted here as per order, and pure ghee enriched with that energy is supplied to devotees. This holy medicine, which is good for intelligence and learning, is one of the main offerings. Like trimadhuram and aravana for Saraswathi and Vishnu, vara is important for yakshi. The other offerings are palpayasam for rakshas, narathala (containing ground coconut) for Shastha, dhara and garland of koovalams for Shiva, and ottayappam and garland of karuka for Ganapathi.
Every day, poojas are held for Saraswathi and Vishnu. An offering chanting songs of Saraswathi in order is also held here. On Durgashtami day, palm leaf manuscripts, textbooks, literary works and other precious books are placed on a specially made chariot hall in the abode of Saraswathi for poojas. These books are returned after poojas on Vijaya Dashami day. Many great people like Maharaja Karthika Thirunal Rama Varma (Dharma Raja), Kerala Varma Valiya Koil Thampuran, A.R. Raja Raja Varma and Ulloor have come here and offered their prayers.
It is said that Raja Raja Varma was speech-impaired in his younger days, and all his fame came because of the blessings he got here. Panachikkad Saraswathi Temple, as the centre that grants the wishes of lakhs of learners, is becoming more famous. Day-to-day management of the temple is done by the elders of the three families of trustees and a manager.
Main offerings
Archana, purusha sooktha archana, saraswatha sooktha archana, bhagya sooktha archana, saraswatha ghrutham, aravana, trimadhuram and vara can be organised in advance.
Special days 
The important rites in this temple are Navarathri, chariot procession, music festival and vidyarambham in the month of Kanni in the Malayalam calendar; navakabhishekam in the months of Chingam, Thulam, Dhanu, Kumbham, Medam, Idavam, Mithunam and Karkidakam; chuttu vilakku, maha sukrutha havanam and dravya kalasam in the month of Vrischikam; and Maha Ganapathi homam in the month of Meenam.