LIFESTYLE
Pizza lover Baby! Toddler's reaction to pizza will make you smile – WATCH viral video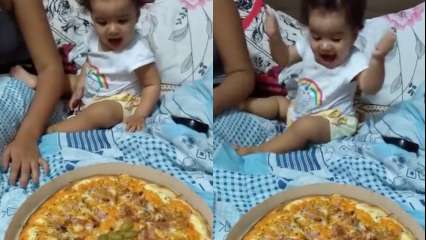 Have you ever met anyone who does not like pizza? It can be from a fancy place or a roadside shop, nothing beats this Italian delicacy. It's a perfect snack for children to adults and everyone wants a bite out of it. 
Pizzas have become a major part of our lives – be it picnics, late-night dinners, lazy afternoons, sad or happy days, all we want is pizza. It's like our best friend getting us through tough times. And as much as we do, this toddler also loves her pizza and how!
There's no doubt that kids love pizza mainly because of bread and cheese. In this video, a toddler is seen go crazy after looking at a pizza that's almost the same size as the toddler. The video was shared on Twitter and people are absolutely in love with the kid. 
Find me someone more excited to eat some pizza than this adorable kid…I'll wait! pic.twitter.com/l9ICqtrPAY

— GoodNewsMovement (@GoodNewsMoveme3) September 10, 2021
The toddler is a baby girl and is sitting on her bed surrounded by her family when suddenly she sees one of her family members bring her a box and as the box opens, the toddler sees pizza and doesn't seem to control her emotions. She looks at the pizza with so much love and excitement. The video is undated but netizens seem quite pleased looking at her happy dance.