WORLD
Pro-life activists decry 'unhinged' attack by protesters at VCU event, handling by police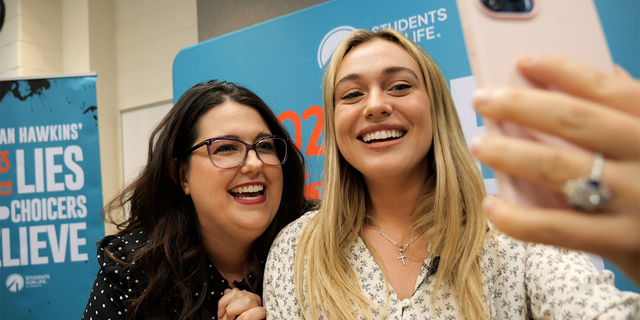 Pro-life speakers were interrupted by protestors during a college campus event Wednesday which prompted two arrests and caused the event to be shut down. 
Calling out the "unhinged" actions, the event's speakers decried the school's handling of the incident and criticized attacks on pro-life individuals and organizations on "Fox & Friends Weekend" Saturday. 
"Since the reversal of Roe v. Wade, these folks have become completely unhinged," Students for Life President Kristan Hawkins said. 
"Pregnancy centers that give out free diapers and baby formula…are being attacked simply for helping women who courageously choose life. It's unbelievable that this continues to happen in our country, but we weren't going to let them stop us."
KIDS IN 'GRAVE DANGER' AFTER RED STATE JUDGE HALTS ABORTION PARENTAL CONSENT LAW: PRO-LIFE ACTIVIST
Students for Life at Virginia Commonwealth University, an affiliate of the national pro-life organization, was set up to hold a meeting on Wednesday evening featuring discussion from the group's president Kristan Hawkins and Turning Point USA contributor Isabel Brown. 
Reported Antifa members soon stormed into the event, with some protestors chanting, "Fascists go home" and "F— pro-life," while holding signs in support of abortion. 
"30 minutes into our gathering, which was intended to be a back-and-forth dialog, inviting questions and conversation from people who would consider themselves to support abortion, where we can break down that divisive narrative and just provide the truth about why life matters, several students in the room were attacked by these Antifa and far-left extremist protesters, including one who was physically assaulted," TPUSA contributor Isabel Brown said.
Both Hawkins and Brown said they took issue with how campus police responded to the unruly protests. 
"The police did decide to show up from the campus police department," Brown shared. "But instead of escorting these violent protesters out of the room, they forced Kristan and I to essentially be detained in a locked room for our own safety for several hours alongside a small number of students who did come to peacefully learn from the event."
DEMS WANT TO FUND ABORTION 'EVERYWHERE' IN THE WORLD BY ENDING RESTRICTIONS ON US FOREIGN AID
"The school, despite my bodyguards calling and asking for support, didn't intervene until more than 30 minutes into the situation, which is why now I have a bodyguard guarding our Students for Life leader on campus.," Hawkins added. 
"[Police] needed to remove the room. VCU should have cleared the room of those violent protesters, and they failed to do it. Instead, they ended up detaining us. And that's simply wrong." 
The disruption did lead to the arrest of two individuals, identified as Natalie Hoskins III, 22, and Anthony Marvin, 30, a VCU spokesperson told Fox News Digital on Thursday. Hoskins was charged with simple assault and Marvin charged with disorderly conduct, according to WRIC. Neither suspect is affiliated with the school.
"VCU is committed to promoting a safe environment for our students, faculty, staff and visitors so that the right to gather and speak freely is protected. The overwhelming majority of events at VCU take place without incident, so we are disappointed that a student organization's meeting was disrupted Wednesday night. We must extend dignity and respect to others, especially those with whom we disagree," VCU's associate vice president for public relations Michael Porter said in a statement Friday.
CLICK HERE TO GET THE FOX NEWS APP
Hawkins noted that students have had encounters with Antifa members disrupting events before, zooming out to the larger issue of attacks on pregnancy centers and pro-life-related events and organizations. She emphasized, however, that Wednesday's event will not deter her or Brown from championing the pro-life message. 
"We're going to make sure that the pro-life message is heard," Hawkins said. 
Fox News' Emma Colton contributed to this report.