LIFESTYLE
Pure bliss! Onam is also time for these amazing pookkalams at Guruvayur temple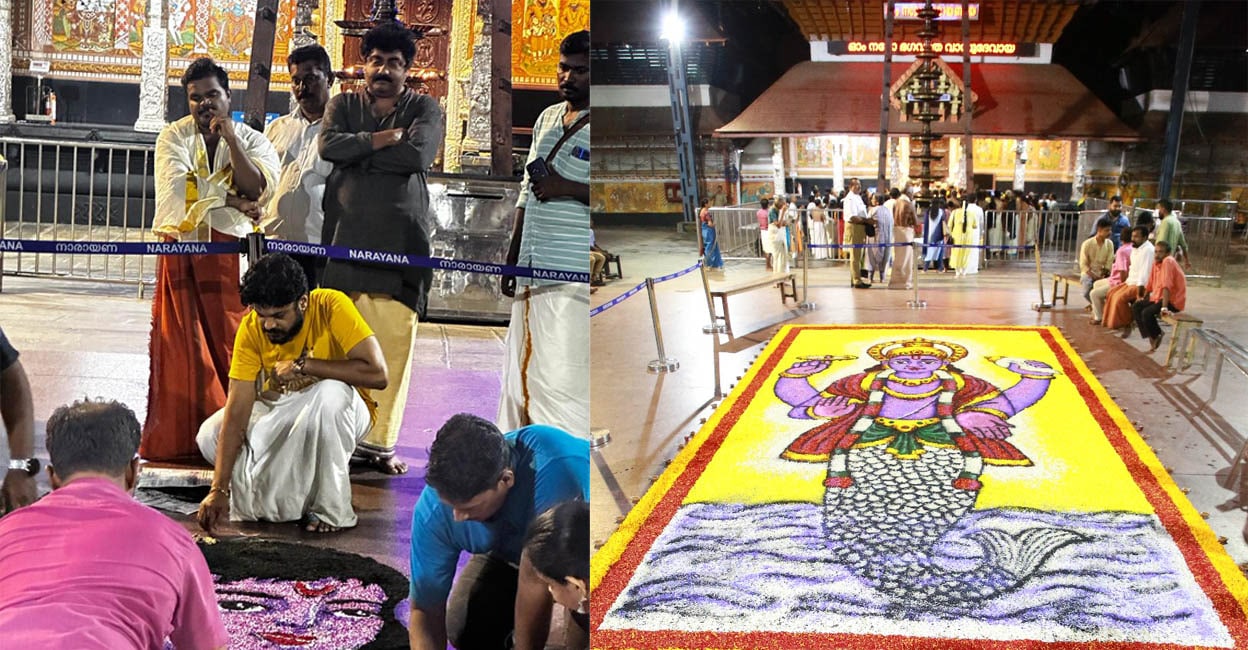 Guruvayur's Onam season is more than just the record number of weddings that take place on a single day, the offering of Kazhcha Kola (plantain fruit) to Lord Krishna on Day 9 (Uthradam), or offering Onakodi to the deity.
The visual feast of pookkalams (floral carpets) laid in front of the temple is also another attraction here from Day 1 to 10 of the festival and hundreds of devotees find joy in seeing them everyday.
Even though creating these floral carpets has nothing to do with the temple's rituals or traditions, many flower shop proprietors and other business owners look forward to creating this every year as offerings to Lord Guruvayurappan.
"It started with several flower shops in Guruvayur offering to volunteer to make pookkalams on various festival days. Though simple designs were used initially, things changed over the years. Young people started taking up the task seriously and considered it as an opportunity to exhibit their creativity," said Parameswaran Swami, a former employee of the temple.
He said that the Guruvayur Devaswom supports the group by making room for them and setting up benches all around the pookkalams to prevent visitors from touching or damaging it.
Renjith P R, a Devaswom employee, claimed that this tradition has become a crucial component of their family's and friends' Onam celebrations.
"We cut and prepare these flowers for Pookkalam at my house, and sometimes even our neighbours lend a hand. I became part of such Pookkalam teams by accompanying my uncle (my father's brother) at the age of 15. This is not just a ritual, but a gift to Lord Guruvayurappan and his devotees," said Renjith, who creates the Pookkalam for Day 6 (Thriketta) every year.
<!– –>
<!–


–>
Fresh flowers are mostly being sourced from Coimbatore. Most of the time, the artists also utilize colour powders, such as black and blue, for these flower carpets. The pookkalams must be made before the temple opens at 2:30 am.
Sreejith V A, a shop owner near the temple, mentioned that he was privileged to be part of this tradition. "I have been volunteering to make the Pookkalam on Day 5 (Anizham) every year. Seeing devotees attentively observing and appreciating our work is pure happiness," he added.
Hundreds of devotees visit Guruvayur Sree Krishna Temple, often referred to as the Vaikunda on Earth, making it one of the most popular shrines in South India.