LIFESTYLE
Qatar decked up in World Cup hues | Know all the stadiums hosting matches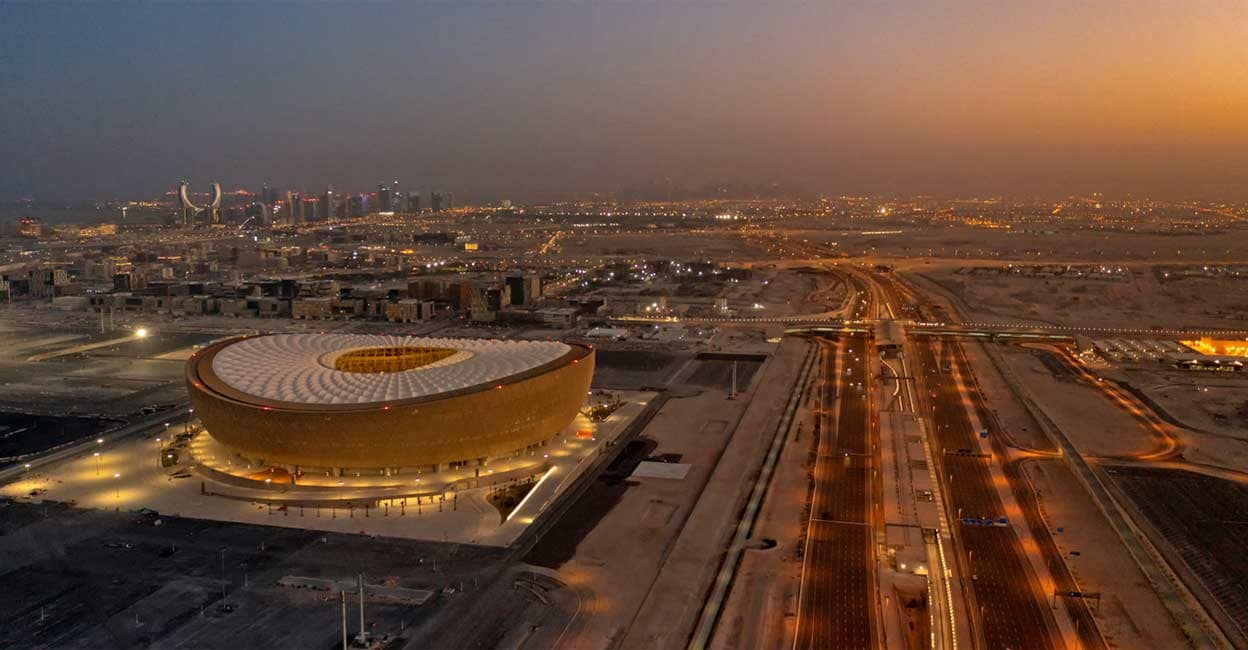 The countdown has begun for the next FIFA World Cup tournament at Qatar. It is the first carbon-neutral football World Cup in FIFA's history and also the first-ever in the Middle East-Arab region. Matches will take place in eight stadiums; 32 base camps for accommodation and practice for teams will be arranged and visitors arriving to watch the competitions could choose from stay options as diverse as floating hotels to Arabian Bedouin tents.
Local transportation options range from Doha Metro to water taxi; security will be provided by top nations such as the US and 20,000 volunteers will be ready with their services. All these preparations took around 10 years – the longest for any FIFA World Cup so far. Qatar is expecting around 15 lakh spectators to watch the matches by the 32 teams participating in the event. Apart from football fans from other countries, official delegates and heads of various nations will also arrive in Qatar during the World Cup.
Key facts
The FIFA world is scheduled to take place in Qatar from November 20 to December 18 this year. Thirty-two teams will compete for the trophy and there would be 64 matches in total. While the inaugural match will take place at Al Bayt Stadium, Al Khor the final will be held at Lusail, Lusail City. There would be 3,80,000 seats in total at the eight stadiums. Presently, 95 per cent of the basic infrastructural works, including roads, are over and full completion is expected by September.
A roundup of the venues
Al Bayt Stadium, Al Khor: It can seat 60,000 spectators and will host the opening game, group matches, Round of 16, Quarter Final and Semi Final. Total matches: Nine
<!– –>
<!–


–>
Khalifa Stadium, Al Rayyan: Capacity is 40,000. Matches: Group, Round of 16 and Third Place. Total: eight.
<!– –>
<!–


–>
Al Thumama Stadium, Al Thumama: With 40,000 seats, the venue will host group matches, Round of 16 and Quarter Final. Total matches: eight.
<!– –>
<!–


–>
Ahmad bin Ali Stadium, Al Rayyan: With a capacity of 40,000, group and Round of 16 matches will be held here. Total matches: seven.
<!– –>
<!–


–>
Lusail Stadium, Lusail City: 80,000 spectators can enjoy the game here. Group, Round of 16, Quarter Final, Semi Final and Final will take place. Total matches: 10.
<!– –>
<!–


–>
Stadium 974, Ras Abu Aboud: There would be 40,000 seats. Group and Round of 16 matches will be organised here. Total matches: seven.
<!– –>
<!–


–>
Education City Stadium, Al Rayyan: With a maximum capacity of 40,000, the venue will host group, Round of 16 and Quarter Final among the total eight matches.
<!– –>
<!–


–>
Al-Janoub Stadium, Al Wakra: The stadium can seat 40,000 spectators. Group and Round of 16 competitions will be held. Total matches: Seven.
<!– –>
<!–


–>
32 base camps
Each of the 32 teams participating in the World Cup will be allotted a base camp, where stay and training facilities are available. This avoids the need to shift accommodation for different matches. Moreover, teams can reach the venues easily. This is one of the unique features of Qatar World Cup.
Foolproof security measures
The agencies providing security to the event include Homeland Security of the US, NATO and British Army. Not only players but also spectators would be covered under the security measures for the conduct of a safe World Cup. Training for the security personnel has already been completed.
Unique stay options for visitors
Football fans arriving in Qatar from around the world would be offered an extensive range of accommodation, including hotels, apartments, villas, holiday homes, fans' villages, cruise ship hotels, Bedouin tents in the desert and caravan villages. Guests can choose the place of stay according to their interests and bank balance.
Meanwhile, visitors wishing to put up with their relatives or friends in Qatar can do so by providing the address where they plan to stay while applying for the Hayya Card to enter the country along with the ticket.
<!– –>
<!–


–>
20,000 volunteers
Services of volunteers will be available to guests in 45 sectors at the World Cup. They would be present at the airport, hotels and fan zones, among other places. There would be 20,000 volunteers, hailing from not only Qatar but also other countries. According to the authorities, the volunteers will be on the field from October.
Transportation facilities
Eco-friendly transportation facilities are ready for travellers reaching Qatar to view the World Cup matches. They include Doha Metro, Karva electric buses, taxis, water taxis and trams. Visitors can also travel free of cost on public transport with the Hayya Card on the days of the matches. Moreover, the Doha Metro connects directly to five stadiums.
<!– –>
<!–


–>
Healthcare: Arrangements in place
The health sector in Qatar has taken all precautions to keep players, delegates and viewers safe from the COVID-19 pandemic during the World Cup. Earlier, even when the crisis was acute, Qatar had successfully conducted various tournaments under the bio-bubble arrangement. This has boosted the confidence of the participating nations and other countries.
Celebrations start next month
Entire Qatar would be decked up from September for the historic World Cup. The decorations will be supervised by the Public Works Authority of the country and local citizens as well as residents belonging to other nations can spruce up their homes for the event. Offices, educational institutions, municipalities and private as well as government establishments can decorate their buildings by joining the project of the Authority.