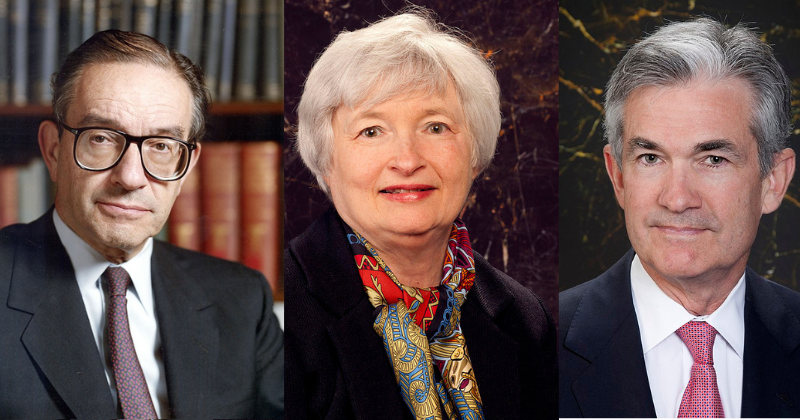 Your monetary policy daddy, Fed Chair Jerome Powell, just bailed out Silicon Valley Bank after investors found that their money had slipped through a sidewalk grate while the titans of Silicon Valley weren't watching. Whoops! Sometimes people find themselves up a tree and in need of the Fed's ability to prop a ladder and gush federal funds toward their mistakes. Other times, when those people are silly enough to have gotten a  law degree or had one too many children while attempting to continue to work, there is no ladder.
To understand why people with underpaying jobs don't get bailouts, while other people with foosball tables, passive income, and massive annual salaries do, you need to do a close read on the architects of U.S. monetary and fiscal policy. What is in their hearts and minds? How do they perceive their role as safeguards of humanity in the particular economic system we live under?
Let's scour the internet for clues as to their favorite books, and also offer up some recommended reading for the next person who gets their hands on the tiller.
Jerome Powell's nightstand: Warren Buffet, The Snowball
Like most Fed chairs, when he's not giving speeches about why he has, once again, hiked the Fed reserve rate by 75 basis points and pushed your dream home out of reach, Powell likes to read dry accounts of financial history and economic papers. Writing about the rise of too-big-to-fail in his own book, A View From the Fed, Powell mentions the 1991 Salomon Brothers crisis, as recounted in The Snowball. The bottom line is that the Federal Reserve is keeping you safe, and has neither the time nor the inclination to explain itself to a people who rise and sleep under the blanket of the very [dual mandates] that it provides (although, sorry about your student loans! Nothing they can do).
Literary Hubs's pick for Jerome Powell: Nell Zink, Nicotine
Having filled his head with nothing but papers analyzing the Philips curve, we'd dearly love for Powell to dip into this story about a house full of anarchic squatters in Jersey City, and the girl, Penny, who lives among them and has an (unclaimed!) family right to the home. They are all dispossessed but full of passion! What's that like? a Fed chair from Chevy Chase might ask. Find out how the other half lives! (Dirtily but you feel something for them.)
Janet Yellen's nightstand: James Tobin, Asset Accumulation and Economic Activity

Yellen studied under Nobel laureate James Tobin as a student at Yale, and viewed the Fed as capable of improving people's lives while in the hot seat. She "started to eat lunch regularly in the staff cafeteria to subvert the hierarchical system that limited communication between Fed governors and the vast army of research economists," per the New York Times, and has let's say a very dry literary diet. On beach vacations with her economist husband and economist son, Yellen and family "typically pack a suitcase of economics books," wrote USA Today, and, "they never go into the water," Christina Romer told the paper.
Literary Hub's pick for Janet Yellen: Jade Chang, The Wangs Vs. the World
A novel about the American dream as it pertains to immigrants, The Wangs Vs. the World follows the post-GFC losses of Charles Yang, whose ethnic skincare line fails (but a couple of years and he could have been Fenti), as he drives across America with his second wife Barbra (her chosen Western name comes from Barbra Streisand), and odd-slash-funny kids Andrew, Grace, and Saina. Love this for Yellen because she would perhaps get to see the small financial tragedies that go on while the world pursues infinite growth, being already a little bit sympathetic to the plight of the common man.
Ben Bernanke's nightstand: Liaquat Ahamed, Lords of Finance: The Bankers Who Broke the World
Man who knew the global financial crisis could be bad vibes, Ben Bernanke, has said Lords of Finance is one of his favorite books. Ben was not the worst! We thank him for his services, and would, however, like to broaden his reading.
Literary Hub's pick for Ben Bernanke: Paul Beatty,The Sellout
So, is the game fair? That is what we'd love Bernanke to consider as he makes his way through the perverse story of Bonbon, a Black man in the sub-Los Angeles town of Dickens, an "agrarian ghetto" that is ultimately targeted by the authorities. In response, Bonbon re-installs segregation to try and survive and winds up defending himself in the Supreme Court. Truly, the story is so balls-wild that it might be the thing that can finally get a staid economist to understand that at some point, your belief in the rationality of government behavior must break.
Alan Greenspan's nightstand: Mervyn King, The End of Alchemy: Money, Banking, and the Future of the Global Economy

Imagine reading more than one book with a title like this. This is all these guys do all day! They just read about how policy levers are the new wands, book after book of some guy in reading glasses sitting in front of a set of intellectual bookshelves.
Literary Hub's pick for Alan Greenspan: Joshua Ferris, Then We Came To the End
One man's economic cycle is another man's existential crisis, as you'll see in Ferris's dotcom classic, Then We Came to the End, one of my all-time favorites on the topics of life, work, and how we scritch together money. A classic layoff novel, it speaks to all readers as though they were one of those doomed to "walk Spanish down the halls."
A reading list for the next Fed chair
The worry is, of course, that the next chappy (or chippie) to get the top job will be the kind of person to have read The Great Gatsby and been charmed by wealth, enticed by the fit of a nice dress shirt or 50; the kind of person who thought Hillbilly Elegy was a good, grounding read. To that end, some reparative picks to keep them in touch with the common man:
Samantha Irby, We Are Never Meeting in Real Life
Take it from my own personal poet laureate, the foul-mouthed, lovable Samantha Irby, who has spent time as a wage slave working in a vet's office and in one sober moment relates that "not being able to deal with your life is humiliating. It makes you feel weak." Just if anyone in charge of the mint thinks the poors are trying to take advantage! Would also love some Yale-educated economist to take in this writing, lol.
Fyodor Doestoevsky, The Gambler
A book written to pay off a debt that might endear the fat cats to understand what such a thing is.
Alissa Quart, Bootstrapped
Let's dissect the idea of the self-made American once and for all! Handy for any policymaker who somehow believes he/they are against "social welfare" at the same time as they're adding a zero to the national debt to bail out some bankers.
John Steinbeck, The Grapes of Wrath
A gimme, perhaps, but Steinbeck, and the lady whose research he stole, do a great job of depicting the dispossessed post-Depression, and post-industry. Actions have consequences! Why must the system we toil under wring every last drop of breast milk from its proles?