LIFESTYLE
Republic Day 2023: President Droupadi Murmu wears Odisha silk; PM Modi chooses Rajasthani turban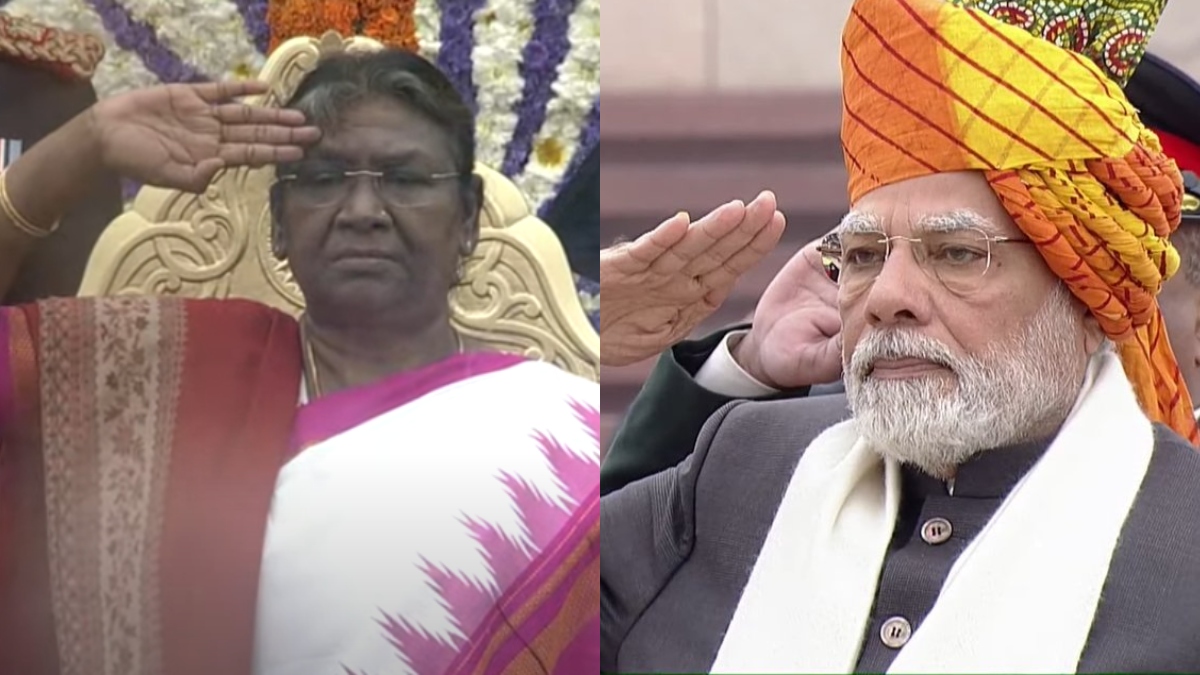 Republic Day 2023: President Droupadi Murmu commenced the celebrations of the 74th Republic Day, for the first time since assuming office last year, by unfurling the national flag at Kartavya Path on Thursday. The grand Parade commenced with Prime Minister Narendra Modi visiting the National war memorial. For the occasion, PM Modi arrived in a multi-coloured Rajasthani turban which symbolised the diversity of India. Clad in a white kurta-pajama, PM rounded off his look with a black coat and white stole. The multicoloured turban with a long tail stood out in the black-and-white ensemble.
On the other hand, President Droupadi Murmu chose Odisha silk with a pink temple border for Republic Day. The President on her arrival at Kartavya Path was received by PM Narendra Modi. The National Flag was unfurled at Kartvya Path by an Air Force Officer, Flt Lt Komal Rani. Simultaneously, the National Anthem was played and the 21 Gun Salute was presented to the President.
President Murmu was earlier escorted from her residence by the President's Bodyguard on their Bay and Dark Bay-coloured mounts. The President's Bodyguard is the seniormost Regiment of the Indian Army.
This year's Republic Day is special as 'The President's Bodyguard' marked 250 years since its raising, in 1773, at Varanasi. The Commandant of the President's Bodyguard, Colonel Anup Tiwary, rode to the right of the President's Car, leading this elite body of horsemen, mounted on his charger Glorious.
President of Egypt Abdel Fattah El-Sisi is the Chief Guest at this year's parade. Notably, India and Egypt have enjoyed strong defence ties. There was close cooperation between the Air Forces, with efforts at jointly developing a fighter aircraft in the 1960s. IAF pilots had also trained Egyptian pilots from the 1960s until 1984.
function loadFacebookScript(){
!function(f,b,e,v,n,t,s){if(f.fbq)return;n=f.fbq=function(){n.callMethod?
n.callMethod.apply(n,arguments):n.queue.push(arguments)};if(!f._fbq)f._fbq=n;
n.push=n;n.loaded=!0;n.version='2.0′;n.queue=[];t=b.createElement(e);t.async=!0;
t.src=v;s=b.getElementsByTagName(e)[0];s.parentNode.insertBefore(t,s)}(window,
document,'script','https://connect.facebook.net/en_US/fbevents.js');
fbq('init', '529056027274737');
fbq('track', 'PageView');
}
window.addEventListener('load', (event) => {
setTimeout(function(){
loadFacebookScript();
}, 5000);
});