WORLD
Republicans blast Biden, saying suspected Chinese spy balloon proves U.S. isn't deterring Xi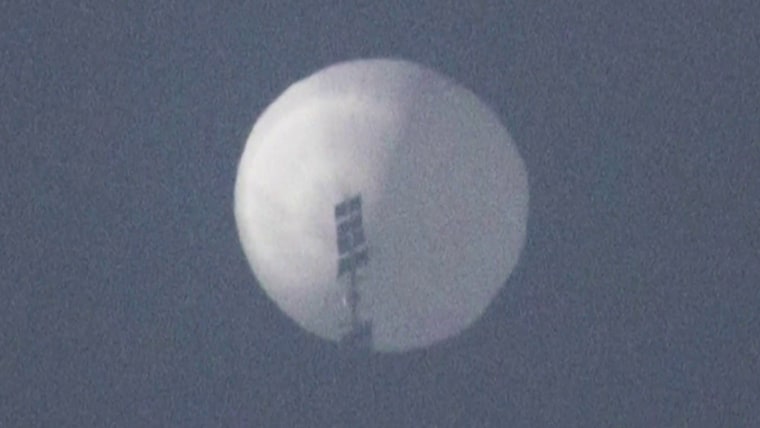 WASHINGTON — Top Republicans in Congress are demanding answers from the Biden administration over the suspected Chinese surveillance balloon that has been hovering over the northern U.S. over the past few days.
They lashed out directly at President Joe Biden, arguing that the incident demonstrates that U.S. posture and policies are not deterring China. Many prominent Republicans also said the U.S. should have shot down the balloon.
Staff members for the "Gang of Eight" bipartisan group of leaders on the Hill were given a classified briefing Thursday afternoon on the balloon, three sources familiar with the situation told NBC News on Friday. House Speaker Kevin McCarthy, one of the eight lawmakers, tweeted late Thursday that he was requesting a meeting for the group but it's likely most members of leadership had already left Washington for the weekend.
"China's brazen disregard for U.S. sovereignty is a destabilizing action that must be addressed, and President Biden cannot be silent," McCarthy tweeted.
A spokesperson for Senate Majority Leader Chuck Schumer said the Biden administration would brief the eight next week. The New York Democrat is also a member of the Gang of Eight.
The high-altitude balloon was spotted over Billings, Montana, on Wednesday after having flown over the Aleutian Islands and through Canada. Pentagon Press Secretary Pat Ryder said Friday that the balloon was flying at an altitude of 60,000 feet — above civilian and military aviation — and moving eastward across the continental U.S. He declined to reveal its exact location.
Several top Republicans, including former President Donald Trump, on Friday, called on the Biden administration to shoot down the balloon, which some military leaders had discussed. Ryder said at his briefing Friday that the military was still "reviewing options" but had not taken the balloon down because "right now we assess that there is no physical threat or military threat to people on the ground."
Trump posted on his platform Truth Social, "SHOOT DOWN THE BALLOON!"
Sen. Tom Cotton, R-Ark., one of the most vocal critics in Congress of the Chinese government and U.S. policy toward China, also called on the U.S. government to bring down the balloon.
"President Biden should stop coddling and appeasing the Chinese communists. Bring the balloon down now and exploit its tech package, which could be an intelligence bonanza," said Cotton. "And President Biden and Secretary Austin need to answer if this [balloon] was detected over Alaskan airspace. If so, why didn't we bring it down there? If not, why not? As usual, the Chinese Communists' provocations have been met with weakness and hand-wringing."
Sen. Marco Rubio, R-Fla., ranking member on the Senate Intelligence Committee, tweeted, "It was a mistake to not shoot down that Chinese spy balloon when it was over a sparsely populated area. This is not some hot air balloon, it has a large payload of sensors roughly the size of two city buses & the ability to maneuver independently."
China on Friday said the balloon was a "civilian airship" used for weather research that had been blown off course.
In a statement on its website, Beijing's foreign ministry said, "The Chinese side regrets the unintended entry of the airship into U.S. airspace due to force majeure" — strong winds and a lack of steering ability that caused the object to deviate "far from its planned course."
Ryder pushed back on Beijing's claims, saying, "We know that it's a surveillance balloon."
Sen. Rick Scott, R-Fla., another outspoken China critic, said the balloon should be a wake-up call to Biden.
"Xi is blatantly spying on America because he does not fear or respect @JoeBiden. Communist China is our enemy, and Biden needs to wake up and start acting like it," he tweeted.
Montana GOP Gov. Greg Gianforte said in a tweet that he received an informational briefing Thursday about the balloon.
Both of Montana's senators, Republican Steve Daines and Democrat Jon Tester, expressed concern about the balloon being in their airspace. Daines sent a letter to Defense Secretary Lloyd Austin on Thursday "requesting a full security briefing from the administration on this situation." Tester on Friday called the situation "completely unacceptable" and vowed to "defend Montana and our national security from hostile adversaries like China."
Tester's office said he's expected to receive a classified briefing on the situation when he returns to Washington next week. A classified briefing for all senators focused on China had previously been scheduled for Feb. 15, before news of the balloon broke.
The top Democrat and Republican on the House select committee focusing on competition between the U.S. and China released a joint statement about the situation, saying that China has become a threat domestically.
"The Chinese Communist Party should not have on-demand access to American airspace," said. Reps. Mike Gallagher, R-Wis., and Raja Krishnamoorthi, D-Ill., said. "Not only is this a violation of American sovereignty, coming only days before Secretary Blinken's trip to the PRC, but it also makes clear that the CCP's recent diplomatic overtures do not represent a substantive change in policy. Indeed, this incident demonstrates that the CCP threat is not confined to distant shores — it is here at home and we must act to counter this threat."
Blinken had been expected to travel to China on Friday evening on a previously planned trip, but the trip has since been postponed.
Liz Brown-Kaiser, Frank Thorp V, Haley Talbot, Abigail Williams , Andrea Mitchell, Ken Dilanian and Dareh Gregorian contributed.