LIFESTYLE
Revealed: Know all about the MYSTERY behind Odisha's rare 'Black Tigers'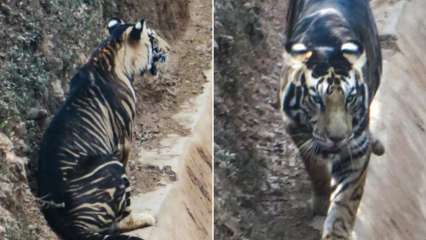 The mystery behind the 'black tigers' of Odisha's Similipal might finally be solved as researchers from the National Centre for Biological Sciences (NCBS), Bangalore has identified a single mutation in a gene that causes these tigers' distinctive stripes to broaden and spread into their tawny pelt, occasionally appearing entirely dark.
Considered as mythical creatures for a long time, the 'black tigers' have often been a subject of research and fascination. However, the new research seems to conclude that the coat colouration and patterning that make the tigers appear dark, boil down to a single mutation in the Transmembrane Aminopeptidase Q (Taqpep) gene.
The research team for the same was led by ecologist Dr Uma Ramakrishnan and her student Mr Vinay Sagar from the National Centre for Biological Sciences (NCBS), Bangalore.
NDTV via PTI, quoted Dr Ramkrishnan, professor at National Centre for Biological Sciences, as saying, "Ours is the first and only study to investigate the genetic basis for this phenotype (look). While the phenotype has been talked about and written about earlier, this is the first time its genetic underpinnings were scientifically investigated." 
In addition to this, the study published in the journal Proceedings of the National Academy of Sciences also noted that tigers in the Similipal Tiger Reserve are a separate population in eastern India, and gene flow between them and other tiger populations is very restricted.
"They (the black tigers) have not been found in any other places in the wild to the best of our knowledge. Nowhere else in the world," Mr Sagar, a PhD student in Dr Ramakrishan's lab and lead author of the paper, said. 
He further explained, "We used whole-genome sequencing from a pedigree (family tree) that includes pseudomelanistic (false coloured) and normally striped individuals to find the mutation responsible for the phenotype." 
The most up-to-date sightings of this rare mutant tiger in Similipal were reported in 2017 and 2018. The only other black tigers apart from Similipal exist at the Nandankanan Zoological Park in Bhubaneswar, Ranchi Zoo, and Chennai's Arignar Anna Zoological Park, where they were born in custody.
The researchers also investigated and tried to understand why this unique mutation happened at such a huge recurrence in Similipal alone.
"This appears to be a classic example of a founding event, which is followed by a small population that is isolated. As a result, this pseudomelanitic phenotype has become very common here," Mr Sagar said.