LIFESTYLE
Run over by a bus, lucky man gets up and walks away unharmed – Watch viral video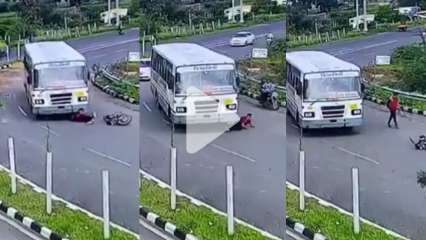 Some viral videos on the internet can leave you contemplating how luck finds a way to save people from the deadliest of situations. One such viral video recently emerged from Gujarat where a man on a bike is able to come out unscathed from an accident where he was trampled by a city bus.
The viral clip is from the city of Dahod where the incident took place on a highway earlier this week
In the video, a man riding a bike suddenly comes in the path of a city bus, collides and instantly gets sucked beneath the bus. The bus is turning on a bend when the biker suddenly tries to overtake it. The bus driver is unable to stop the vehicle in time and the man is seen going completely under the bus in the split-second it took for the driver to apply brakes.
While most people can escape a horrible outcome from such an accident, the man is seen sliding back out from under the bus withing a couple of seconds. Awe-struck netizens found the incident beyond a miracle.
A youth in Gujarat's Dahod had a miraculous escape after he was rashly run over by a bus he tried to overtake.pic.twitter.com/pLLOkYrbJB

— My Vadodara (@MyVadodara) September 15, 2021
The 48-second video has gone viral on social media. While lucky to be alive, some users did point out that the biker had taken a wrong decision to overtake the bus on a curve and that too from the wrongside.
Users also noted how several people who ride bikes in India tend to turn or overtake on roads dangerously close to other vehicles and a unsafe gap.