LIFESTYLE
Saali ki dhamki! Bride's sister threatens groom during vidaai – WATCH viral video here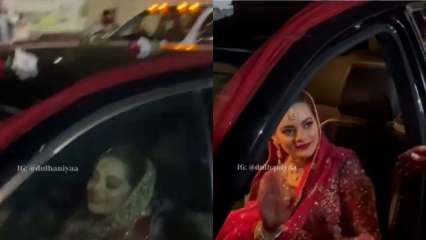 This is the season of weddings and social media is filled with different kinds of videos around it, be it mischiefs of the bride, the chemistry of bride and groom, dances of the bride with her mom. This time, a funny video of the bride's vidaai (farewell) has gone viral on social media, in which the sister of the bride is seen threatening the groom.
In the video, the bride and groom are seen sitting in the car, ready to depart the place while the bride's maids are standing nearby. While the bride was saying bye to everyone, her sister then shouted, saying, "Chale jao, varna rok lenge (Go now, otherwise I will not let you go)." After hearing this, the groom immediately starts the car and takes his bride from the venue. 
See the video here:
The video has gone viral on Instagram and has amassed over 24,002 views. The video was shared by an Instagram user named, dulhaniyaa, which captioned the post, "Aren't sisters the cutest?"
There is an account named Dulhaniyaa on Instagram that mostly posts pr-wedding videos, wedding videos, and post-wedding videos.  Some of these videos can make people very emotional while some can bring a smile on people's face.
This video was made after the bride's farewell and she sat in the car.
People are loving this chemistry of two sisters. What are your thoughts on this moment?