FOOD & RECIPES
Dining out for Rs 1.3 crore? Salt Bae shocks the world with mega bill from his restaurant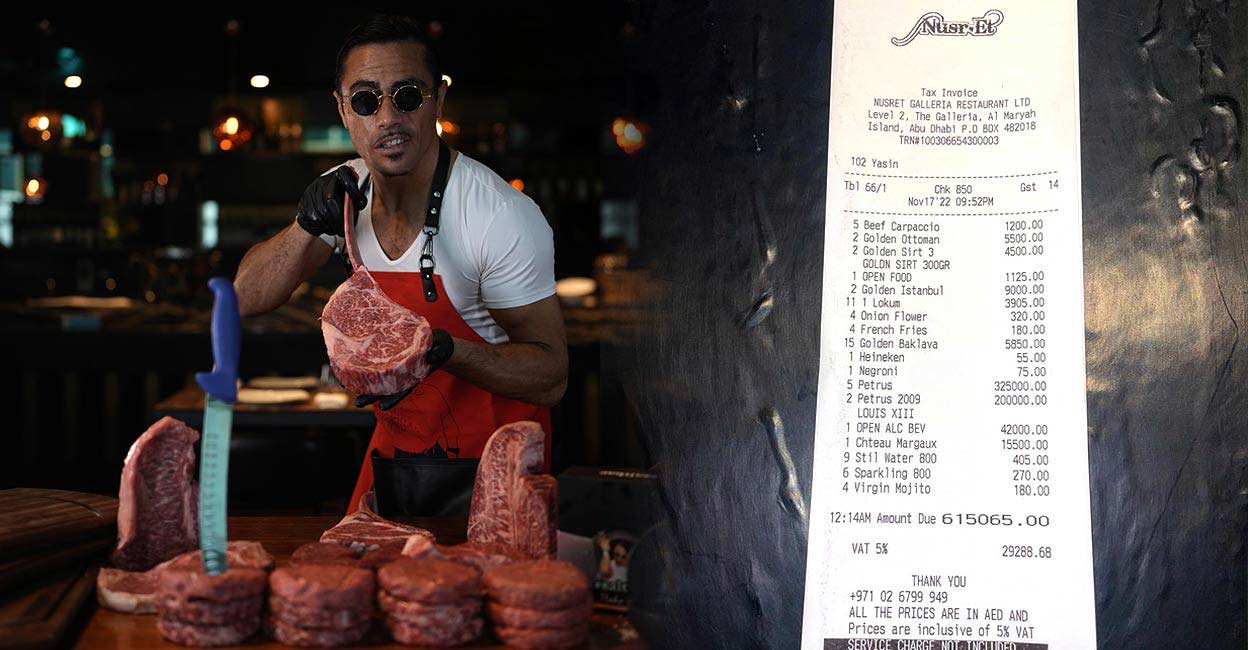 Celebrity chef and restaurateur Nusret Gokce, popularly known as Salt Bae has cooked gourmet meals for international celebrities and sportspersons. His unique style of cooking meat dishes is quite viral on the internet. He owns high end restaurants in almost all the major cities in the world. Interestingly, many silver screen stars, sports persons and political figures are admirers of Salt Bae's cooking style. Salt Bae's chain of restaurants called 'Nusr-Et Restaurants' is known for not just its delicious delicacies but its overwhelming price too. A bill from his restaurant that was shared on his Instagram handle has become the talk of the town recently.
Sharing the bill, Salt Bae wrote that it is alright to spend money for quality. In the bill, the amount to be paid is shown as 615,065 dirham or Rs 1.36 crore. Interestingly, this is the tab picked up by a group of fourteen people. It means that an average of Rs 10 lakh has been spent for each person in the group. Apart from the drinks, the lowest priced dish in the bill is the French fries. However, the French fries alone cost Rs 4000 for four people. The starters alone cost 19,000 dirhams at this restaurant.
This is not the first time that Salt Bae has shocked the world with his bills.
Last year, the restaurant's outlet in London had shared a bill of 1800 pounds or Rs 1.80 lakh. However, people have been posting both positive and negative comments below the pictures of the bills. While some people criticize the exorbitant amounts that have been shown on the bills, some others point out that hundreds of homeless children could be fed using this amount.
The Turkish food icon
Salt Bae is a world famous Turkish chef who specializes in cooking meat dishes. His signature style of sprinkling salt on the dishes has made him a social media sensation. He is often spotted wearing a classic round Rayban sunshades while precisely scoring the meat or the steak using his sharp knife. His signature action of sprinkling salt has earned him the famous moniker Salt Bae.
Not just the bill, but people have bashed Salt Bae's steak dish that is sprinkled with gold dust. Football stars likeLionel Messi, Kylian Mbappe and Paul Pogba have dined at Salt Bae's restaurant. Salt Bae also owns a chain of restaurants called Nusr-Et Steakhouseat Abu Dhabi, Doha, New York, Miami, Dubai and Istanbul.