Sports
Setback For India, Sprinter Hima Das To Miss Tokyo Olympics Due To 'Untimely Injury'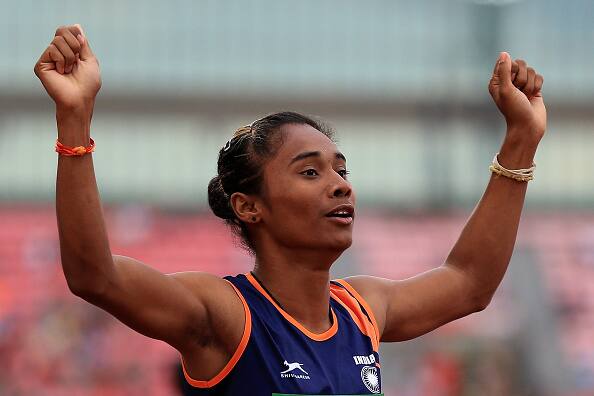 Indian sprinter from Assam, Hima Das is going to miss her first-ever Olympics tournament due to an unfortunate injury. She made this announcement on Twitter. Das was reportedly injured during her qualification for 100m and 200m events. 
Hima holds the national record in 400m race. With this news, India's hope of securing a medal in athletics have become grim. In her statement, Hima was confident to "make a strong comeback" in the "Asian Games 2022 and World Championship 2022."
Nicknamed 'Dhing Express', Hima Das is a 20-year-old Indian sprinter from Assam. She became the first Indian woman indeed the first-ever Indian athlete to win a gold medal in any format of a global track event at IAAF World U20 Championships when she clocked a speed of 51.46 seconds.
Hima Das' Statement:
"I will miss my first Olympics due to untimely injury when ai was close to achieving qualification standard in my new event 100m and 200m. I would like to thank my coaches, support staff, and my teammates for their continuous support. But I will make a strong comeback and looking forward to Commonwealth Games 2022, Asian Games 2022, and World Championship 2022"
She shared this information by using a heartbreak emoji on Twitter. Hima Das has won two gold medals at the Asian Games and one gold medal at the U-20 Championships. Recently, the  World Championship sprinter was appointed as a Deputy Superintendent of Police in her home state of Assam.