LIFESTYLE
Conquering tallest peaks in three continents: Here's how this Malayali mountaineer accomplished the feat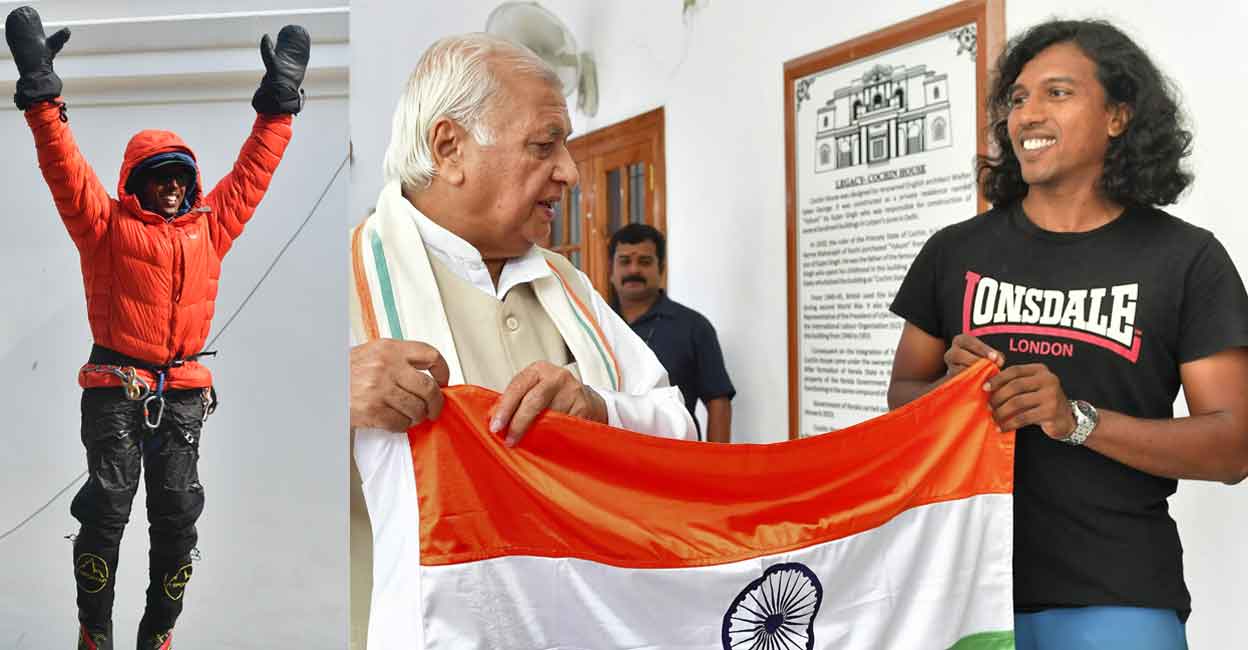 Sheikh Hassan, a Kerala Government employee hailing from Pandalam, loves adventure and has faced death several times while following his passion for mountaineering. His life is an inspiration to all, as Hassan has bounced back from extreme adversities on a number of occasions during his expeditions.
Hassan has set for himself the goal of conquering the tallest peak on each of the seven continents. He has already climbed Mount Everest, the highest peak in Asia as well as the world; Kilimanjaro in Africa and Donnelly in North America.
Son of Ali Ahammed and Shahida of Koottamvetty, Poozhikode in Pandalam, Hassan is currently an assistant section officer in the Finance Department at Secretariat in Thiruvananthapuram. He often takes a salary cut while availing leave for his adventures.
Hassan studied at an ordinary school at Pandalam and later earned a post-graduation in engineering before joining government service. Initially, he worked with the Postal Department. After four years, he joined Kerala Government service.
While working at Secretariat earlier, Hassan was transferred to Kerala House in New Delhi.
Life changed forever for Hassan in Delhi. His outlook on life and even behaviour became different. "I could interact with more people and also learnt the art of listening," he says.
He also developed a large circle of friends with other staff at Kerala House. Among the main attractions of his stint at Kerala House were the trips on holidays with these friends.
One such journey along with friends such as Sivaprasad, Soju, Sailesh and Kiran was to Darjeeling. At that time, Darjeeling was witnessing snowfall after a long interval and their car stopped at Himalayan Mountaineering Institute. There, a fun activity was arranged for visitors. It was a wall climbing for which Rs 30 was charged. Hassan tried it and got hooked. He repeated the climb several times and felt an inner calling to pursue mountaineering seriously.
However, Hassan knew that dreams didn't turn into reality on their own, but one had to work towards achieving each goal and soon joined the mountaineering course at Uttarkashi and Darjeeling.
Meanwhile, during his official trips with ministers and top officers, Hassan learnt about India's plan to celebrate 75 years of Independence. He decided to merge his personal targets with this celebration and resolved to take India's tricolour to the tallest peak in every continent.
Conquest of Kilimanjaro
Before attempting to scale Everest, Hassan conquered Kilimanjaro, the tallest peak in Africa. It was also his first trip abroad. Before the journey to Africa, the highest mountain Hassan had climbed was Sabarimala.
"The eight-day trip to Kilimanjaro was a revelation. I enjoyed the warm hospitality of the African people. As it was my first mountaineering trip, I did not carry any equipment. Instead, most of the gear was taken on rent. I had a pair of ordinary trekking shoes and socks. The guide warned me about the cold, but I paid no heed and started the climb. However, before reaching anywhere near the summit, I froze and couldn't continue the climb. I realized that you cannot conquer Kilimanjaro with ordinary trekking shoes and socks. My guide suggested that we return. At this moment, another guide who was descending the mountain approached us and he offered his socks to me. He encouraged me to continue. So, by wearing that pair of socks over my own, I conquered Kilimanjaro," says Hassan.
At the summit of Donnelly
The tallest peak in North America, Donnelly, is situated 250 miles from the North Pole, in the heart of the Alaskan mountains. A small plane takes mountaineers to the base camp, which is at an altitude of 7200 feet above sea-level.
While starting the trip to Donnelly on May 26, Hassan had checked the weather forecast and found that it was favourable. However, what greeted him were the worst conditions in a decade.
On this expedition, Hassan was accompanied by a mountaineer named Subir Bakshi. In that area of Alaska, which is always covered with snow, are thousands of cracks on ice which can easily swallow a man. Hassan was lucky to have escaped from a fall in such cracks at three places.
Meanwhile, there was a strong wind. Most guided tours retreat to Camp 5 when this happens, but Hassan and Subir decided to continue. Along with the wind, the temperature fell to minus 51 degrees Celsius. Meanwhile, overcast conditions made visibility poor. Still, Hassan and Subir picked up courage and trekked to the peak, reaching it on the morning of June 7.
During the return trip, it was Subir who was in trouble. He developed frostbite, which immobilized him and both of them were trapped for several hours. The phone and radio went dead in the cold and Hassan was helpless in the desolate landscape.
By their sheer luck, a team of American mountaineers reached the spot after eight hours and helped Hassan and Subir to return.
Challenges at Everest
Even after climbing Kilimanjaro, Hassan found the risks involved in scaling Mount Everest immense. On reaching Khumbu Ice Wall, a particularly dangerous section on the path, Hassan developed symptoms similar to pneumonia. The extremely adverse weather which changed constantly, coupled with his illness, made Hassan return to Namche Bazaar, a village near the Base Camp.
Hassan spent a week at the village, recovering. On those days, he also prayed at a Buddhist monastery in the area.
Keen to resume the adventure, Hassan started the climb again, but merely 450 m from the summit, bad luck played spoilsport again.
Hassan's oxygen cylinder became empty and he lay frozen for around 15 minutes. He realized what had happened only later. A Sherpa belonging to another team which was following him had taken off his mask and given it to Hassan.
Thanks to that Sherpa's benevolence, Hassan fulfilled his dream of conquering Everest.
At the same time, Hassan knows that several mountaineers have lost lives while pursuing their dreams. The bodies of some such adventurers who met with tragedies could be seen at Everest, says Hassan.
Supportive family, finding finances
Hassan sets out on each trip after ensuring that his family's needs would be provided for during his absence. When the climb starts, making contact with home would often be impossible. However, neither Hassan's wife Khadeeja nor his daughter Jahnara has complained to him over this matter.
Once Hassan decides on a trip, he never worries about funds. The first journey to Kilimanjaro cost Rs three lakh and it was funded by Ajmal, a friend of Hassan who lives in Dubai.
Expenses for the Everest adventure came to Rs 35 lakh. Hassan's close friends and some colleagues loaned him Rs 12 lakh. The Kerala Tourism Department offered a sponsorship of Rs two lakh and the Lottery Directorate Rs 1.5 lakh. A part of the remaining amount was met with loans from the society at Secretariat. As the money was still insufficient, Hassan pledged his wife's gold jewellery. The loans are yet to be repaid.
The Donnelly expedition's expenditure was Rs 12 lakh, of which Rs 2.5 lakh was for the flight ticket to Alaska and back, which was donated by Musaliar College of Engineering at Pathanamthitta, Hassan's alma mater.
Hassan says that he spends very less money, compared to mountaineers based abroad.
For his upcoming expeditions, Hassan is looking for sponsors. The response from even strangers gives him hope. "Recently, a man named Noushad – whom I never knew earlier – called and congratulated me for my adventures. He said that scaling mountains was his dream and he was glad that I was achieving that feat. He also transferred Rs 50,000 to my account," says Hassan, who cherishes yet another wish – to learn flying.
"I am prepared to earn a pilot's licence if there is an opportunity," he says.