ENTERTAINMENTS
Sonu Sood on Aap Ki Adalat: Actor reveals Salman Khan was not first choice for Dabangg's Chulbul Pandey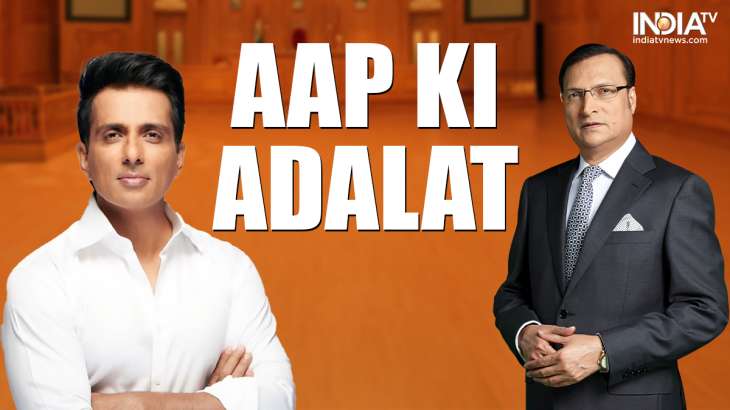 Sonu Sood on Aap Ki Adalat: After India TV Editor-in-Chief and Chairman Rajat Sharma puts Bollywood actor and philanthropist Sonu Sood in the witness box, he reveals many secrets. In the fifth episode of Aap Ki Adalat, Rajat Sharma poses challenging questions to Sonu Sood, a real-life hero who turned into a messiah for migrant workers, COVID patients, and others. Be it a celebrity or a politician, no one is spared whoever is inside the witness box. In the recent episode, Sonu Sood answered any unanswered questions and revealed inside Bollywood secrets.
The real-life hero revealed that Salman Khan was not the first choice for the role of Chulbul Pandey in 'Dabangg'. Sonu Sood was offered the role first but later he was introduced to the role of Cheddi Singh. He also revealed that he was not convinced with the role and he denied doing Cheddi Singh's role. Later when the director insisted, he told him that he will only do the role if he is allowed to rewrite the dialogue. So he rewrote the dialogue himself.
Sonu Sood, who mostly played villains on television, transformed into a real-life hero during the COVID-19 pandemic. His outstanding work prompted the nation to swell with pride as he helped people receive medical help during the coronavirus outbreak and sent hundreds of migrants back home.
Rajat Sharma confronted Sonu Sood about helping bring 4,000 students from Kurdistan and Kazakhstan by plane, which is a tough task, and how he managed it. The actor responded, "Those who could afford, paid for their tickets. But we ensured that everybody was brought back. At that time, there were no flights from Kazakhstan, Uzbekistan, Georgia, Palestine, Russia. I spoke to the offices and ambassadors of all these countries. I was doing this round-the-clock, arranging permissions for airlines and bringing people back."
The actor has also revealed what happened during the Income Tax Department raid on his residence. Sonu claimed that no incriminating document was found. He said, "They (Income Tax men) came at 5.30-6.00 am. I welcomed them and told them they would get the best experience from me. They were surprised to find that none of the cupboards or drawers in my home had locks. Even the doors had no locks. We open the doors of the house in the morning for people to walk in. That was something they found amazing."
Meanwhile, on the work front, Sonu Sood will be seen in the action thriller film 'Fateh', which will go on floors in 2023. Directed by Vaibhav Mishra, the film will be shot at various locations across Delhi and Punjab.
Also Read: Sonu Sood on Aap Ki Adalat: COVID hero reveals how he funds the needs of the masses
Also Read: Sonu Sood on Aap Ki Adalat: Actor opens up on why he left Kangana Ranaut's Manikarnika
#Sonu #Sood #Aap #Adalat #Actor #reveals #Salman #Khan #choice #Dabanggs #Chulbul #Pandey
function loadFacebookScript(){
!function(f,b,e,v,n,t,s){if(f.fbq)return;n=f.fbq=function(){n.callMethod?
n.callMethod.apply(n,arguments):n.queue.push(arguments)};if(!f._fbq)f._fbq=n;
n.push=n;n.loaded=!0;n.version='2.0′;n.queue=[];t=b.createElement(e);t.async=!0;
t.src=v;s=b.getElementsByTagName(e)[0];s.parentNode.insertBefore(t,s)}(window,
document,'script','https://connect.facebook.net/en_US/fbevents.js');
fbq('init', '529056027274737');
fbq('track', 'PageView');
}
window.addEventListener('load', (event) => {
setTimeout(function(){
loadFacebookScript();
}, 5000);
});