WORLD
Former employee killed after shooting 1 person at an Indiana Walmart, police say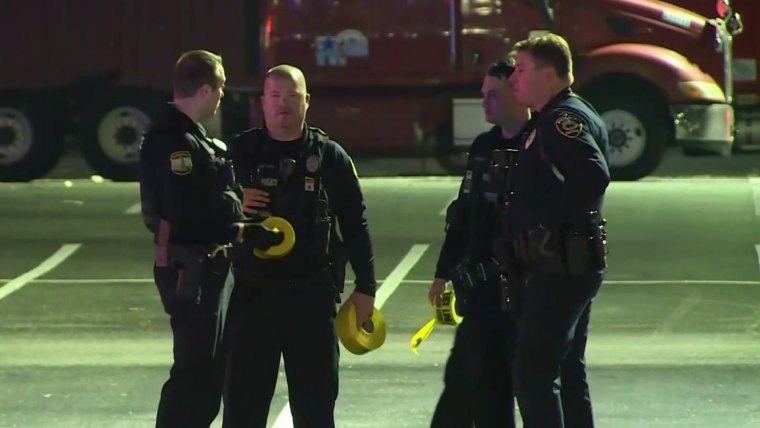 A former employee was fatally shot Thursday after he opened fire inside an Indiana Walmart, wounding one person, police said.
The ex-employee, identified Friday as Ronald Mosley II, "probably had some sort of relationship with the victim in terms of being a co-worker," Evansville police Officer Taylor Merriss told NBC affiliate WFIE Friday morning.
Police said the call about the shooting came in at 9:59 p.m. local time (10:59 p.m. ET). The victim, who has not been identified, was alive when officers arrived. She was taken to one hospital and later flown to another, Merris said. Her condition was unknown Friday morning.
Officers killed the shooter, who fired multiple shots at officers, Sgt. Anna Gray said shortly after the incident in Evansville, a city of around 117,000 in southern Indiana, near the border with Kentucky.
"He would shoot at officers and move" inside the store, she said. "It wasn't contained to just one area inside."
There were "numerous gunfights inside the building and outside," according to Merriss.
"We can't stress enough that there could've been a lot more victims last night," she said.
Investigators are seeking to interview witnesses. Police have not said know what kind of gun Mosley used.
Walmart said it would be supporting its employees in the wake of the shooting, and it thanked first responders.
"The entire Walmart family is shocked by the senseless violence that occurred at our Evansville store, and our hearts are with our associate at this time," the company said.
The shooting in Evansville occurred nearly two months after a night manager killed six other workers and wounded at least a half-dozen others at a Walmart in Virginia.
Andre Bing, 31, who took his own life after opening fire on his co-workers Nov. 22, worked the overnight shift at the Walmart Supercenter in the city of Chesapeake and was a longtime employee, the company said at the time.
It was the deadliest store shooting since May when a racist white gunman shot 10 Black people dead at a grocery store in Buffalo, New York, according to an NBC News tally.
If you or someone you know is in crisis, call 988 to reach the Suicide and Crisis Lifeline. You can also call the network, previously known as the National Suicide Prevention Lifeline, at 800-273-8255, text HOME to 741741 or visit SpeakingOfSuicide.com/resources for additional resources.