HEALTH & FITNESS
What Taapsee Pannu Eats To Get 6-Pack Abs? Nutritionist Munmun Ganeriwal Reveals The Actress's Diet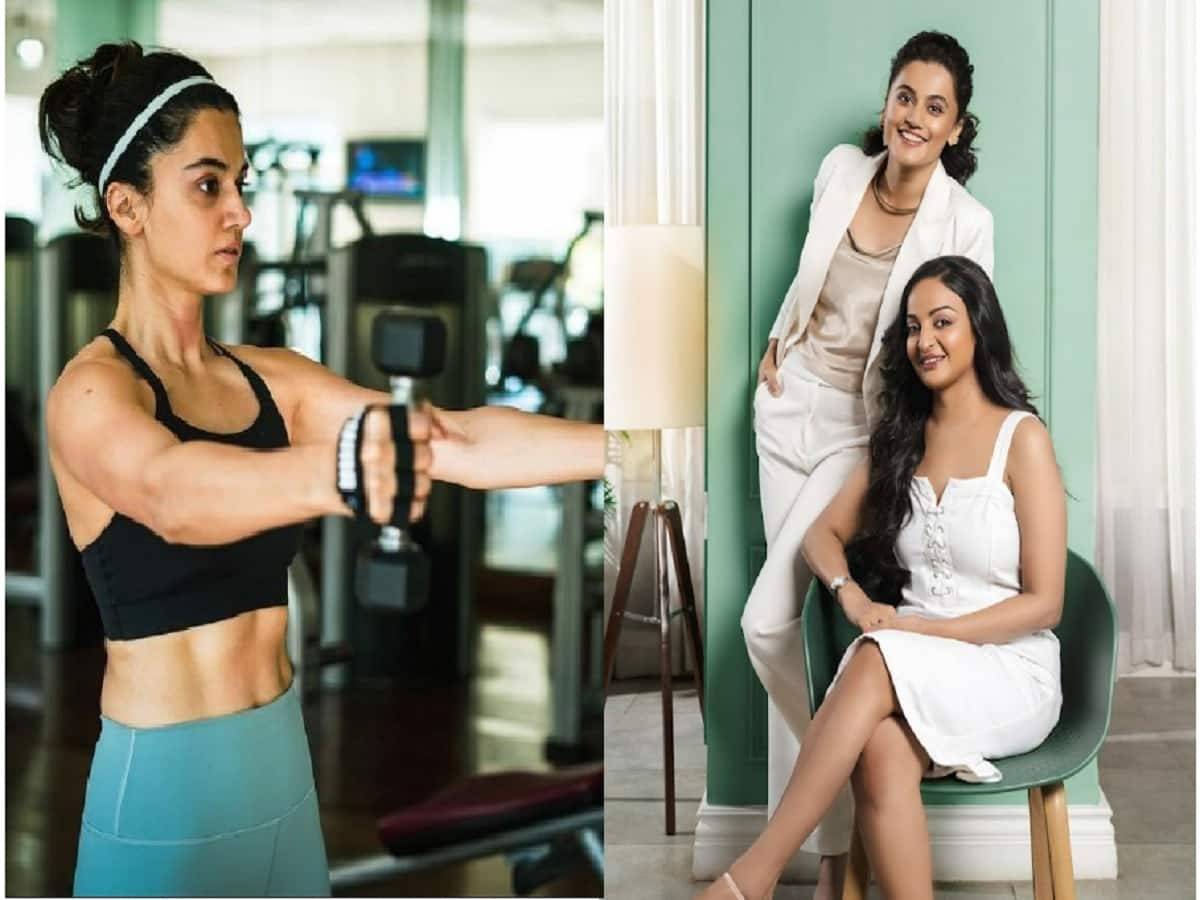 Wondering what Taapsee Pannu eats to get those 6-pack abs? Nutritionist Munmun Ganeriwal reveals the actress's diet here.
Tapsee Pannu has been touted as one of the fittest Bollywood actors. We have seen her muscular frame in the movie "Rashmi Rocket" where she played the role of a sprinter. But her recent body transformation has left her fans and followers stunned. A few days back, the actress shared two pictures on Instagram, where she is seen flaunting her 6-pack abs with her trainer. Without a proper diet, it is not possible to get 6-pack abs with workout alone. It is Celebrity Nutritionist Munmun Ganeriwal who has played a major role in Taapsee Pannu's amazing transformation.
Talking to TheHealthSite, the nutritionist busted some of the common myths related to 6-pack abs among women, and what it all takes to get the toned abs like those of Taapsee Pannu.
"Zero size is pass , women today want to look fit and feel fit"
Size zero body type is now a thing of past, and a fit, toned body is the new trend in the fashion industry. Toned rather than thin is the ideal body type most women are aiming for now.
Munmun Ganeriwal agrees, "Women today are cracking the glass ceiling. We are overturning stereotypical beliefs about our roles in the socio-cultural-political ambit. Truth be told, we are no longer restricted to the domestic space. As far as our physical appearance is concerned; fair, thin and tall are slowly fading away as the prescribed 'feminine ideal'. Considering that the notion of beauty and its various parameters are undergoing a gradual change; "Mirror Mirror on the Wall, Who Is the Fairest One of All?" a line from our favourite bed time story no longer seems relevant. Being in the business of making people lose weight and getting them fitter for two decades, I can vouch on this welcoming change. Zero size is pass , women today want to look fit and feel fit."
So, she was not a bit surprised when Taapsee Pannu revealed her interest in sporting 6 pack abs for her new project with a sports brand.
Myths And Facts Related To 6-Pack Abs Among Women
Being the person behind Taapsee Pannu's new avatar donning the taut, lean abs, Munmun Ganeriwal considers herself eligible enough to give out ab-busting advice that she believes really work.
Below, she shares some common myths and facts related to 6-pack abs in women.
MYTH 1: Cut back on carbs.
FACT: "Abs are made in the kitchen, not in the gym" is an often used saying. If you want to see defined abdominal muscles, then what you eat is more important than how much you exercise. Doing infinite number of crunches and long hours of cardio a day won't help you see your abs muscles any faster if you don't make the right changes to your diet. And the first to begin with is CARBS. The good news is that you don't have to cut back on carbs, simply ensure you are eating the right kind. Eating the right type of carbs can allow you to chisel out those six-pack abs. For Taapsee's transformation, I used lots of millets and hand-pounded/unpolished rice. They are packed with fiber, which means they are more filling so you can stay satisfied longer. My recommendation "Stay away from highly refined carbs like refined wheat, polished rice, biscuits, cakes, etc."
MYTH 2: Avoid dietary fats to burn body fat.
FACT: Everyone has abdominal muscles, known as abs. It is called the rectus abdominis and has six parts, which is how it got the name "six-pack." The reason you can't see them is because they're covered by fat. Burning your body fat will help give you 'visible' abs. But how? By eating good fats. That's right! Believe me, the idea of 'low fat' is nothing but low-grade advice. Eating fats like omega 3, ALA, CLA can accelerate the fat burning process. This is what I used with Taapsee too! Peanuts, avocado, buttermilk, aged cheese, her diet had it all.
MYTH 3: Eat less, move more.
FACT: You don't have to starve and spend hours at a gym. Losing body fat and getting leaner is about much more than that. For instance, check your hormonal map. If you retain water before and during your periods, then it can cause bloating and puffiness, especially in the abdomen, ultimately covering any muscle definition you may have earned. Drinking more water, staying hydrated, avoiding alcohol and making sure your hormones and periods are not out of whack are all much more important than any calorie counting advice.
Total Wellness is now just a click away.
Follow us on
window.addEventListener('load', (event) => {
// $(document).ready(function(){
$('#commentbtn').on("click",function(){
(function(d, s, id) { var js, fjs = d.getElementsByTagName(s)[0]; if (d.getElementById(id)) return; js = d.createElement(s); js.id = id; js.src = "//connect.facebook.net/en_US/sdk.js#xfbml=1&version=v2.3"; fjs.parentNode.insertBefore(js, fjs);}(document, 'script', 'facebook-jssdk'));
$(".cmntbox").toggle();
});
// });
});