COVID-19
Tamil Nadu: 28.9L People Inoculated In 12-Hr Mega Vaccination Drive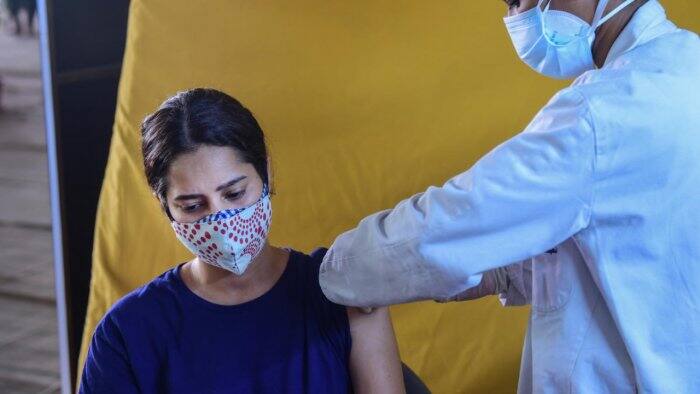 Chennai: Surpassing its target to administer 20 lakh Covid-19 vaccination to the public in a 12-hour mega vaccination drive, Tamil Nadu has inoculated 28.9 lakh people on Sunday. The number is nearly 10 times higher than the number of people inoculated in a single day in the state. 
The Tamil Nadu government had set up 40,000 special camps across the state and set a target of inoculating at least 20 lakh people in the camps. Officials have taken multiple measures right from sending reminders, gifting the public to deployment of 18 IAS officers to oversee the operations. 
Quoting Chief minister MK Stalin, a Times of India report said that about 4.02 crore people have been inoculated in the state till date. He congratulated the state health department for its efforts to conduct special camps. 
According to the report, the highest number of vaccinations was being done in Chennai. The greater Chennai corporation had organized eight camps in each of its 200 wards and inoculated 1.85 people in a single day. 
Also read | Tamil Nadu: Ahead Of NEET, A Medical Aspirant Ends His Life In Salem
While fever survey and anganwadi workers, self-help group members and others went from a door to door to create awareness among the public about the vaccination camps in Chennai, districts like Trichy, Thanjavur, Pudukottai and Kancheepuram local bodies announced cash rewards and prizes like silk sarees, android smartphones and gas stove for those taking the jab, the report said.  
Quoting the health secretary J Radhakrishnan, the report said that districts including Coimbatore, Tirupur, Trichy, Thanjavur, Madurai and Thiruvallur have also vaccinated more than one lakh people each on Sunday. 
"Initially there were many suspicions raised over the state's ability to vaccinate people in such large numbers. But Sunday's effort has proved our capacity and we have requested the centre to sanction more doses," he said, according to the report. 
According to the report, health minister Ma Subramanian said that steps would be taken to conduct such camps at least once in ten days when doses are available.
Check out below Health Tools-
Calculate Your Body Mass Index ( BMI )