LIFESTYLE
Tokyo Olympics: 'We have inspired millions of Indian girls,' says women's hockey team coach Sjoerd Marijne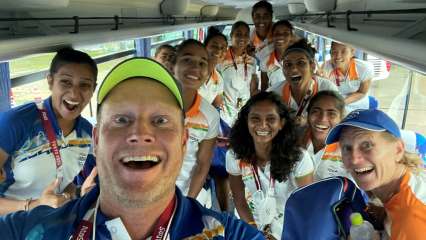 It was a heartbreaking loss for the Indian women's hockey team as Great Britain beat them 4-3 in the semi-final in the ongoing Olympics. Coach Sjoerd Marijne, however, said that they didn't win a medal but they have inspired a lot of Indian girls to dream and take up the sport.
The campaign of the women's team was going nowhere after three losses but two wins in a row and a Great Britain win over Ireland meant they qualified for the quarter-finals and that's where the real journey began as they beat the Australian team 1-0 and qualified for the semi-finals. But they lost to a string Argentian team in the semis.
We did not win a medal, but I think we have won something bigger. We have made Indians proud again and we inspired millions of girls that dreams CAN come true as long as you work hard for it and believe it! Thanks for all the support!

— Sjoerd Marijne (@SjoerdMarijne) August 6, 2021
They had to now beat Britain to win the bronze medal and what a mouthwatering contest it was. No one really knew, who was going to win till the last minute as it was neck and neck but eventually Great Britain took the game by 4-3.
Speaking to the press after the loss, coach Marijne, who has now quit after the match said, "We always had the belief that we can win a medal and we were really close. The girls believing in themselves makes me really proud.
"I think that was one of the biggest steps we made. Every girl in the team has her own story and every story is amazing. Let's hope that a lot of women in India have seen this Indian team's performance and are inspired by the team to start playing hockey or any other sport," he added.
What an amazing game, what an amazing opponent @TheHockeyIndia you've done something special at #Tokyo2020 – the next few years look very bright pic.twitter.com/9ce6j3lw25

— Great Britain Hockey (@GBHockey) August 6, 2021
The ex-Dutch player said that the team has won something bigger than the medal and appreciated his side's fighting spirit.
"We showed a fighting spirit in the Bronze Medal match against Great Britain, but it wasn't enough.
"We gave away too many PCs and in these kinds of matches, you have to convert all your PCs into goals and I must say Gurjit (Kaur) did really well. I told the team that we didn't win a medal, but we achieved something bigger than a medal and that's inspiring an entire nation," Marijne added.
Talking about the turning point of his side's campaign, Marijne said that the loss to Great Britain in the group stage really transformed them as he was very angry with the team then and told that they will have to do better.
"After the Pool match against Great Britain, I was extremely angry with the team. I told the team that if you go down then show that you really tried and then go down." "I told the team that they will have to do better and I think the team's mindset transformed after that match. I and Janneke had a lot of individual meetings with the girls and they found the key for the next matches themselves. I think that was an important part of the tournament for us," he said.
'This is the beautiful way to end the journey'
In the presser Marijne also informed that this was his last game as coach of the Indian women's hockey team and that he wants to spend time with his family.
"I don't have any plans because this was my last match with the Indian women. It's up to Janneka (Schopman) now. I will miss the girls, but I miss my family more. My family is No 1. I want to be with my son, daughter and wife after being away for three-and-a-half years. This is a beautiful way to end this journey," he said.