WORLD
Top U.S. diplomat in Haiti resigns over 'inhumane' treatment of migrants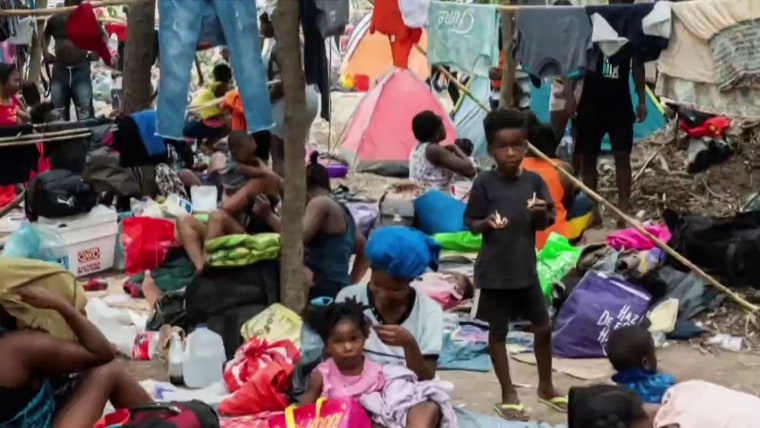 WASHINGTON — The U.S. special envoy for Haiti, Daniel Foote, has resigned over what he called the administration's "inhumane" treatment of Haitian migrants.
"With deep disappointment and apologies to those seeking crucial changes, I resign from my position as Special Envoy for Haiti, effective immediately," he said in his resignation letter to Secretary of State Antony Blinken on Wednesday, obtained by NBC News.
Foote deplored the "inhumane, counterproductive decision to deport thousands of Haitian refugees" and said that his own recommendations have been "ignored and dismissed." He said his resignation is effective immediately.
His resignation comes after more than 15,000 mostly Haitian migrants converged on a border bridge in Del Rio, Texas, last week and after photos showing Border Patrol agents on horseback chasing migrants generated widespread pushback. President Joe Biden addressed the situation Tuesday, telling reporters that "we'll get it under control."
PBS was the first to report the news of the resignation.
State Department Spokesperson Ned Price denied that Foote's suggestions were ignored and said there had been multiple senior-level policy conversations on Haiti where all proposals, including Foote's, "were fully considered in a rigorous and transparent policy process."
"Some of those proposals were determined to be harmful to our commitment to the promotion of democracy in Haiti and were rejected during the policy process," he said. He went on to call Foote's resignation "unfortunate," adding that, "This is a challenging moment that requires leadership."
"It is unfortunate that, instead of participating in a solutions-oriented policy process, Special Envoy Foote has both resigned and mischaracterized the circumstances of his resignation," Price said.
As of Tuesday, just over 1,000 of the Haitian migrants had been deported to Haiti, according to two sources familiar with the operations. A total of 4,000 have been either deported or moved to other processing centers along the border, the Department of Homeland Security said.
Homeland Security Secretary Alejandro Mayorkas traveled to Del Rio on Monday, speaking to the media near the bridge, where thousands of Haitians remain.
Mayorkas blamed the sudden influx on misinformation about the Biden administration's policy of Temporary Protected Status that allowed Haitians already in the U.S. prior to July 29 to stay for a temporary but undefined period of time. He said many falsely believed if they arrived now, they would also be allowed to stay.
"Our policy approach to Haiti remains deeply flawed, and my recommendations have been ignored and dismissed, when not edited to project a narrative different from my own," said Foote.