SPORTS
US Open Final: Novak Djokovic Breaks Racket In Frustration After Unforced Error – Watch Video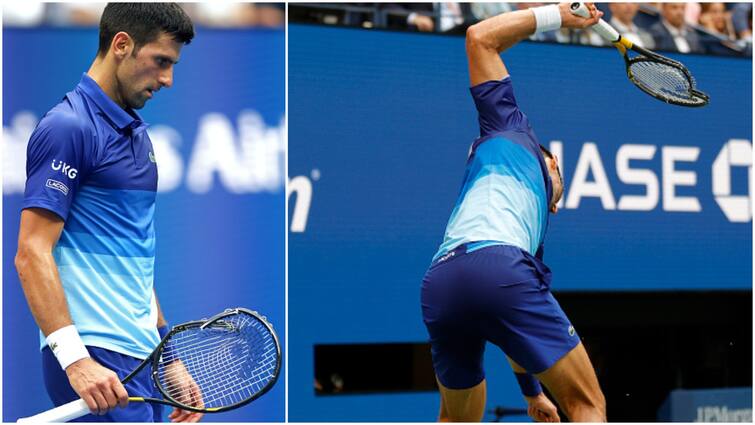 Novak Djokovic has lost the final of the US Open and with it, also the golden chance of creating history by winning the career grand slam. Djoko had a frustrating final in New York, but his frustration reached the zenith in the second set when he made an unforced error. 
Djokovic was already a break down at that point in the match and after the unforced error, Djokovic took the frustration out on the racket and thrashed it at the baseline. Novak, who had the support for the majority of the match lost some of it after the incident took place. 
Take a look at the video when Djokovic thrashed his racket:
To be fair to Djokovic if those Goombas had touched him he'd be half his normal size and I imagine that would have affected his tennis. pic.twitter.com/q7fHJVUmQj


— Matthew Highton (@MattHighton) September 12, 2021
Frustration, tension and Daniil Medvedev: Novak Djokovic is dealing with it all right now.

If the world No. 1 is to complete a calendar-year Grand Slam and win a 21st major title, he'll need to complete a comeback from two sets down.#USOpen LIVE BLOG: https://t.co/HI6CbhECf6 pic.twitter.com/6ORswHhrXq


— TENNIS (@Tennis) September 12, 2021
Novak's downfall started in the second set when he broke his racket in frustration and received a warning, from the chair-umpire. He never really looked in control of the match since that moment. 
Djokovic lost the final 6-4, 6-4, 6-4 to Daniil Medvedev of Russia. Daniil Medvedev's first serve and his aces were the hallmarks of this final. It felt like the Russian controlled the game from the baseline.
At the presentation, Medvedev said that Djokovic is the best player of all time for him!