WORLD
US to send nuclear-armed submarines to South Korea for first time in 40 years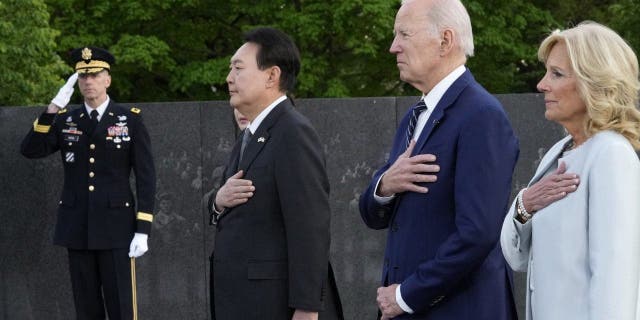 President Biden is expected to strike an agreement with South Korean President Yoon Suk Yeul, during the latter's state visit, to dock nuclear submarines in South Korea.
Biden and Yoon are expected to sign the agreement Wednesday as a show of solidarity with Seoul amid increasing nuclear tensions with North Korea, senior administration officials said.
CHINA, UKRAINE ON MAIN STAGE AS SOUTH KOREA'S PRESIDENT VISITS BIDEN, ADDRESSES CONGRESS FOR 1ST TIME IN DECADE
The agreement would allow U.S. nuclear submarines into the region for the first time in over 40 years.
An increased presence of U.S. nuclear submarines would serve to assuage South Korean concerns regarding North Korean dictator Kim Jong Un's progress developing his nation's nuclear arsenal.
CHINA VOWS 'STRONG' MEASURES AFTER MCCARTHY MEETS TAIWAN'S TSAI ING WEN 
The decision is part of a policy rollout occasionally referred to as the "Washington Declaration" — an international positioning of the U.S. to quell growing aggression from communist North Korea.
Yoon, who first entered politics only two years ago to run for president of the Republic of Korea (ROK), and his first lady Kim Keon Hee will join President Biden and first lady Jill Biden for a state dinner Wednesday to commemorate the 70th anniversary of the U.S.-South Korea alliance.
The pair of world leaders visited the Korean War Veterans Memorial on Tuesday, where they laid a wreath and paid respects.
MCCARTHY, TAIWANESE PRESIDENT MEET, DECLARE 'STRONG BOND' BETWEEN THE TWO NATIONS
On Thursday, Yoon is expected to deliver a speech at a joint session of Congress, making him the first South Korean president to do so in a decade, according to The Washington Post. 
The White House said the alliance, born out of World War II when the former Soviet Union threw most of its support behind Communist China and North Korea, "is critical to advancing peace, stability, and prosperity for our two countries, the Indo-Pacific, and around the world." 
CLICK HERE TO GET THE FOX NEWS APP
A range of issues impacting the alliance are under discussion between Biden and Yoon, including how the Inflation Reduction Act and the Chips Act have negatively impacted South Korean manufacturers and Seoul's desire to acquire its own nuclear weapons instead of relying solely on the U.S. protection guarantee. 
Fox News Digital's Danielle Wallace contributed to this report.