WORLD
Rocking Out on the Campaign Trail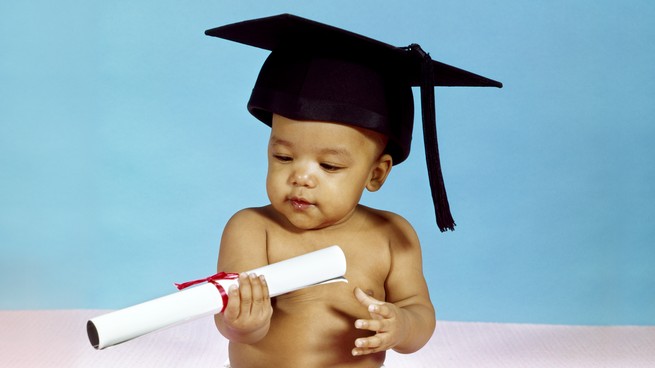 This is an edition of The Atlantic Daily, a newsletter that guides you through the biggest stories of the day, helps you discover new ideas, and recommends the best in culture. Sign up for it here.
Politics is already a performance. Why also sing?
First, here are three new stories from The Atlantic:
---
A Risk to Their Dignity
Live music has the power to connect, to make people feel. In the hands of politicians, it also has the power to make them cringe.
Last weekend, a video went viral of Vivek Ramaswamy, a businessman turned long-shot candidate in the Republican presidential primary, rapping Eminem's "Lose Yourself" at the Iowa State Fair. (It was not even his first time performing the rap; he reportedly used to bust it out during his student days at Harvard.) In rapping, Ramaswamy joined a long line of political figures who have—at times endearingly, at times bafflingly—performed musical acts. To name a few: Bill Clinton played the saxophone periodically in the 1990s, including a rendition of "My Funny Valentine" at a White House party in 1998. George W. Bush performed a parody of "Green, Green Grass of Home" at the Gridiron dinner in 2008. Barack Obama sang a bit of Al Green at the Apollo Theater in 2012. Colin Powell duetted "Call Me Maybe" with Gayle King that same year. Then-Mayor Pete Buttiegieg played piano with Ben Folds in South Bend, Indiana, in 2015. It's not just American politicians, either: At the White House state dinner in April, South Korean President Yoon Suk Yeol sang the first several bars of "American Pie." After the surprise performance, President Joe Biden said that he had "no damn idea" Yoon could sing.
Politics always involves some level of performance, but it's not usually this literal. Politicians craft their images and participate in mythmaking; they tend to be confident and comfortable in front of crowds. But making a speech is different from belting out a rock song. What is it that motivates these people to shed their often serious persona and get up on the mic? Is it an effort to connect with the common person? A desperate cry for attention? An expression of the disciplined, type A personality that might motivate a person to both practice an instrument for hours every day and pore over policy briefs?
"Don't overthink it," my colleague Elaine Godfrey, who covers politics, advised. "Politicians want to be seen as lovable, fun, and, crucially, normal. Remember, these are already people who love the spotlight, and who believe that they have something really unique and special to offer the world." Ramaswamy is running for president with no background in government, she pointed out. It makes sense that he would also be confident enough to rap in public.
Politicians tend to be buttoned-up individuals, and voters might find it disarming to see them let loose a little. That Ramaswamy's rap video got millions of views was surely a coup for the fledgling candidate—after all, attention is a vital currency in politics. The campaign manager for Andrew Yang's 2020 presidential run, which was buoyed by several viral internet moments, told NPR this week that despite the attention Yang's team paid to one of his early campaign trips to South Carolina, the trip didn't garner much press coverage until a video of Yang "Jazzercising and … doing the 'Cupid Shuffle' with a number of older ladies" took off. In other words, the best-laid PR plans can sometimes get blown out of the water by an amusing little song or dance. Viral moments can cut both ways, though: Videos of Pete Buttiegieg's campaigners waving their hands to "High Hopes" in 2019 did little to disabuse young voters of the candidate's unhip image.
Campaigning politicians also rely heavily on music when they're not performing it. Leaders use walk-out tracks and campaign anthems to communicate their vibes, values, and regional loyalties. In 2020, for example, Kamala Harris's campaign playlist of largely Black and Latino artists, which included Mary J. Blige walk-out music, sent a message about her identity and the voters she wanted to reach. Beto O'Rourke, himself a former rocker, featured rock songs and Texas tunes on his playlist. But musicians are not always happy to have their tracks used for electoral fodder. Donald Trump, whose rally music has ranged from Lee Greenwood to Les Misérables, has gotten into more than 20 dustups with artists who don't want to be associated with him.
Although performing a zealous little number can make politicians seem authentic and even fun, the move is not without its perils. The primary risk, as Elaine put it, "is to their dignity." Watching all of those YouTube clips of famous political figures singing and dancing made me think of an episode of Parks and Recreation in which (apologies for the spoilers, but also, this show is really old) Adam Scott's character, Ben, goes to Washington to work on a congressman's campaign. He brings along April, deadpanned to perfection by Aubrey Plaza, and they quickly start imitating their robotic boss. Discussing what to eat while leaving the office, April bleats, "Human food sounds good to me." I can't help but picture some of these politicians grabbing the mic and trying to seem like regular people, saying, "Human interests sound good to me."
Related:
---
Today's News
Ten current or former Northern California police officers face corruption and civil-rights charges after a two-year FBI investigation uncovered evidence of alleged crimes including illegally distributing drugs and destroying records.
Lucy Letby, a former neonatal nurse in the U.K., was found guilty of murdering seven babies and attempting to murder six others.
The United States has approved the transfer of F-16s to Ukraine; the country has long sought the planes to battle Russian air dominance.
---
Dispatches
Explore all of our newsletters here.
---
Evening Read
Legacy for You, but Not for Me
By Xochitl Gonzalez
In the '90s, being a low-income student of color in the Ivy League was hard. Our population was minuscule. We were inside a place of privilege, but not fully part of it. The institution wasn't built for us, and we knew it. We weren't like the wealthy white kids whose alumni parents came to visit their favorite haunts in their favorite old college sweatshirts. But we were, we believed, part of a different future. And someday, we would have the chance to put on those sweatshirts ourselves and visit our own kids as students at our alma mater. We were writing a new chapter in these schools' long histories, and we dreamed our children would be legacies …

One first-generation, formerly low-income Latina friend who went to Brown with me vowed that she would pressure her child about only one thing: getting into Brown. Many of these alumni, either loudly or under their breath, are asking: "Now that we're finally on the inside, they're shutting the door?"
More From The Atlantic
---
Culture Break
Read. The Comebacker, a short story by Dave Eggers.
"With every word she said, in her low, clenched-jaw way, he was stung by the great injustice of finding his favorite person, sitting next to her every day, but heading home each day alone."
Watch. The latest episode of And Just Like That (streaming on Max) manages to get something right about modern parenting.
---
P.S.
I am seeing some live music by professional musicians this evening: The National, a band I love, is playing at Madison Square Garden, with Patti Smith opening. To prepare for the evening ahead, I revisited "The Sad Dads of the National," Amanda Petrusich's April profile of the band in The New Yorker. And lo and behold, I came across this nugget: Obama used one of the band's songs, "Fake Empire," in a 2008 campaign video.
— Lora
---
Katherine Hu contributed to this newsletter.
When you buy a book using a link in this newsletter, we receive a commission. Thank you for supporting The Atlantic.