SPORTS
Virat Kohli To Step Down As T20I & ODI Captain, Rohit Sharma To Take Over After T20 WC: Report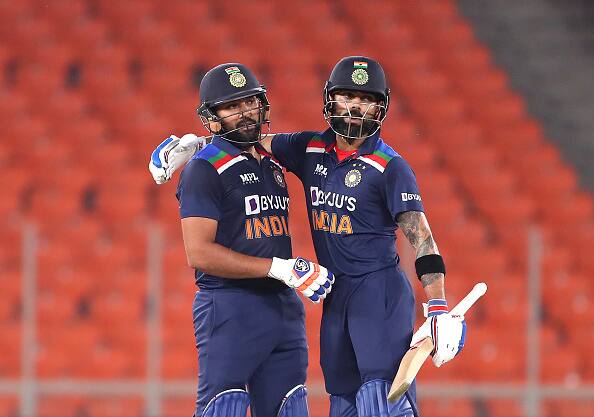 India's captain Virat Kohli is likely to step down as skipper of the limited-overs format, as per a report in TOI. Rohit Sharma could take over the reins from Virat Kohli. These changes in the team will be done after the T20 World Cup ends. Captain Kohli will continue being the captain of the Indian Test team but will step down as T20I and ODI captain. 
Virat Kohli himself will make the big announcement of stepping down as the white-ball captain. "Virat himself will make the announcement. He is of the view that he needs to concentrate on his batting and go back to becoming what he's always been — the best batsman in the world," the TOI report has quoted BCCI sources.
The Board of Control for Cricket in India (BCCI) is aware about the sensitivity of this news and has been planning to go ahead for a long time. It also says that Virat and Rohit are on the same page on this. 
"We realize spin-masters will be at work, giving their own twists to these developments. That's the reason BCCI has been planning this in well advance. In the end, Virat and Rohit are on the same page," the source added. 
Kohli's Performance as India Captain across all formats
Test Matches – Played 65 / Won 38
ODI's – Played 95 / Won 65
T20's –  Played 45 / Won 29
As you can see above, Kohli's record as a captain has been good even in the limited-overs format. In fact, since 2018 Virat Kohli has taken India to some memorable Test victories. 
Why Is Kohli Stepping Down?
The reason for Virat Kohli stepping down as captain is very simple. Kohli feels that his batting across formats needs more time and greater impetus as India is looking to play two World Cups in 2022 and 2023. 
Kohli's batting has been affected for the last two years. He hasn't scored a single hundred for nearly two years now. That is very unlike how Virat Kohli scores his runs. 
Why Rohit Sharma?
Rohit Sharma's record as the captain of Mumbai Indians in the IPL has been phenomenal. He lead the MI team to glory five times in eight years. He won the IPL as Mi captain in 2013, 2015, 2017, 2019 and 2020.
Rohit has won 8 out of 10 ODIs that he has captained so far. while he has won 15 out of 19 T20I matches as captain of India.