LIFESTYLE
Want a quiet life? Get this luxurious house in the middle of a desert for THIS whopping price – Details inside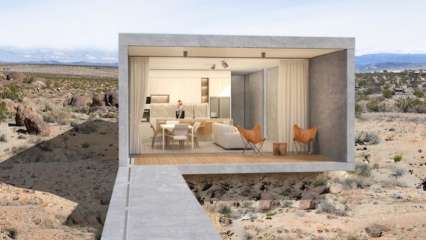 As much as we love city life, it can get overwhelming at times with all the hustle-bustle that it demands. Living in a city has its perks but nothing beats living somewhere you don't have to worry about time, work and there's absolute silence. Even though we'd want to live away from everything, we won't be able to live without our daily needs which are basically modern amenities. 
So, what if we are told that such a house is available in the US with everything you need?
Such a house exists and is situated in the middle of a desert called the Mojave desert in California and the house is called 'El Cemento Uno' which is equipped with all the modern amenities you could dream of. 
As per the company URBARC, which has designed the house says that it is based on boulders offering the ultimate park-like experience with the ultimate privacy and has been put on sale by Kud properties. 
URBARC recently shared a picture of the house on the social media platform Instagram with a price tag of a whopping Rs. 12.9 crore.
The house is situated in a five-acre remote area with markets and surrounding neighbourhood far away. Anyone who wants to go grocery shopping or meet people will have to take car or bike rides. As per reports, the house is built using the RSG3D building system that uses insulated 3D panels made of concrete and foam. The house comes with a built-in library and a dedicated reading corner. 
The construction of the house began in June 2021 and interestingly you will see a similar house shown in a Black Mirror episode titled Smithereens, where the founder of a social media company is trying to detox in such a house in the middle of nowhere.
So, if you really need that detox and can spend a whopping amount for yourself then this is the house for you.