SPORTS
WATCH: Cameroon's 16-year-old Maeva Douma 'Mankad' four non-strikers of Uganda in sensational T20I debut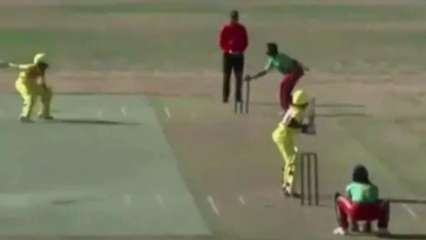 While the topic of 'Mankad' is considered not in the spirit of the game, the action by a bowler to dismiss the non-striker batman if he or she has crossed the crease before the release of the ball is well within the rules of the game. 
When Ravindran Ashwin did the same to Jos Buttler during Kings XI Punjab vs Rajasthan Royals in the Indian Premier League (IPL) game, all questioned his 'cricketing spirit'.
However, right now, a 16-year-old girl from Cameroon, who made her debut on international cricket against Uganda did not just Manka one or two but a total of four non-striker batswomen.
Maeva Douma, on Sunday, punished four Ugandan batters for venturing out of their crease at the non-striker's end by running them out during the Women's T20I World Cup qualifier.
The right-arm fast bowler finished with figures of 1/27 from her four overs, however, these numbers do not reveal that she was responsible for a total of five Ugandan wickets to have fallen.
WATCH:
— hypocaust (@_hypocaust) September 12, 2021
In the clash, Douma bowled opener Prosscovia Alako (31) to end the blistering opening partnership in the fifth over, and then again took the matter in her own hands after the pair of Rita Musamali and Kevin Awino added 100 runs for the second wicket. This lead Uganda in a strong position at 153/1.
However, the young girl did not stop and she first ran out Awino at the non-striker end on 34 followed by Musamali (59), then captain Immaculate Nakisuuyi (21) and finally Janet Mbanazi (5) with what would have been the last delivery of Uganda's innings.
Uganda batters, who were at the receiving end of the dismissals, did not make a fuss over the wickets that fell and were seen walking away quietly.
Uganda still finished with 190/6 in 20 overs and in reply shot out Cameroon for a mere 35 in 14.3 overs.