SPORTS
WATCH: Fight between Machine Gun Kelly and Conor McGregor at the VMA red carpet goes VIRAL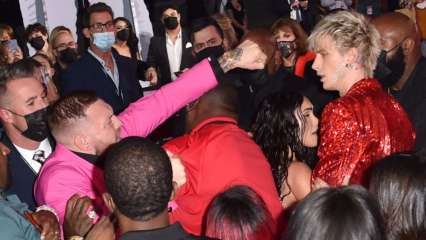 While the MTV Video Music Awards 2021 is a platform to grace artists who have performed exponentially well throughout the year and given hits after hits in the tenure, a fight between rapper Machine Gun Kelly MMA fighter and champion Conor McGregor broke the internet.
The two were seen getting into a physical altercation and the incident is said to have taken place on the red carpet. According to some of the images doing the rounds on the internet, Kelly and McGregor needed to be separated by the security.
Kelly's girlfriend Megan Fox was also seen trying to calm him down and kept her hand on his chest to push and separate him from McGregor.
According to a report from TMZ, the fight is said to have taken place after McGregor allegedly asked Kelly for a photo, which was denied. 
This somehow escalated into Kelly apparently pushing McGregor, which made the ex-UFC champion stumble backwards which lead to him spilling his drink. 
It's then that McGregor allegedly threw his drink at Kelly, and lead to the situation worsening as security attempted to keep the two celebrities apart. Not just that, they even came close to exchanging blows and McGregor was seen charging at Kelly several times. 
WATCH:
Why is Conor trying to fight Machine Gun Kelly at the VMA awards.  pic.twitter.com/MoN9qa9guU

— Jason Williams (@jasoneg33) September 13, 2021
Fans too shared the photos of the incident and spoke about it.
Conor McGregory throws a punch at Machine Gun Kelly on the red carpet at the #VMAs. pic.twitter.com/AohsDnpHqt

— Buzzing Pop (@BuzzingPop) September 13, 2021
Conor McGregor out here trying to fight Machine gun Kelly after he denied to take a picture with him  #VMAs #ConorMcGregor #MGK pic.twitter.com/qXnfvCHWCa

— Shannon Sharpe Burner Account (@shannonsharpeee) September 13, 2021
Machine Gun Kelly when asked about his altercation with Conor McGregor. pic.twitter.com/XAZMA7JX67

— islam (@islamzinour) September 13, 2021
Soon after the incident, Kelly was seen walking the red carpet and posing with Fox for some pictures before entering the venue.