LIFESTYLE
A Guide to Face Yoga for a Healthy, Sculpted Glow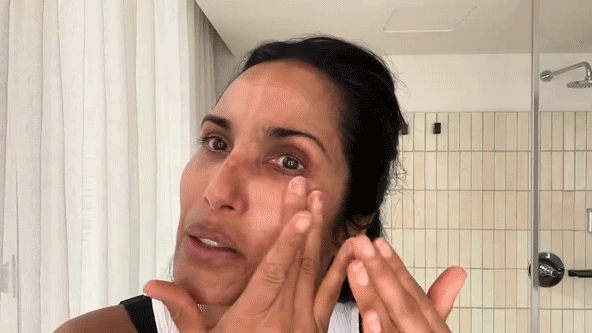 Over the past few years, and thanks in no small part to TikTok, face yoga has become one of the most discussed above-the-neck sculpting techniques. While #faceyoga has now clocked over 500 million views, celebs from Meghan Markle to Gwyneth Paltrow have already touted the powers of facial fitness designed to lift and tone muscles naturally. There are even instructors teaching lessons IRL (we talked to them), with sessions popping up on ClassPass and apps like Luvly creating personalized face yoga routines. But what is face yoga and what are the real benefits? 
What Is Face Yoga? 
"Face yoga is a description for exercises performed to tone and stretch facial muscles," explains Dr. Amy B. Lewis, a dermatologist and certified yoga instructor based in New York. A more holistic approach to face sculpting than fillers and injectables, "face yoga has become extremely popular among existing yogis and newcomers," she says. Annelise Hagen, the author of The Yoga Face, is a certified yoga therapist who's been teaching and studying face yoga since 2005 (and traditional yoga since the early '90s). "Muscles lose mass and volume with age, so target exercising face muscles as one would the body will sculpt, firm, and plump," says Hagen, noting that anyone can practice its methods "with caution and hopefully supervision" in the same way they would traditional workouts. "An older person can still drive benefit from practicing yoga techniques that promote facial rejuvenation, and a younger person can cultivate habits that will last a lifetime—plus prevent sags that could happen with atrophy and lack of exercise." 
How Face Yoga Works
Face yoga is a gentle form of strength training for your face and neck that typically concentrates on one of the 57 facial muscles (or groups of muscles) at a time. "The more you repeat certain face yoga exercises, the more you may notice that the muscles and skin start to tighten," says Lewis. She mentions three main ways that face yoga may work for you: First, by stimulating muscles to improve their tone and tightness. Next, by increasing circulation and blood flow, "which helps skin heal and appear healthier," and finally by reducing strain and tension in facial muscles "that are being contracted constantly during stress." And while there are myriad versions to try, "the key to all of them is not to scrunch your face or squint a lot while doing these exercises," says Lewis. "The focus should be on lifting and expanding instead." She suggests practicing for at least 20 minutes a day for six weeks to see the benefits.