HEALTH & FITNESS
Women With Bone Problems Require Special Attention When Choosing Shoes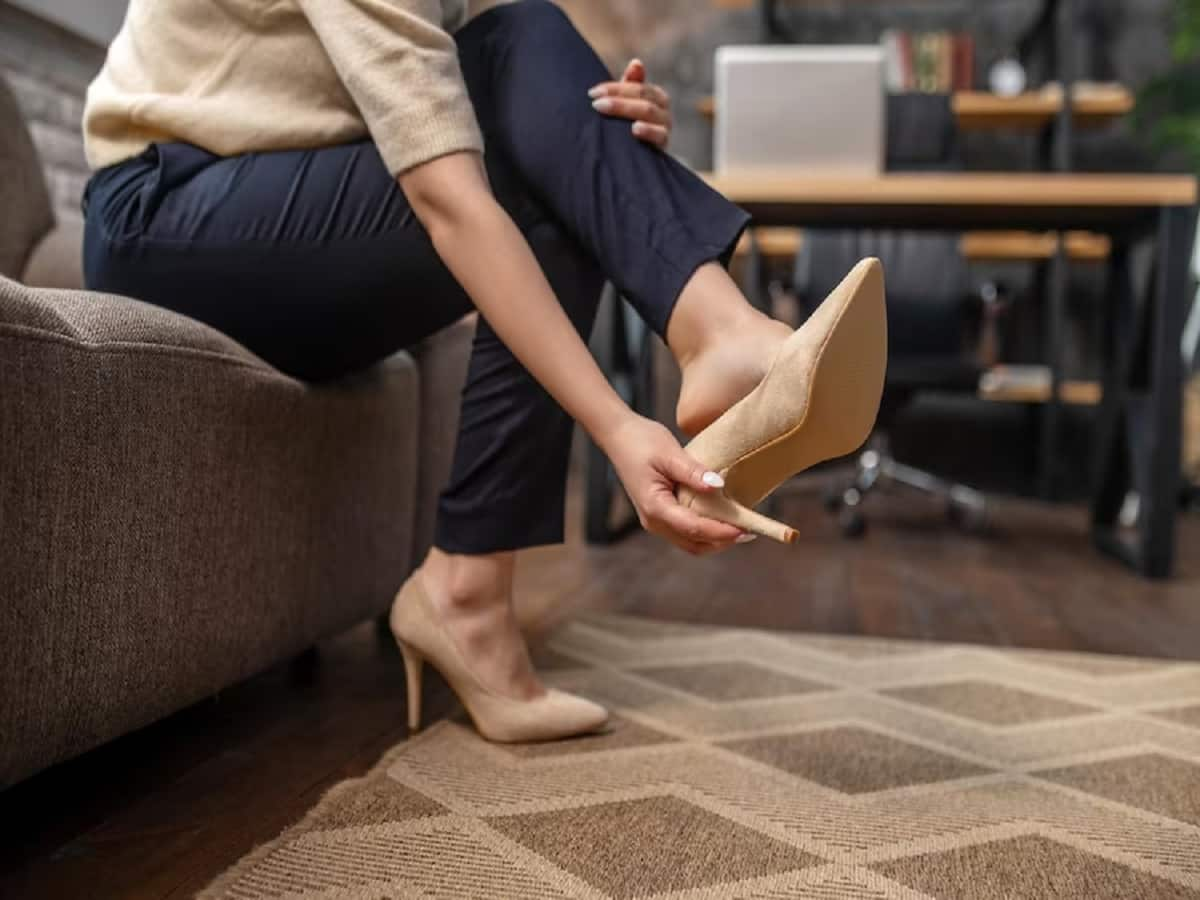 When it comes to choosing shoes, it is important to consider the impact that footwear has on the feet and overall body. A guide to finding the ideal footwear for your bone problems.
Did you know that with 52 bones, over 200 muscles, tendons and ligaments, and 66 joints, our feet are literally supporting the body's weight along with the body's movement and balance? Regular foot care can make sure your feet are up to the task. With proper detection, intervention and care, most foot and ankle problems can be lessened or prevented. What we don't realize is that by making 'if the shoe fits' our life mantra, this can massively add up to the quality of life. Your feet must last a lifetime! Foot problems can have a negative impact on many aspects of health and well-being, particularly if they compromise mobility and ability to undertake activities of daily living. From joint to bone issues, a wrong shoe can worsen existing feet problems, and even other joints and bones in our body.
It is paramount that one understands the mechanics of one's feet as poor footwear choices contribute to the most common injuries in our feet, knees and hip. Women with bone problems such as osteoarthritis, plantar fasciitis, or flat feet require special attention when choosing shoes. Additionally, women with thyroid problems may experience a range of symptoms, including fatigue, joint and muscle pain, and weight changes. When it comes to choosing shoes, it is important to consider the impact that footwear has on the feet and overall body.
Always remember – the right shoes can help reduce, eliminate and more importantly, prevent bone problems. So, here's the guide to finding the ideal footwear for your bone problems.
Tool kit for women with bone problems
Orthoses or Arch-Supports: It is the go-to tool for the treatment of foot pain and several other leg problems. Technologies with arch flex support are designed to relieve pain and offer comfort. In the particular case of an orthoses, these are specially designed inserts for targeted pain relief, while helping in foot alignment.
Metatarsal Pads: Built using a myriad range of materials, a metatarsal pad allows pressure redistribution from the ball of our feet to the metatarsal shafts. It is designed to relieve us of any pain or pressure witnessed on our toes including the big toe or from sesamoiditis.
Cups for Heels: Heel cups work wonders in heel pain alleviation. It offers support to the heel by lowering the pressure from the tender spots. Additionally, while consistent mild exercises and walking helps in maintaining good feet health, certain issues such as prolonged case of flat feet, high arches, turf toe, as well as tendon injuries require specialized modifications to our everyday footwear.
Stiff Soles and Rocker Bottoms: Research suggests that footwear with rocker bottoms and stiff soles reduces pressure on the feet, which ultimately lowers the risk of pain. For those of you who aren't aware, rocker bottoms are essentially shoes with thick and rounded soles that help in pressure redistribution around the feet.
Deep Toe Boxes: Further adding to your feet vocabulary, a toe box is the front portion of a shoe that rests the toes. Individuals, specifically with big feet or toes, can prevent the unprecedented hammering of toes or even corns and bunions using footwear with a bigger toe box.
Size Matters: Often heard but seldom remembered, statistics suggest that over 80 per cent people end up wearing/buying the wrong size shoes. It is a non-negotiable for people with bone problems or Rheumatoid Arthritis to have adequate foot space to avoid painful rubbing. In fact, for any day-to-day activities, the right shoes can be the biggest deal breaker.
Must Avoid Footwear: Footwear that is too tight or too narrow tends to cause corns, bunions and leads to additional pain, more so for people with bone problems or hammer toes. One should avoid high-heels as it tends to aggravate the symptoms. Even closed-toe footwear, specifically in heels as well as in clogs that cause high knee stress should be avoided.
Wide-fit shoes: Women with bone problems may experience discomfort due to pressure on their feet, so a wide-fit shoe can provide added room for comfort and stability.

Go-to-footwear picks
Flip Flops: It has been identified that flip flops create comparatively lesser stress on knees than the footwear categories known for stability such as sneakers, clogs. In fact, stability shoes often lead to a higher joint load that is invariably linked with higher pain levels and damage for people with Arthritis. People with knee issues dealing with joint load and stress should prefer these. However, people with balance issues should avoid flip-flops at the risk of falling.
Strappy Sandals: As the saying goes, the strappier the sandals, the happier the feet. Straps act as catalysts when it comes to adjusting the shoes for a more custom and therefore, secure fit. What more? It is advisable to have a strap going across the back of the ankle as it helps curtail the toes over-gripping the edge.
Stability and Neutral Sneakers: Stability sneakers have a cushioned midsole that helps to control overpronation and motion by reducing the inward roll of the feet. On the other hand, neutral shoes provide ample cushioning and shock absorption, allowing for the use of orthotic inserts as recommended by health professionals.
Boots: When it comes to stability and health for people with ankle issues, boots with low wedged heels and rubber soles, or flat boots with high arch flex and footpharma technology can offer the much needed sturdiness.
So, what are you waiting for? Go grab yourself the gift of happy and healthy feet.
The article is written by Dr. Rashi Goel, Physiotherapist with a specialization in Orthopedic Physiotherapy from Manipal University, Karnataka and Health Consultant at Yoho.
Total Wellness is now just a click away.
Follow us on
window.addEventListener('load', (event) => {
// $(document).ready(function(){
$('#commentbtn').on("click",function(){
(function(d, s, id) { var js, fjs = d.getElementsByTagName(s)[0]; if (d.getElementById(id)) return; js = d.createElement(s); js.id = id; js.src = "//connect.facebook.net/en_US/sdk.js#xfbml=1&version=v2.3"; fjs.parentNode.insertBefore(js, fjs);}(document, 'script', 'facebook-jssdk'));
$(".cmntbox").toggle();
});
// });
});