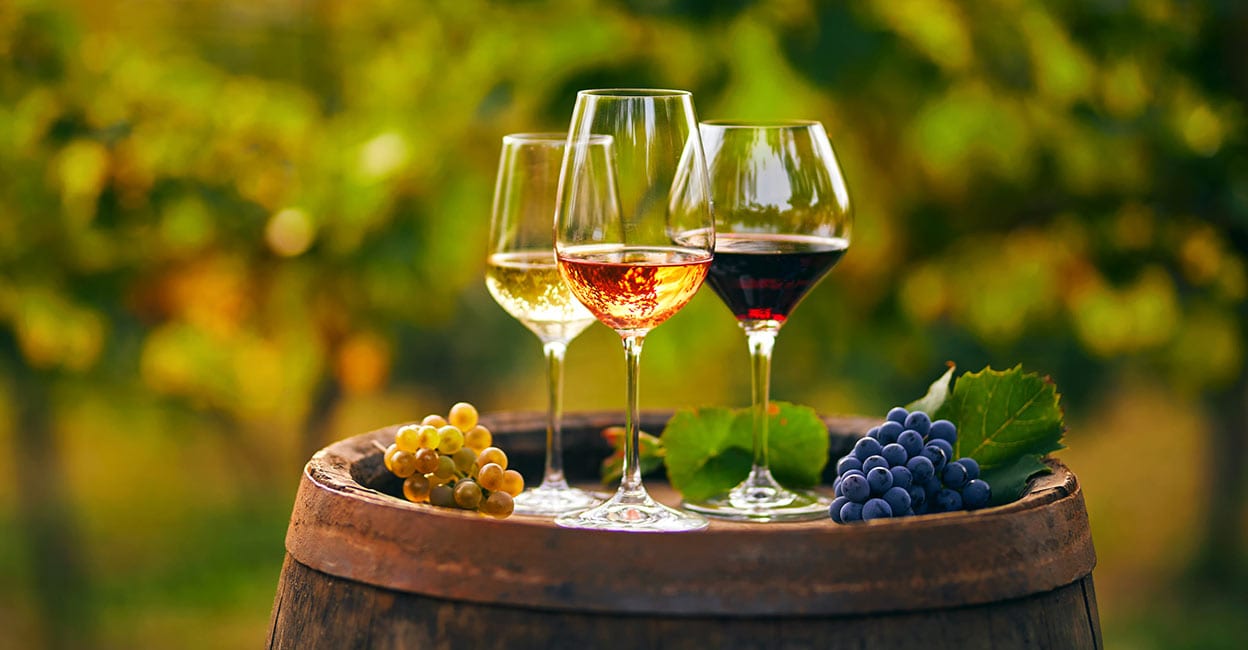 Wine, often referred to as the nectar of the gods, has been an integral part of human culture for centuries. Its ability to captivate our senses with a symphony of flavours, aromas, and stories makes it a truly remarkable beverage.
If you've ever felt lost in the labyrinth of wine choices at a restaurant or felt like a deer in headlights at a wine tasting, fear not. In this ultimate guide, we're uncorking the mystery surrounding various types of wines. From velvety reds to crisp whites, and everything in between, get ready to embark on a flavorful journey that will make you the star of your next wine soirée. So, let's uncork the bottle and delve into the captivating universe of viniculture.
Red wines
Red wines are often hailed for their deep, complex flavours that range from bold to elegant. Some of the most famous red wine varieties include:
Cabernet Sauvignon: Commonly known as the "King of Red Wines," Cabernet Sauvignon reigns supreme with its bold flavours of blackcurrant, plum, and tobacco. Originating in the esteemed vineyards of Bordeaux, France, this full-bodied wine boasts a commanding presence, often accompanied by firm tannins that lend it exceptional ageing potential.
Pairing beautifully with grilled meats and aged cheeses, Cabernet Sauvignon offers an indulgent experience for your palate.
Merlot: Offering a softer and more approachable alternative to Cabernet Sauvignon, Merlot enchants with its velvety textures and notes of cherry, plum, and chocolate. Hailing from both Bordeaux and various international vineyards, this medium-bodied wine is a versatile companion to roasted poultry, pasta dishes, and soft, creamy cheeses.
Pinot Noir: Often referred to as the "heartbreak grape," Pinot Noir is cherished for its delicate nature, featuring flavours like raspberry, cherry, and earthiness. Thriving in the vineyards of Burgundy, France, this grape variety marries exquisitely with dishes like salmon, duck, and mushroom-based delicacies, allowing its nuances to shine through.
Syrah/Shiraz: This grape variety dons different names depending on its origin. Syrah presents a symphony of dark fruit flavours, black pepper, and smoky notes, while Shiraz, commonly found in Australia, offers a fruit-forward profile with hints of spice. Both variations of this grape are exceptional partners for barbecue, game meats, and hearty stews.
White Wines
When the sun is shining, and you're craving something refreshing, white wines are the answer. These wines can range from bone-dry to slightly sweet, satisfying a variety of palates:
Chardonnay: The chameleon of white wines, Chardonnay showcases an impressive range of styles, from buttery and oaked to crisp and unoaked. flavours can span from green apple and citrus to subtle hints of vanilla. With its versatility, Chardonnay harmonises effortlessly with seafood, chicken dishes, and creamy accompaniments.
Sauvignon Blanc: Bursting onto the scene with its zesty acidity and vibrant flavours of grass, green apple, and tropical fruits, Sauvignon Blanc finds its homes in diverse regions such as New Zealand and the Loire Valley. An ideal match for salads, seafood, and the tangy allure of goat cheese, this wine embodies the essence of freshness.
Riesling: Revered for its aromatic character, Riesling spans the spectrum from bone-dry to lusciously sweet, offering notes of peach, apricot, and honey.
Originating from the heart of Germany, Riesling finds its perfect companions in spicy cuisine, Asian flavours, and the creamy profiles of blue cheeses.
Pinot Grigio/Pinot Gris: With a light and crisp disposition, Pinot Grigio/Pinot Gris introduces flavours of pear, apple, and melon. Originating from the vineyards of Italy and Alsace, this wine complements light appetisers, seafood delights, and the comforting embrace of white-sauce pasta.
Rosé
Rosé wines have surged in popularity, becoming the quintessential summer sipper. These pink wines can range from pale salmon to vibrant fuchsia and offer a delightful balance between red and white:
Provence Rosé: Hailing from the sun-soaked region of Provence, these rosés boast flavours of red berries, watermelon, and a hint of herbs.
White Zinfandel: Although sometimes overlooked by wine aficionados, White Zinfandel's sweet and fruity notes of strawberry and peach have garnered it a dedicated following.
Sparkling Wines
Whether you're ringing in the New Year or simply celebrating life's joys, sparkling wines add a touch of glamour to any occasion:
Champagne: The epitome of celebration and luxury, Champagne hails from the eponymous region of France. With its mesmerising dance of fine bubbles, this wine carries notes of toast, citrus, and apples.
Perfect for toasting to life's milestones or pairing with delicacies like oysters and caviar, Champagne embodies elegance.
Prosecco: Italy's lively contribution to the sparkling world, Prosecco exudes a more approachable and fruity personality. Bursting with flavours of green apple, white peach, and delicate floral undertones, Prosecco is the ultimate aperitif and a delightful companion to brunch festivities.
Cava: Spain's spirited response to sparkling wine, Cava dazzles with its crisp acidity and harmonious blend of apple, citrus, and almond notes. Paired seamlessly with tapas, fried delights, and the bounty of the sea, Cava brings a touch of Iberian flair to any occasion.
Dessert Wines
Port: Journeying from the enchanting vineyards of Portugal, Port wine unveils a tapestry of rich, sweet flavours encompassing dark fruits, chocolate, and nuts. A symphony of pleasure when paired with chocolate desserts, blue cheeses, and the indulgence of nuts, Port stands as a testament to craftsmanship.
Sauternes: Emerging from the Bordeaux region, Sauternes casts a spell with its luscious, honeyed character adorned with notes of apricot, marmalade, and botrytis-induced complexity. Elevating gastronomic experiences with foie gras and fruit-based desserts, Sauternes is a timeless indulgence.
Ice Wine: Crafted from grapes that brave the embrace of winter's frost, Ice Wine captivates with its intense sweetness and balanced acidity. From notes of honey to tropical fruits, this exquisite nectar harmonises with fruity desserts and robust cheeses, forging unforgettable moments.
So, the next time you're perusing a wine list or browsing the aisles of your local wine shop, you'll do so with newfound confidence and a palate eager to savour the diverse flavours that the world of wines has to offer. Cheers to your next vinous exploration!